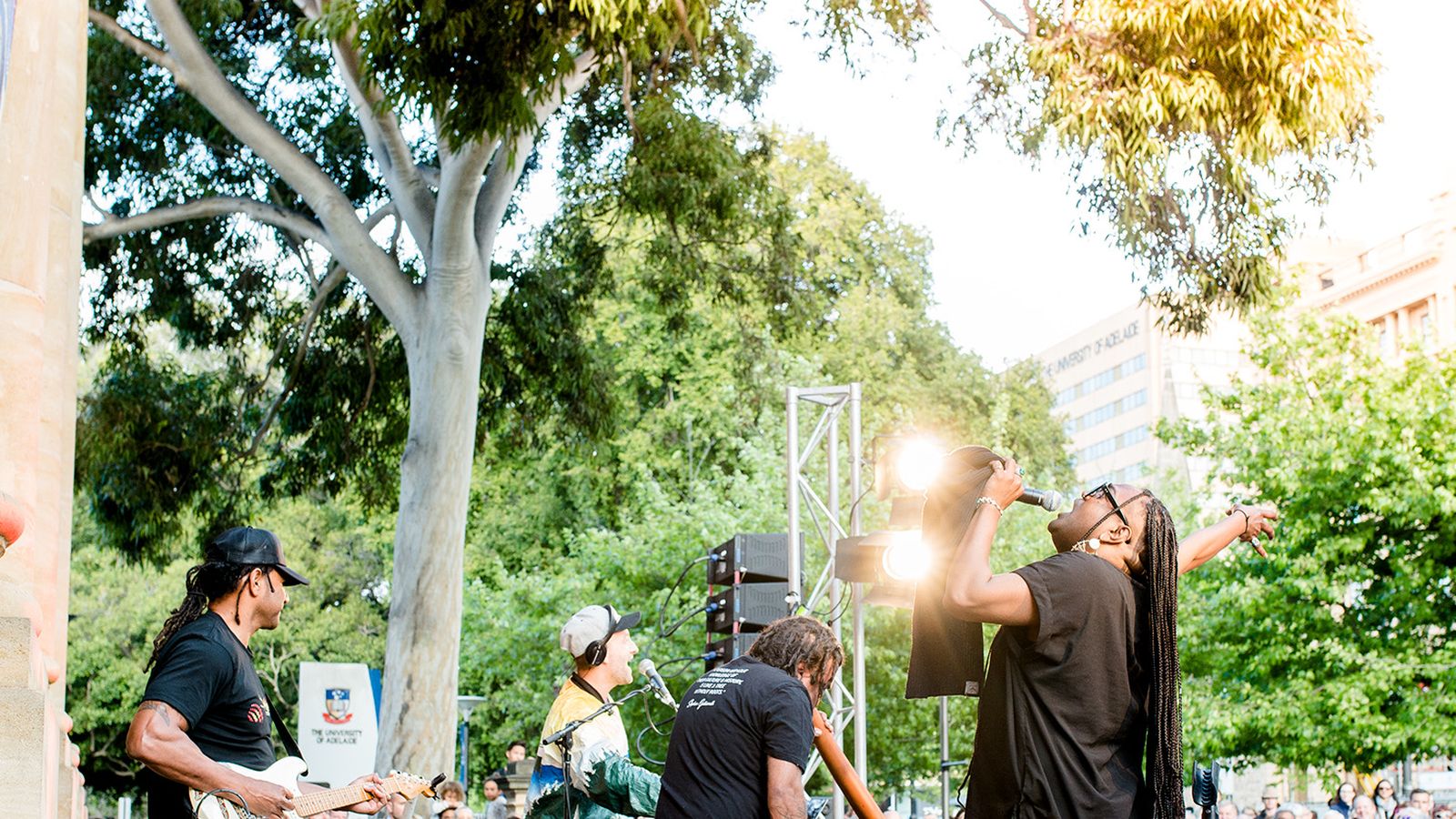 Tarnanthi Sunday Sessions
Free
Gallery-wide
All ages
---
In the last Sunday Sessions of the season, join us for a screening of the Sandra Saunders documentary as part of CATAPULT + TARNANTHI through Guildhouse, and Deadly Family Portraits, a series of short documentaries about three Aboriginal families. Then, enjoy the Reggae sounds of Garrangali Band followed by the multi-award winning Aṉangu electro-soul duo Electric Fields.
1-1.20pm
Sandra Saunders documentary
As part of the CATAPULT + TARNANTHI project facilitated through Guildhouse, South Australian Artist Sandra Saunders collaborated with mentor and filmmaker Dr Jess Wallace. Strengthening her technical and critical skill and culminating in the showing of works in Tarnanthi 2019. While working on her art they developed a documentary chronicling Sandra's development and activism.
1.20-2pm
Deadly Family Portraits
Deadly Family Portraits brings to the screen three remarkable Aboriginal families – mother and daughter Lillian and Elaine Crombie, father and son Robert and Zaachariaha Fielding, and sisters Taree and Caleena Sansbury – in a series of documentary short films. This series explores the complexities of familial bonds, the importance of cultural roots, relationship to Country, and the way in which the responsibilities and obligations of kinship yield rich and varied cultural expression. An initiative of the South Australian Film Corporation (SAFC), ABC Arts iView and Arts South Australia.
3-3.45pm
Garrangali Band
Enjoy the saltwater rock Reggae sounds of Garrangali Band, a well-loved East Arnhem Land group from the homeland community of Baniyala. Garrangali means home of the crocodile.
4-4.45pm
Electric Fields
Multi-award winning Electric Fields create a striking and haunting merging of living traditional culture with electronic music, bringing breathtaking beauty and power to the stage. Featuring the extraordinary voice of Zaachariaha Fielding, and the brilliance of producer Micheal Ross, their music ranges from soulful pop to epic-scale electronic works.
Sunday Sessions is presented by Tarnanthi, in partnership with BHP and with the support of the Government of South Australia.