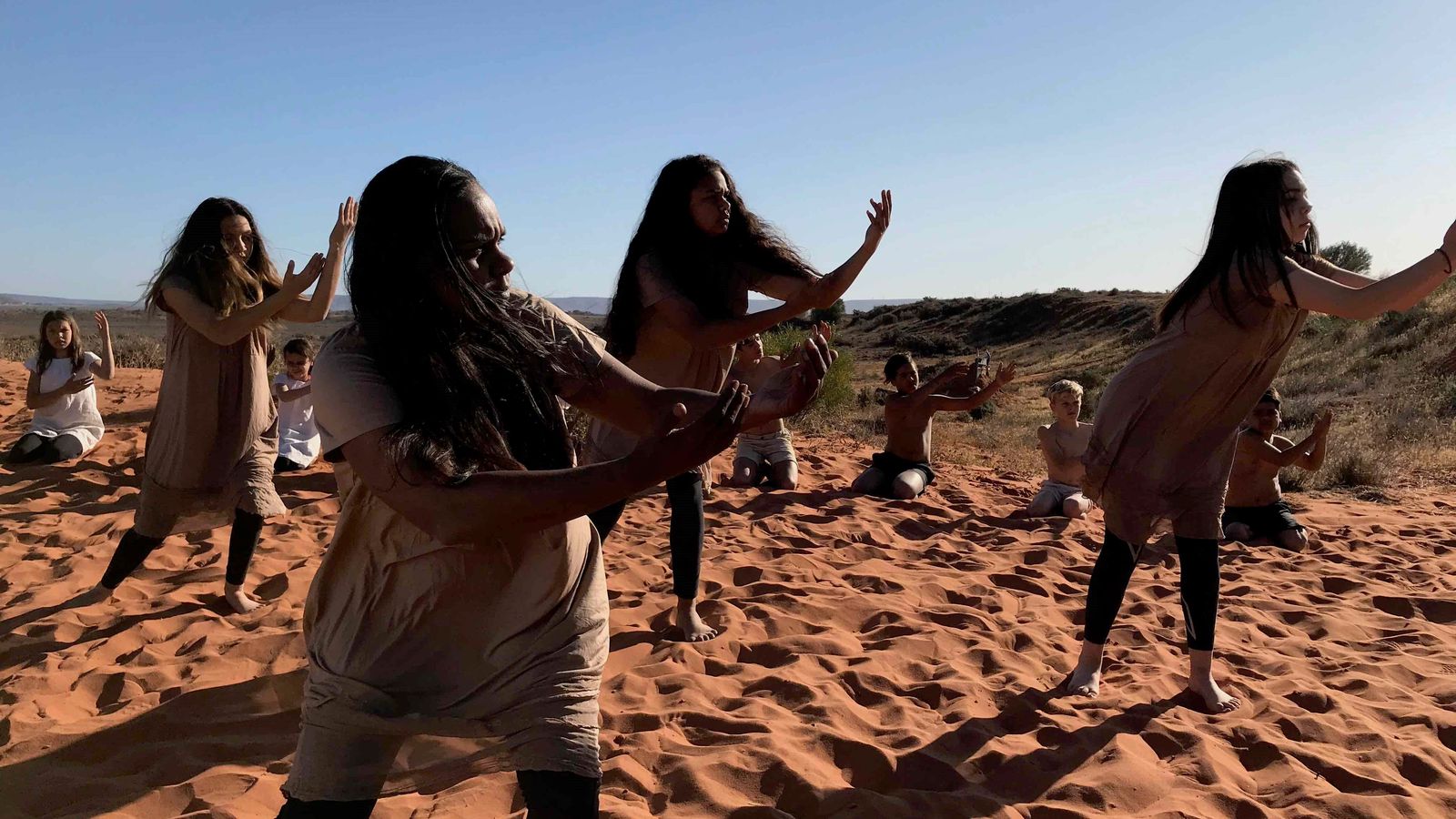 Festival
/
Kids & Families
/
Special Event
Tarnanthi Sunday Screenings: The Best of Nunga Screen
Free
Radford Auditorium, Art Gallery of South Australia
All Ages
---
AS PART OF THIS YEAR'S TARNANTHI FESTIVAL AGSA IS SCREENING FILMS EVERY SUNDAY IN JANUARY
Every Sunday in January enjoy a selection of feature and short films telling Aboriginal and Torres Strait Islander stories on the big screen at AGSA, curated by Ngarrindjeri filmmaker Josh Trevorrow.
The Best of Nunga Screen showcases culture, stories and language with community through screen and celebrates South Australian First Nations film and culture. Nunga Screen is an initiative of Country Arts SA and aims to support the industry by showcasing Australia's First Nations talent on and off-screen. The objective of the program is to provide an opportunity for emerging and established First Nations filmmakers to showcase their films across South Australia.
The film program for Sunday 23 January is The Best of Nunga Screen.
A 30 Minute Q&A will follow the screening with Film Makers from the selected films.
Speaking for SeaCountry: Damien Shen
"When my grandmother passed away, that created that sense of urgency, to start documenting my family history." In the early morning light at Henley Beach jetty in Adelaide, award-winning Ngarrindjeri-Chinese artist Damien Shen is fishing with his young son. Damien reflects on his artistic process documenting his family history.
Butterfish Mob
A short documentary which follows Narungga man Clem Newchurch, and his cousin, butter fishing at Point Pearce. We learn some history, re-connect with family and find out who gets the biggest catch! Discover the tradition of butter fishing, which has been an important part of the Narungga way of life in this charming film.
Dusty Feet Mob - This Story's True
The Dusty Feet Mob dancers tell healing stories of the Stolen Generation, featuring Archie Roach's famous song 'Took the Children Away.'
The Mulka Man
Meet the Mulka Man, Adnyamathanha Elder Roy Coulthard, the last wood carver of the Flinders Ranges, keeping culture alive by passing on his knowledge to the next generation.
NANAWUN NGARRINDJERI YARLUWAR RUWI
Caring for Ngarrindjeri Sea Country and Caring for Meintangk Country explores the effort to regrow and revitalise colonial farming land on the coast of South Australia. The documentary speaks with First Nations Elders Uncle Buddy and Uncle Doug as they explain their connection with country, the significance of the regrowth and what it means for the future.
Thalu
They're young, funny, and deadly… and they're on a mission to save their world!
Wiradjuri: Something Bad will Happen
On Febuary 19th 2015, the widijtih (TC Lam) crossed the east coast of Arnhem Land. Ranger Otto Campion (Rembarrnga) in Ramingining, watches as the meteorological forces of the cyclone andAboriginal totems rise in action. Otto explains through his extensive knowledge that when caring for country is under threat, land, dreaming and lore work as one to reclaim the country and restore the balance
Walking With us
Walking With Us explores a collection of connected stories about the importance of cultural protocol as told by Elders from Indigenous groups in South Australia. They share teachings of the past and propose ways forward by coming together to reinvigorate cultural protocol, particularly in relation to land. 'The land gives us everything,' says one Elder.
Freedom
Two brothers turn to bank theft to repay a debt, however the temptation to run away with money leads to consequences.
Keep Yarning Strong
A focus on a women's yarning group in Whyalla, South Australia. Participating women find collective pathways to healing, truth and harmony via regular meetings. Teen Shantae Barnes-Cowan (TOTAL CONTROL) looks to these women and their journeys to help light the way for her own path ahead. Co-directed with Shantae Barnes-Cowan.
The Protectors
An Aboriginal prisoner is taken back to a crime scene to help him try and remember the horrific events which occurred prior to his arrest.
Deep Creek Cove
Where the Outback meets the coast, a young couple awakens a spirit steadfast in its a mission to protect its sacred ground. 'The sacred should remain secret. The sacred should remain secret.'
No bookings required, arrive early to secure a spot. Capacity limits apply.
Total running time: 70mins
Tarnanthi Sunday Screenings is sponsored by City of Adelaide through the Adelaide Economic Development Agency