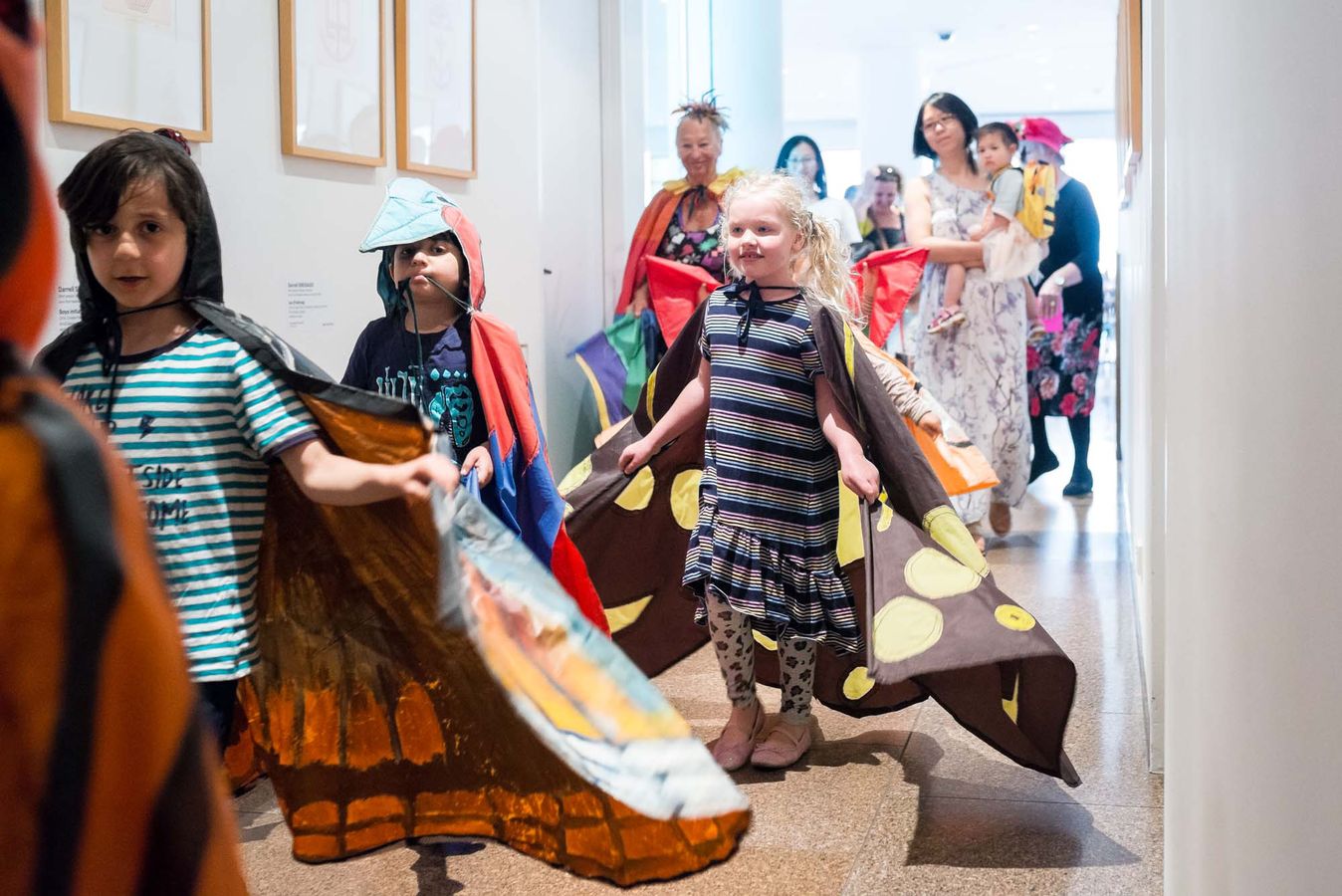 Festival
/
Kids & Families
/
Access Program
Start at the Gallery: Stories & Song
Free
Gallery-wide
Ages 3-12
---
Follow the thread of a story, or the beat of a song, into the abundance of Aboriginal and Torres Strait Islander art and cultures at AGSA. Explore Tarnanthi on a Discovery tour, sketch tour or Auslan Encounter. Groove to the tunes of a diverse array of First Nations musicians and performers - and linger longer as Start rolls into Sunday Sessions and the fun continues until 5pm.
This event will be Auslan accessible.

11am-3pm
Start Art workshops
Weaving Web with Carly Tarkari Dodd
Wind and weave with webbing, ribbon and wool! Contribute to a colourful collaborative installation combining contemporary and traditional techniques, led by Ngarrindjeri, Kaurna and Narungga artist Carly Dodd, 2018 NAIDOC SA Young Person of the Year.
11am-5pm
Start on Screen
Tarnanthi Artist Profiles
Get up close and personal with Tarnanthi artists in a series of beautiful short films capturing their creative practices, produced for AGSA by Closer Productions.
11.15am, 12.15 am & 1.15am
Illustrator Storytime with Karen Briggs
Kick with my Left Foot and The Rabbit-Hole Golf Course
Be delighted by two deadly desert stories! Karen is a local illustrator and descendant of the Yorta Yorta people, with a love of animals and nature. Enjoy a drawing activity while Karen reads from her charming and funny picture books.
11am, 12pm, 1pm, 1.30pm & 2pm
Discovery Tours
Explore stories and song throughout Tarnanthi and the Collection on a family tour with Gallery Guides.
11.30am
Auslan Art Encounter
with Joanna Agius and Koiranah Jacob
A signed and spoken, Deaf-led encounter with a Tarnanthi artwork. This is an Auslan-centred session with spoken English interpretation, for Deaf, Hard of Hearing, and hearing people alike. All welcome!
12.30pm
Teens Talk
Join Neo's teen ambassadors as they share their thought-provoking insights and unique perspectives on art.
11.30am, 12.30pm & 1.30pm
Sketch Tours
with Claire Wildish
Grab your pencil and come on a sketch tour of Tarnanthi with local artist Claire Wildish.
Start Sounds
11.30am & 12.30pm
Language of Dance with Sarah Agius
Step up and join a lively interactive movement workshop combining dance moves with Kaurna language! Sarah Agius is a local Kaurna-Ngarrindjeri woman with a passion for health, fitness and dance.
12pm & 1pm
Phylo
Get up and move to the rapid rhymes and smooth fresh flow of local rapper Phylo.
1.30pm & 2.30pm
DJ EJ
Bop and bounce to an energetic mix of beats and tunes from DJ EJ, an up-and coming young Torres Strait Islander DJ hot off the Northern Sound System decks!
2pm
Casii Williams
Soak up the sweet acoustic sounds of Western Arrernte singer-songwriter Casii Williams. Coming from a revered musical family, Casii started performing at 10 years old and is now carving her own path with a unique mix of electronic influences and rootsy indie vibes.
3pm
Nathan May
Groove to the smooth guitar-driven tunes of Arabana, Yawuru and Marridjabin singer-songwriter Nathan May.
4pm
Mums on Tour
Be enchanted by the warm and wonderful sounds of three soulful singer-songwriters from up north. Patsy Coleman is a powerhouse performer from the top end, Jessie K is a mean guitar player who calls Alice home, and Casii Williams is a Western Arrernte woman and third-generation musician making her own mark on the scene. Bringing their voices together and calling on their life experiences, their music combines country, blues, reggae and soul in the perfect mix to leave you wanting more.
Start at the Gallery is presented free on the first Sunday of every month.