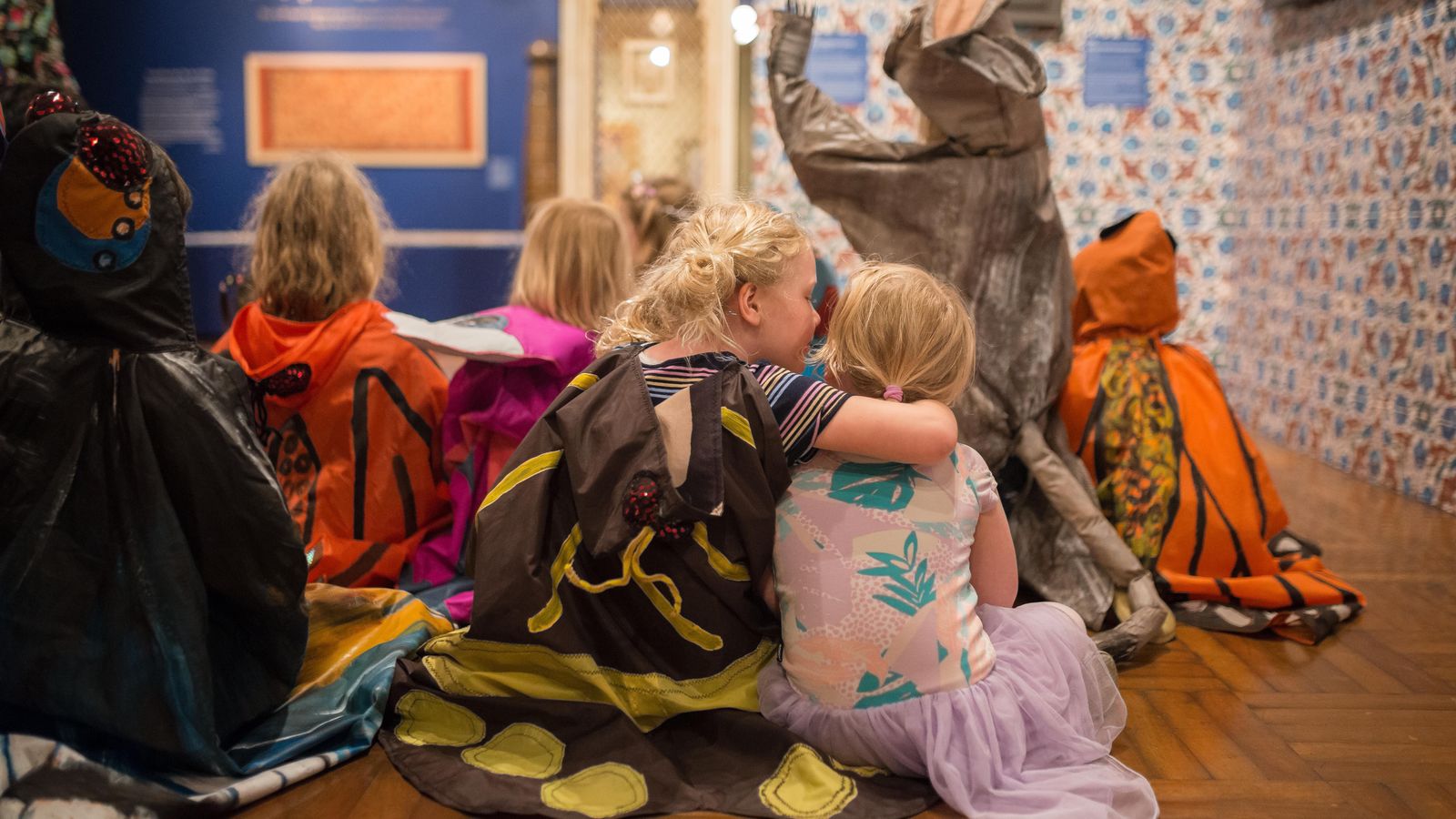 Kids & Families
/
Access Program
Start at the Gallery: Shifts in Time
Free
Art Gallery of South Australia
Ages 3-12
---
Enjoy art making, music, performances and tours on the first Sunday of every month.
Move your clocks back to look, listen, draw, dance and discover how artists depict time this Start. Play with texture, colour, light and shape in art workshops with Studio artist Carly Snoswell, let your soul speak with rainbow meditation and colourful choreography, and enjoy the present moment with soulful sounds from DJ Ruby Chew and silent disco Guru Dudu.
Check in on arrival with your Start Art Club Membership.
Registrations open at 10.30am.

11am-3pm
Studio Snazzy
Play with texture, colour, light and shape with Studio artist Carly Snoswell.
Location: The Studio (capacity 30)
Duration: 30 minutes, sessions every half hour
11am-3pm
Start Art Workshops – Tonal Colour Collage
Use tonal techniques, shapes and colour to collage your favourite time of day.
Location: Radford Auditorium (capacity 50)
Duration: 30 minutes, sessions every half hour
11am-3pm
Start Sketch Tours
Join a drawing journey through the Gallery with illustrators Robin Tatlow-Lord and Lauren Herraman.
Location: Meet outside The Studio (capacity 15)
Duration: 45 minutes, sessions every half hour
11.15am, 12.15pm & 1.15pm
Storytelling Performances
Hear timeless tales from a master storyteller, Helen Lawry.
Location: meet upstairs in Gallery 7 (performances in Galleries 5-6, capacity 30)
Duration: 45 minutes
11.30am, 12.30pm & 1.30pm
Dancing in the Gallery
Workshops with creative choreographer Jessie Mckinlay.
Location: Meet at the top of the stairs in Gallery 7 (capacity 15)
Duration: 45 minutes
11.30am, 12.30pm, 1.30pm & 2.30pm
Guru Dudu Silent Disco Tours
Shift in time on an immersive silent disco tour of the gallery with Disco Diddi and Jo Jo Boogie.
Location: Meet at the Atrium Information Desk (capacity 15)
Duration: 20 minutes
11.45am, 12.45pm & 1.45pm
Blooming Hearts Yoga
Let your soul speak and be in the present moment with mindfulness and meditation.
Location: Function Room (capacity 30)
Duration: 30 minutes
Drop in and join
11am-3pm
Nylon Zoo
Explore Evelyn Roth's colourful incredible inflatable wonderland.
Courtyard Lawn
11am-2pm
Start Sounds
Soulful sounds for your senses played by DJ Ruby Chew.
Sculpture Courtyard Marquee – (capacity 50)
11am-2pm
Start Discovery Tours
Guided interactive art experiences explore how to tell the time in art for toddlers, teens and in-betweens.
Location: Meet in the Atrium (capacity 15)
Duration: 20mins, departing every half hour
Art Gallery Food + Wine
10% discount for AGSA and Start Art Club Members