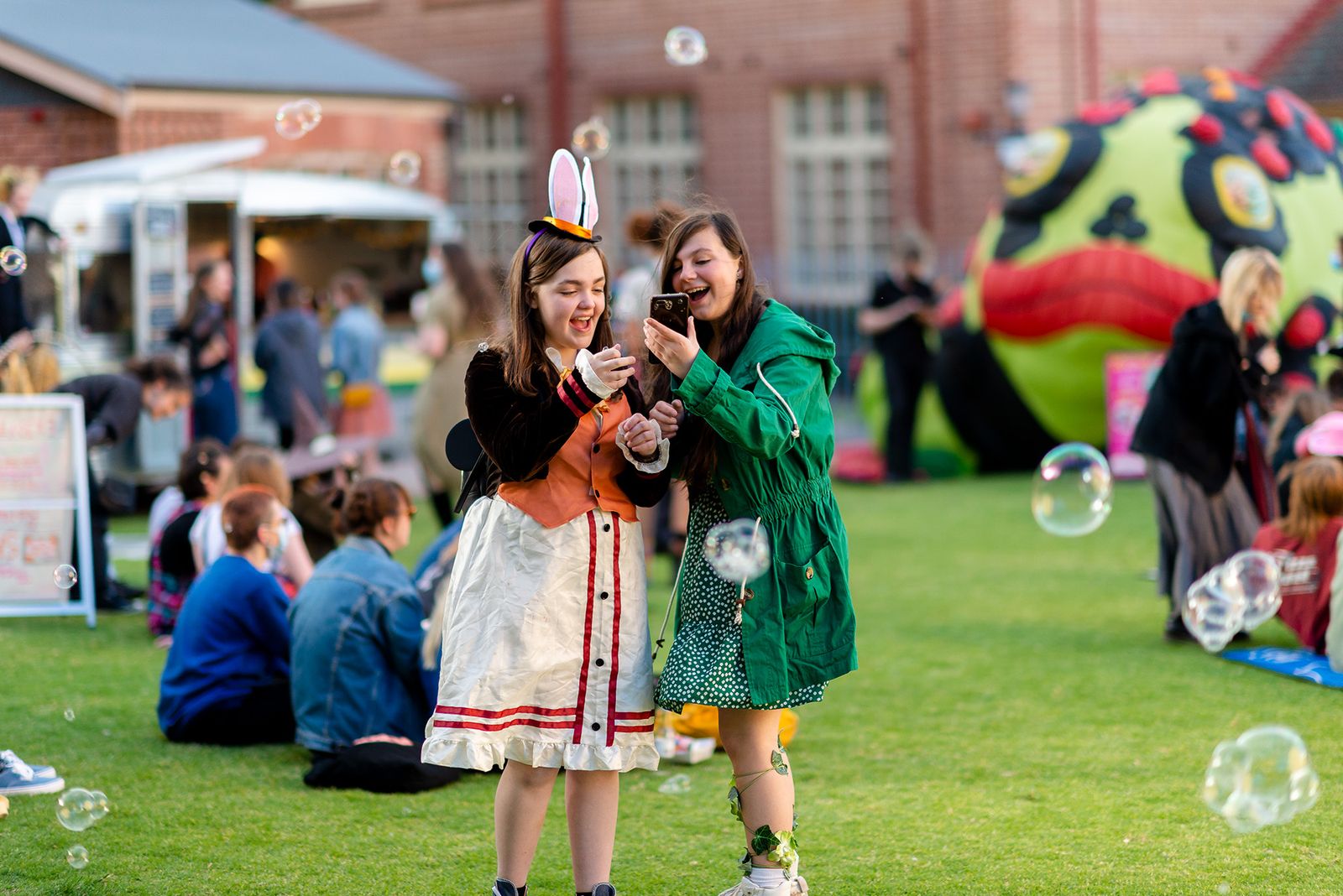 Festival
/
Teens
/
Special Event
Neo Teen Takeover: Free/State
Free
Art Gallery of South Australia
13-17 years
---
Please note this event is just for teens.
Get ready for a radical crossover between SA Youth Week and the 2022 Adelaide Biennial of Australian Art: Free/State!
Explore the latest sounds and experiences from the state's top youth and arts led organisations in this whole gallery event. Rock out to a wicked line up of live music, grab a free snack, get moving in a high energy workshop with Haus of Kong, belt out your favourite hits in karaoke, get hands on with badge-making, flip out with South Coast Circus and more!
Costume Theme
Come dressed to the theme MYTHS & FAIRYTALES. Make sure to rock up to the outdoor stage at 7.45pm to go in the running for a Prize Pack!
Keen to meet someone new?
Grab a bracelet at the door and make sure to wear so others know you're up for a chat!

6.30-8.30pm
Live Music
Showcasing wicked acts from Haus of Kong, South Australian Youth Guitar Ensemble, William Catley, Sweet 16, Tonix and Laitsi Diesa!
6.45-7.30pm
Live Music in the Elder Wing of Australian Art with South Australian Youth Guitar Ensemble
Enjoy music from SAYGE Q, a guitar quartet from the South Australia Youth Guitar Ensemble (SAYGE). SAYGE is a non-profit organisation whose purpose is to encourage and develop ensemble skills and confidence for classical guitarists in South Australia, regardless of ability or background.

6.30pm & 7.30pm
Dance with Haus of Kong
The Haus Of Kong welcomes you to an all inclusive dance workshop featuring dancers from South Australia's First Nations Dance Collective. Come and channel your inner superhero as we teach you how to turn a few basic steps into performance art.
The Gig Rig with Carclew
Join Carclew in the Gig Rig - an all-terrain mobile music studio. Built to go off-road and on country, the Gig Rig is a 4WD van that has been converted into a multipurpose studio, which can be set up for recording, podcasting, live music and DJing. Hop into the Gig Rig to help create a new track or provide lyrics or spoken word during its drop-in studio session for Neo.
Tote Bag Painting with Mali Isabel
Get ready to paint alongside Arabana and Kokatha artist Mali Isabel! Join Mali for her workshop about discovering identity and self, explored through vibrant rainbow colours and empowering messaging in response to Biennial artist Dennis Golding's curation of The Studio. Mali invites you to paint your story onto a fabric tote bag which you can then take home as a token of your strength, power and journey.
SAYarts Kindred Ensemble
SAYArts Kindred Ensemble are taking over Neo Teen Takeover! Come and join us in games and improvisations, and watch us create live scenes based on your suggestions as we rove through the gallery and ignite your imaginations.
Collaborative Mark Making with Adelaide Central School of Art
Join Adelaide Central School of Art for a collaborative tabletop drawing experience that focuses on drawing from reference photos and from imagination. Participants will be able to add their mark to the monumental 11m long drawing, reflecting Laith McGregor's installation + drawing work in Free/State.
Honey I'm Home screening with Windmill Theatre
Windmill Theatre Company, together with independent artists Chris Edser, Renate Henschke and Jonathon Oxlade, present the video series inspired by isolation, Honey I'm Home. Made possible with funding from Department of Premier and Cabinet, the series sees this team of incredible visual artists create unique animations entirely out of objects found in the home. The series combines illustration, sculpture and stop-motion animation techniques to create funny and poignant portraits from life in lockdown.

Sensory Space with Elise Pomery
Head to Gallery 14 and chill out in a quiet, cozy area in the amazing red string installation by Chiharu Shiota: Absence Embodied. Play and create interesting designs with thread, wool and other textiles!
Badge-Making and Polling with the Commissioner for Children and Young People
Create a badge and get involved in answering important questions about what it's like to be a young person today.
South Coast Circus
Be amazed by an aerial performance by South Coast Circus ft. Neo Ambassador Pearl George!

Snacks
Grab a serve of hot chips and Bush Tucker Icecream (with awesome native flavours like quandong, wattleseed, and desert lime!). For gluten free ice cream option, please request a dixie cup and spoon instead of a cone.
Karaoke
Go big in this karaoke session in the gallery!

Yayoi Kusama Sketch Station with Neo Ambassador Angie Yu
Immerse yourself in the wonders and patterns of Yayoi Kusama's THE SPIRIT OF THE PUMPKINS DESCENDED INTO THE HEAVENS and create a postcard to send to your future self!
Inflatable Sculpture
Explore Nylon Zoo's latest wacky creation outside..!
Photobooth
Take a snap of you and your friends in the Photobooth.
Giant Games
Giant Jenga, Noughts & Crosses, Checkers and Connect 4, Twister and coits!
Plus more...
Presenters include:
Commissioner for Children and Young People, Adelaide Central School of Art, Base 10 Youth Centre, Carclew, FELTspace, SAYarts, South Australian Youth Guitar Ensemble (SAYGE), South Coast Circus, Windmill Theatre, Mindshare and Haus of Kong.