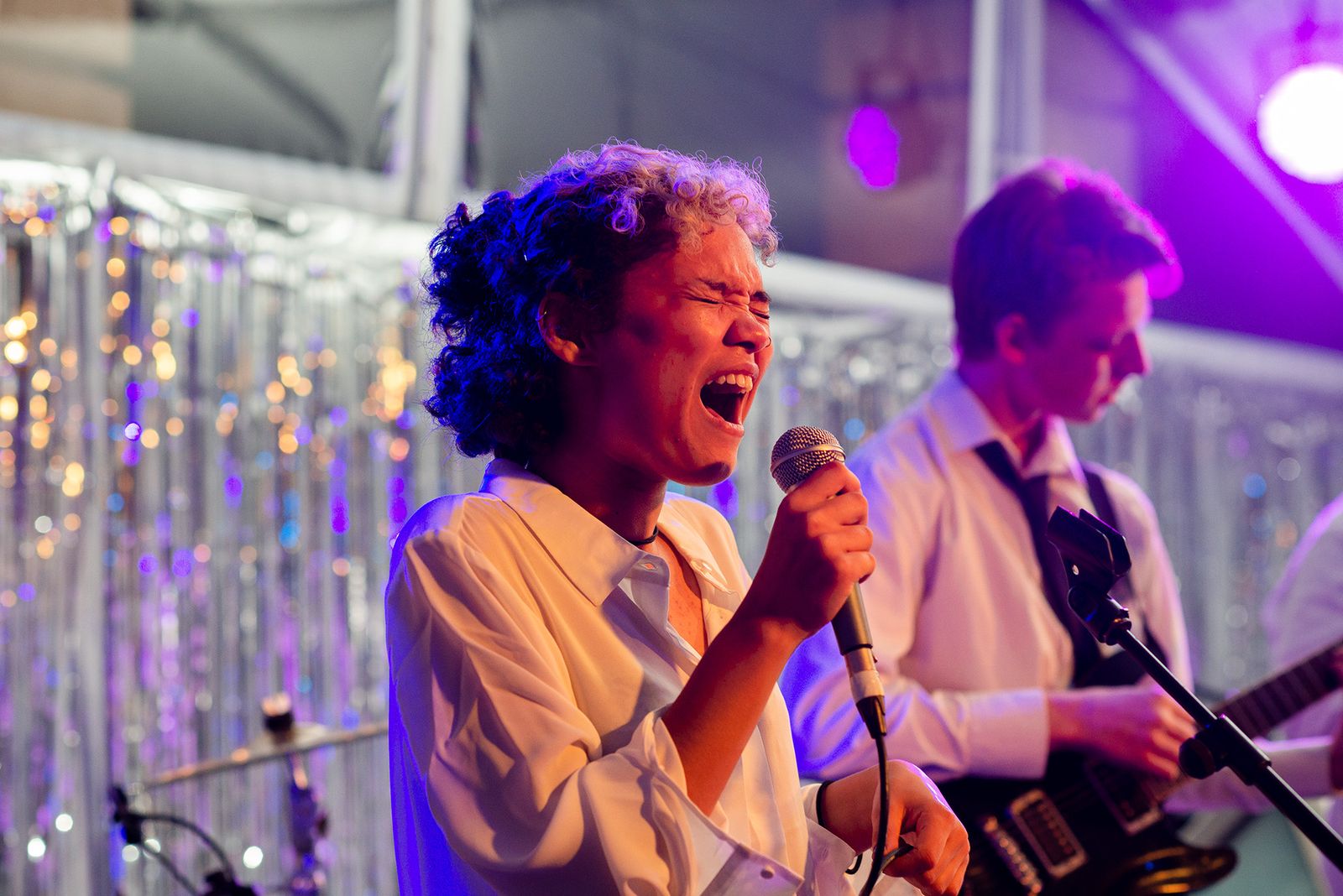 Festival
/
Teens
/
Special Event
Neo Teen Takeover: Mix it up!
Free
Art Gallery of South Australia
13-17 years
---
I'm incredibly excited to be working with so many talented young creatives to present a vibrant night of First Nations language, jewellery, weaving, movement, bush tucker, culture and discovery. I hope everyone who partakes will carry the experience with them into the future, and be inspired by the rich history of the world's oldest living culture.
Prepare yourself for larger than life costumes, wicked live music, VIP access to the latest exhibition Tarnanthi, and a huge creative program led by Adnyamathanha and Luritja Guest Curator Juanella McKenzie. Plus, a bumper program of activations by South Australia's youth and arts focused organisations in this whole gallery experience!
Costume Theme
Come dressed to the spooky theme HYBRID. Grab a pack of voting ribbons and hand them out to the best dressed. Make sure to rock up to the outdoor stage at 7.45pm to go in the running for a Prize Pack!
Keen to meet someone new?
Grab a bracelet at the door and make sure to wear so others know you're up for a chat!
Live Music – presented by Girls Rock!
6pm – Soil Soil
6:30pm – Charlee Watt
7pm – Verse Chorus Chaos
7:30pm – Rose Clouseau
7.45pm – Costume Announcements
8pm – Mum Friends
6.30pm & 7.30pm
Movement Workshop with Adrianne Semmens
Join First Nations dance artist Adrianne Semmens for a movement workshop responding to the Tarnanthi artworks, exploring line, pathways and gesture. 
6.30pm
Art Talk with Abbey Seyair – Meet at Atrium Information Desk
Explore the Tarnanthi exhibition with Neo Ambassador Abbey Seyair!
6:45pm & 7:45pm
Story Monsters with KINDRED Collective – presented by SAYarts
A contemporary physical theatre piece echoing meaning through the body. How do we feast on information and express our stories in the age of social media? Story Monsters: Devouring memories, stories and culture one media bite at a time.
7.45pm
Costume Competition
Come dressed to the spooky theme HYBRID. Grab a pack of voting ribbons and hand them out to the best dressed. Make sure to rock up to the outdoor stage at 7.45pm to go in the running for a Prize Pack!
Jewellery Making with Juanella McKenzie
Join Adnyamathanha and Luritja Guest Curator, Juanella McKenzie, in a jewellery workshop using native materials in celebration of Tarnanthi 2021.
Wearable Weaving with Marika Davies
Jump into a wearable weaving workshop with Wangkanurru artist Marika Davies in the Tarnanthi exhibition.
Music Videos from BLKMPIRE – presented by Carclew and BLKMPIRE
BLKMPIRE is a First Nations Incubator dedicated to elevating the voices of First Nations artists, by supporting them to tell their stories through mentorship and skills development. Presenting their work at Neo, visit the auditorium to experience Blak voice and song, as told by local First Nations artists. Hear music and stories of connecting to culture, ancestry and land, accompanied by stunning visuals that will transport you to Country. Stay for as little or as long as you want, while tuning into some of the best up and coming First Nations talent.
Isometric Imagined Worlds with Grace Mitchell – presented by Feast Queer Youth Drop In
Create impossible, gravity-defying lands in Grace Mitchell's 'Isometric Imagined Worlds' workshop. Learn how to use grids to build impressive architecture and optical illusions. Everyone's creations will be placed on display to create one massive metropolis!
Hybrid Sculptures – presented by Adelaide Central School of Art
Delve into a fantastical hybrid world of sculpture and drawing in this special Neo session with Adelaide Central School of Art! Artists Alex Beckinsale and Caitlin Bowe will take you through different drawing and paper sculpture methods in response to an utterly wild and wonderful still life installation. Take your art home with you or add it to the still life to help it grow.
Face-painting with Spark Face and Body Art
Get your face painted to match your costume!
Circus Crash Course - presented by South Coast Circus
Discover some awesome circus tricks with South Coast Circus! Keep an eye out as their performers rove, including Neo Ambassador Pearl George.
Well-being Pledges – presented by batyr
At Batyr's stall, they'll literally be smashing stigma, and you get to take charge of knocking it to the ground. Batyr will be inviting you to make a pledge to yourself and how you can take charge of your mental health.
Let your voice be heard – presented by Commissioner for Children and Young People
Get involved in answering important questions about what it's like to be a young person today. Participate in surveys and record your responses on the gallery window!
Badge-Making – presented by FELTspace
Jump into a badge-making session with FELTspace and be surrounded by the colours of Tarnanthi.
Snacks (Vegan and gluten free options available)
Grab a couple of tacos or a serve of nachos from Taco Cat, and a serve of Bush Tucker Icecream with amazing native flavours like quandong, wattleseed, and desert lime! For gluten free ice cream option, please request a dixie cup and spoon instead of a cone.
Photobooth
Capture yourself and friends as your transformed selves!
Drawing in the Gallery
Take a break from the party and draw from the artwork around you.
Presenters include:
Girls Rock!
Carclew
BLKMPIRE
Young Adelaide Voices
Adelaide Central School of Art
SAYarts
South Coast Circus
Feast Festival
Commissioner for Children and Young People
batyr
FELTspace
Get the latest Neo news
Register below to receive VIP program updates, exclusive opportunity invites, artist call-outs and competitions!