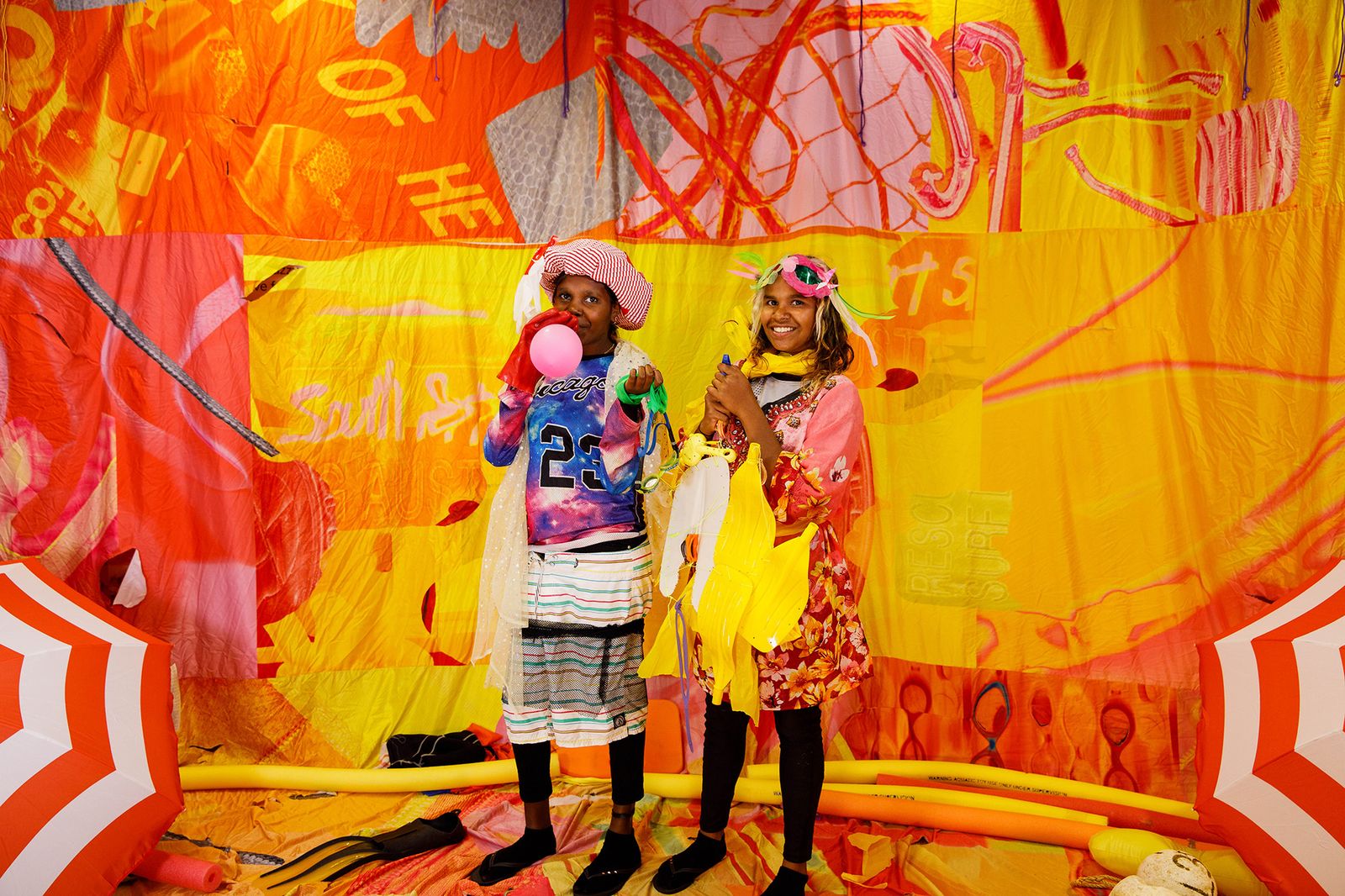 Festival
/
Teens
/
Special Event
Neo Summer Daze
Free
Art Gallery of South Australia
13-17 years
---
Launch into summer at Neo!
Think big aerosol murals, karaoke and high energy sounds from Phylo, JT BLUE and MoZzi. Hand-paint your own chromatic tote with Mali Allen-Place, pick up some skills in Auslan, and learn the ropes of traditional Ngarrindjeri & Ngadjuri weaving with Tarnanthi artist Sonya Rankine. Explore the Tarnanthi exhibition by jumping into an Art Talk with the Neo Ambassadors, and don't forget to grab a free bahn mi!
The line up includes...
Keen to meet someone new?
Grab a bracelet at the door and make sure to wear so others know you're up for a chat!
Live Music
6.30pm - JT Blue
7pm - Phylo
7.30pm - L.E.D
8pm - DJ MoZzi
6.30pm & 7.30pm
Introduction to Auslan with Samantha Wilson and Koiranah Jacob
Auslan is the official language of Deaf people living in Australia - join us in this fun workshop and learn some basic Auslan skills such as fingerspelling, numbers, and everyday signs.
6.30pm
Sketch Tour with Neo Ambassador Angie Yu
Get close up with Tarnanthi in a sketch tour led by Neo Ambassador Angie Yu!
Carclew's Gig Rig
Join Carclew artists Daniel Isler and Jemah Finn in the Gig Rig - an all-terrain mobile music studio. Built to go off-road and on country, the Gig Rig is a 4WD van that has been converted into a multipurpose studio, which can be set up for recording, podcasting, live music and DJing. Hop into the Gig Rig to help create a new track or provide lyrics or spoken word during its drop-in studio session for Neo.

Snacks (Vegan and gluten free options available)
Grab a bahn mi from Soonta, and a donut bomb (salted caramel, nutella or jam!) from Bakery on O'Connell. Jam donut bombs are vegan.
Gaming-inspired Aerosol with Thomas Readett
Ready for a gaming inspired aerosol workshop? Join South Australian artist Thomas Readett in this outdoor session, and let your painted pixels be informed by the bold patterns and graphic line work of John Prince Siddon's work in Tarnanthi!⠀
Karaoke
Go big in this karaoke session in the gallery!
Chromatic Tote Bags with Mali Isabel
Get ready to paint alongside Arabana and Kokatha artist Mali Isabel at Neo Summer Daze! Join Mali for her workshop about discovering identity and self, explored through vibrant rainbow colours and empowering messaging. Mali invites you to paint your story onto a fabric tote bag which you can then take home as a token of your strength, power and journey.
Weaving with Sonya Rankine
Come and learn Ngarrindjeri & Ngadjuri weaving with Sonya Rankine, 2021 SA NAIDOC Artist of the Year and Tarnanthi artist. Sonya is Ngarrindjeri, Ngadjuri, Narungga and Wirangu artist who connects strongly to her culture through weaving and art. At Neo Summer Daze, join Sonya to learn weaving techniques and add to a collaborative piece!

Neo Poster Competition
Enter our Neo poster competition, with the winning poster shared around the state to celebrate our 2022 SA Youth Week Teen Takeover event!
Badge-Making
Make a pin that reflects who you are!
Response Wall
Add your mark to the rainbow graffiti wall while you chill out to live music.
Inflatable Sculpture
Explore Nylon Zoo's latest wacky creation outside..!
Photobooth
Take a snap of you and your friends in the Photobooth.

Drawing in the Gallery
Find a quiet spot, take a moment to be present and sketch what's around you!
Keep up to date with Neo
Register below to receive VIP program updates, exclusive opportunity invites, artist call-outs and competitions!