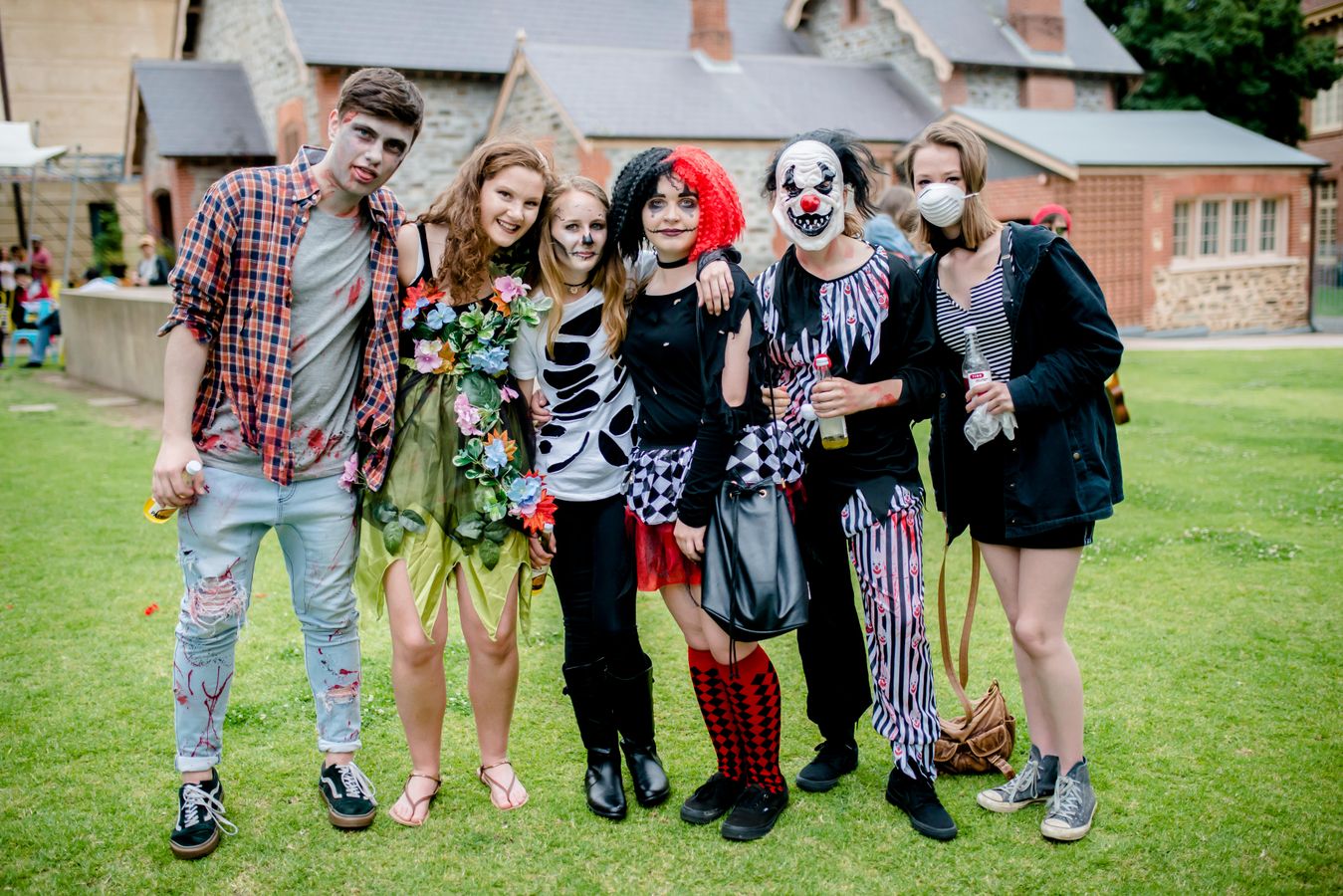 Neo Deadly Halloween
Free
Gallery-wide
Ages 13-17
---
Transform yourself this Neo. Come dressed up in the deadly spirit of Halloween, be altered by special-effects makeup and build a monstrous recycled costume, as Neo explores Tarnanthi through the lens of guest curator Elizabeth Close. Go big in a collaborative mural, learn the basics of Kaurna language, jump into a workshop with dance collective Of Desert and Sea, and tune in to live music and performances on this 'deadly' night.
Check out the full line up:

'Deadliest Costume' Competition
Gather some friends and come dressed up as your most ghoulish or glittering selves! There are prizes for the 'Deadliest Costume' to be won!

Digital Murals with Elizabeth Close – Radford Auditorium
Create your own live-action digital mural with artist Elizabeth Close, and watch your creations scale up from the small screen!

Ghosts and Masks with The Bait Fridge – Courtyard
The Bait Fridge is a wicked collective who are bringing a chaos of raw action, colour, costume and community to Neo. Build a strange and ghastly mask, be captured on set in this new form, and join their collective as they haunt the event…

Move it Dance! with Nikki Ashby – Gallery Space
Participate in a physical workshop of culturally influenced choreography, including hip hop styles of popping, locking and lyrical dance forms led by Narungga/Kaurna woman Nikki Ashby and Of Desert and Sea dancers!
Sessions will be running at: 6.30, 7.15 and 8.00pm

Aerosol Art with Tom Readett – Courtyard
Learn the ropes of aerosol and tonal techniques in this workshop with Tom Readett!

Special Effects Make-Up with Alex Beckinsale – Atrium
Alter yourself with special effects make-up with local artist and avid costume-maker Alex Beckinsale!

Kaurna Language and Games with Tiana Baine – Gallery Space
Get to know Kaurna by navigating a series of games with Tiana Baine from Tauondi Aboriginal College.

Sir Linski – Roving, Outdoor Stage
Meet Sir Linski Styles, an evolving Drag King artist and entertainer!

Candy Wrapper Mural with Neo Teen Ambassadors, led by Iona McDonough – Courtyard Area
Turn trash into treasure in this collaborative colourful candy wrapper mural, led by Teen Ambassador Iona McDonough.

Deadly Prizes! – Outdoor Stage
It's time to reveal the winning teen designer of our brand new Neo vests, and hand out some prizes for the 'Deadliest Costumes' of the night!

The Photobooth – The Studio
Capture yourself and friends as your transformed selves!

Live Music – Outdoor Stage
6pm Caitlyn Walker
6.30pm Inquest
7pm Phylo
7.30pm Sir Linski
7.45pm Deadliest Costume Announcement!
8pm Nathan May

Snacks – Courtyard
Enjoy a couple of slices of pizza, hit up the candy bar and grab a Tiro soft drink. Vegan and gluten free friendly options.

Drawing in the Gallery – Gallery Space
Take a break from the party and draw from the artwork around you.

Sketch Tours – Meet in at Atrium Information Desk
Sketch your way through Tarnanthi with one our Teen Guides!