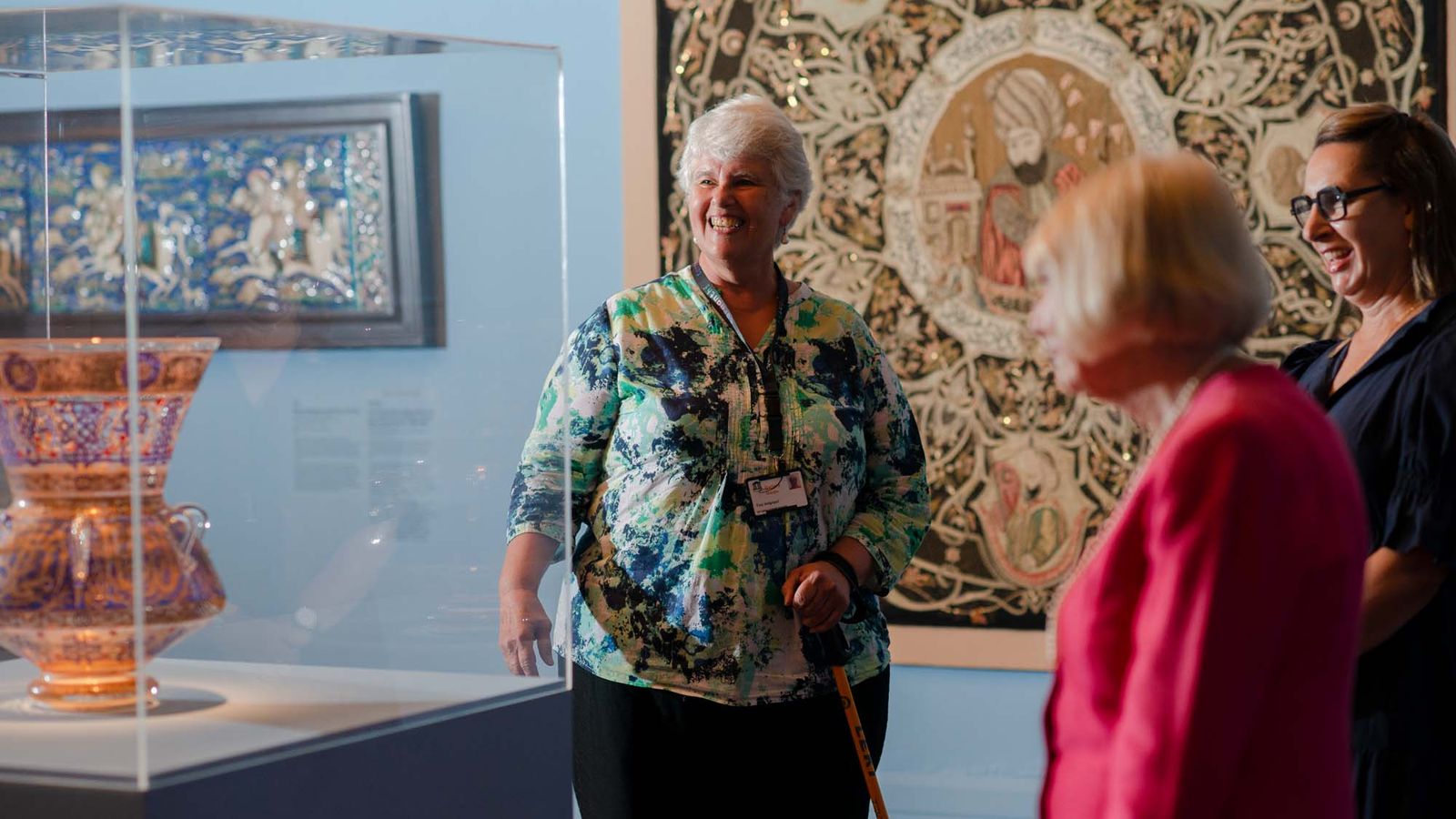 Members Guide to the Gallery
Free with Bookings
Radford Auditorium | AGSA Courtyard
All ages
---
Our popular members tours return with smaller groups and more session times.
Book by registering below when session times become available. Places are limited and bookings are essential.
AGSA's response to COVID-19 asks that visitors who are unwell, or have experienced cold or flu symptoms in the last 7 days, to postpone visiting the Gallery until you are well again. Please read our response to COVID-19 prior to visiting.
September
We are delighted to offer a special interest tour exploring our reaimagined and refreshed Morris & Co. display with our experienced volunteer guides on Friday 30 September at 10:30am and at 11:30am we invite to join our vanguard guides in a unique opportunity to engage in a vibrant discussion around the representation of the nude in the visual arts.
For quick snapshot of what our Nude in the Collection tour will look like, please read the below statement from our vanguard team:
"When we look at the human body represented in visual art we aren't just looking at the form and skin or subject. We look at personality, energy and ultimately ourselves; but what if the bodies on the walls don't look like yours? Whose bodies get to be displayed in the galley space? We invite you to come and learn what it means to be stripped bare in the art gallery: sculptures, paintings and more.
Conversation of nudes that push boundaries of embodiment and humanness-. Lets consider these 'skins suits' through the lens of Feminism, Queerness and POC."
Fri 30 Sept 2022, 10.30am
Morris & Co. (fully booked)
Fri 30 Sept 2022, 11.30am
Representations of the Nude (fully booked)
October
This October, we welcome you to join a Gallery guide for a tour of works of art in the collection inspired by the natural world as we celebrate the arrival of Spring and the 10-day Nature Festival taking place in South Australia this October.
We also welcome you to join our Special Interest tour on the last Friday of the month. Please join one of our guides at 10:30am in an exploration of the permanent collection with one of our French bilingual tours. There will be two French tours; one catering for beginners and one for advanced or native French speakers.
At 11:30am, we invite you to join one of our vanguards in our special interest tour for the month: 'Shedding Light'. This tour will consider the effect and use of light in art through a survey of a number of key works in the collection, such as Tracey Emin's Save Me and Mikala Dwyer's Empty Sculpture. Join us to discuss how the use of light in artworks can alter and modify the message of artworks and the emotive experience of the audience.
Our vanguards are a collective of young people, aged between 20 -30 years old, who are passionate about art and sharing ideas in lively and participative tours that encourage discussion and reflection upon the connection and dialogue between contemporary art and prevalent topics, such as social justice, diversity and the environment.
Please click here to read more about our vanguards
Wed 5 Oct 2022, 10.30am
Nature in the Permanent Collection
Wed 5 Oct 2022, 11:30am
Nature in the Permanent Collection
Sat 8 Oct 2022, 10.30am
Nature in the Permanent Collection
Sat 8 Oct 2022, 11.30am
Nature in the Permanent Collection
Wed 19 Oct 2022, 10.30am
Nature in the Permanent Collection
Wed 19 Oct 2022, 11:30am
Nature in the Permanent Collection
Fri 28 Oct 2022, 10.30am
French Bilingual Tour, Beginner
French Bilingual Tour, Advanced
Fri 28 Oct 2022, 11:30am
For enquiries, call the Membership Office on 08 7085 1624 or email members@artgallery.sa.gov.au