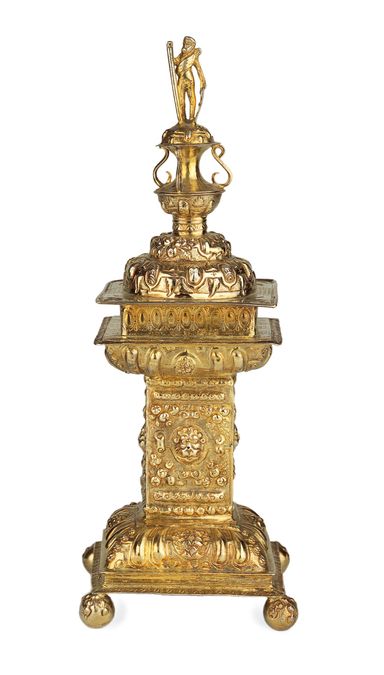 Standing Salt
---
The Gallery's exquisite silver-gilt masterpiece from Elizabethan time
If salt acts as a preservative, then Standing salt is perfectly suited to its task. The elaborate Elizabethan silver-gilt salt cellar has likely helped to preserve human lives while itself remaining intact for almost 450 years.
Salt was expensive in sixteenth-century Britain, and richly ornamented salt cellars were highly prized symbols of social status. Gold and silver 'standing salts' marked the position
 of the host at banquet tables, prominently displaying an extravagance in material, design and size far beyond their simple function. Sadly, war, financial upheaval and changing tastes eventually resulted in many being melted down for their precious materials, making them rare today.
Standing salt, crafted in London in 1583–84, is one of only eight rectangular salts now known to exist. Nonetheless, 350 years after its creation, turbulent events likely forced its owners to assess its value.
From 1933, Britain's wealthy banking family, the Rothschilds, the owners of the salt cellar for three generations, were heavily involved in assisting tens of thousands of Jewish refugees fleeing Nazi Germany. Brothers Lionel and Anthony de Rothschild and Anthony's wife Yvonne were instrumental among leading British Jewish figures in the establishment of relief organisations to support the refugees. As part 
of their work, these groups helped to arrange the famed Kindertransport, which evacuated almost 10,000 Jewish children to Britain in 1938–39. In addition, Rothschild family members led a worldwide appeal for funds to assist the refugees. However, by late 1940 the key organisation they had formed, the Central British Fund (CBF), was facing a crushing financial burden due to its economic support to thousands of refugees in Britain. In October 1940 Anthony de Rothschild sold at auction more than 100 fine gold and silver objects, including Standing salt, probably as part of the family's efforts to raise funds to continue to protect lives. With government assistance, the CBF survived and supported refugees throughout the war.
Following the auction, Standing salt's new owner kept it in a strongroom safe in Exeter, but wartime firebombing in 1942 destroyed the entire area where it was being stored. Remarkably, it was recovered unharmed and only temporarily dulled – it had again escaped being melted.
Standing salt was purchased soon after the war by Australian businessman Frank Penfold Hyland, and later his widow donated it to the Gallery. So highly regarded was this masterpiece of survival that, in 1981, the Gallery's then- Director, David Thomas, wrote:
Our greatest treasure is, unquestionably, the superb silver-gilt Standing salt from the time of Elizabeth I
Having prevailed against the odds, it is on permanent display in gallery 15.
Barry Patton is Writer and Researcher of Tarnanthi at AGSA. This article first appeared in AGSA Magazine Issue 34.
1 David Thomas, 'A unique gallery', in Mervyn Horton & David Thomas (eds), Art Gallery of South Australia 1881–1981, Art Gallery of South Australia, Adelaide, 1981, p. 39.