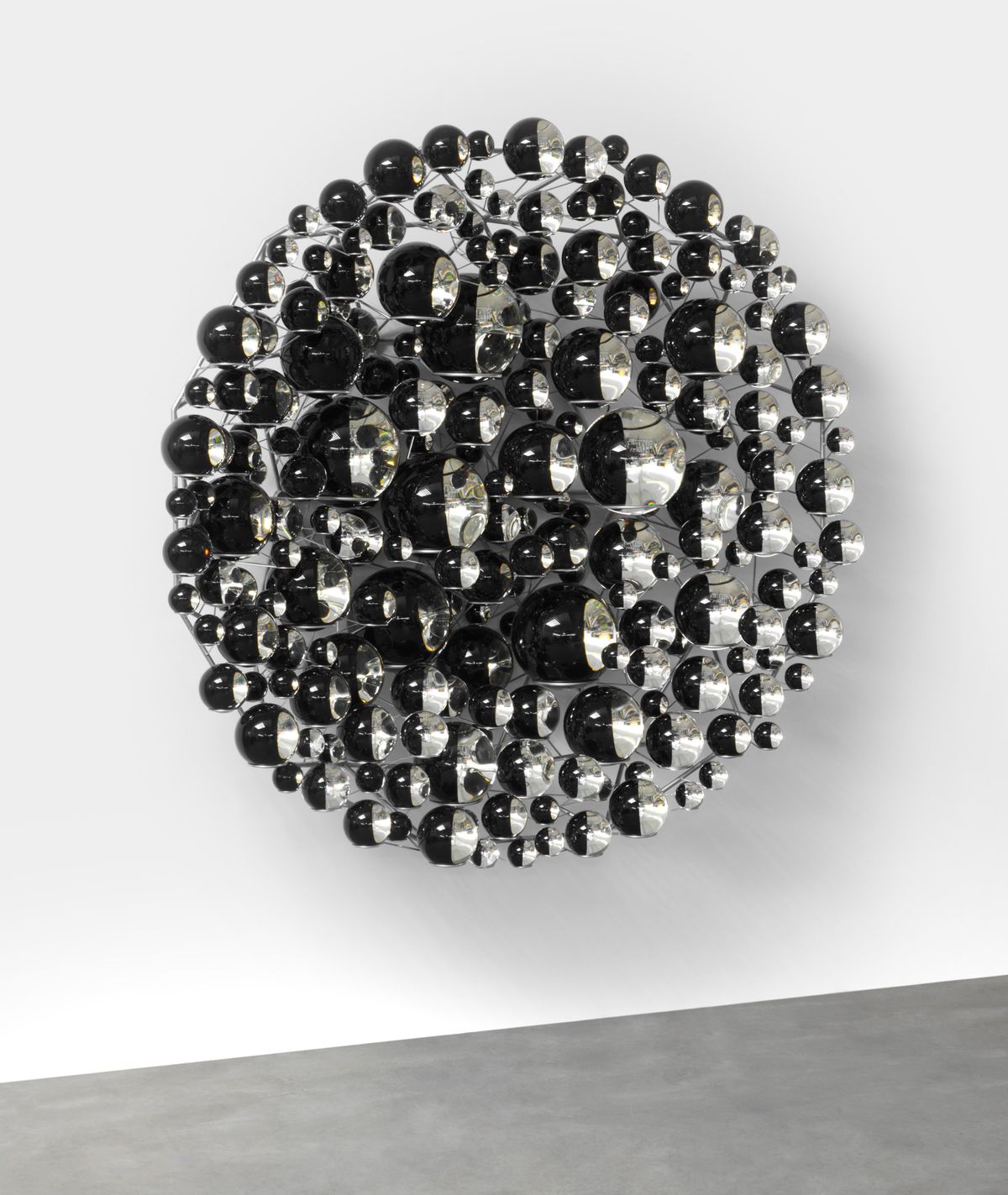 Director's Insight - Olafur Eliasson
---
Director Rhana Devenport shares Eliasson's addition to AGSA's international contemporary collection
Olafur Eliasson's sculpture, Dark matter collective, 2018, is comprised of a constellation of 217 partially silvered glass spheres of varying sizes, balancing in a wall-mounted, stainless-steel cradle to create a mesmeric circular mass of reflection. Each sphere has been hand-silvered and painted matte black. The work reveals itself through the viewer's perception: as they move around the work of art, hundreds of inverted reflections of the viewer and the environment they inhabit are created. Dark matter collective continues Eliasson's extended body of work in which spheres and reflective materials are used to cast experiences of wonder and altered perception.
Glass spheres and other optical aids, such prisms, lenses and mirrors, have been used since Roman times to focus perception and draw perspectival compositions. The apparatus behind an optical illusion is frequently revealed in Eliasson's work, with the artist less interested in generating seemingly magical occurrences and more in disclosing the mechanics of wonder inherent in everyday experiences.
The title Dark matter collective is a century-old astrophysical term and refers to the as-yet-unobserved matter that accounts for approximately twenty-seven per cent of the universe. Likely a major influence on the universe's structure and evolution, it is also undetectable by current astronomical instruments. The artist was also interested in recent studies in physics that extended the idea of dark matter to propose that a parallel universe or galactic shadow world could be comprised of dark matter, a universe that could exist as an invisible mirror of our own – an intriguing concept!
Born in Copenhagen in 1967, Danish–Icelandic artist Olafur Eliasson is recognised for his large-scale installations and sculptures that experiment with visual perception and the agency of the viewer. The artist, who describes himself as driven by his interests in perception, movement, embodied experience and feelings of self, is committed to transforming thinking into doing in the world, with his work arcing across sculpture, painting, photography, film and installation. Often employing elemental matter, such as light, air and water, and materials like metal and glass, to explore his interests in geometry, optics, colour theory and meteorology, Eliasson's practice moves beyond the museum to engage in the broader civic space by means of architectural interventions, arts education and policymaking, along with activities relating to sustainability and climate change.
In 1995 he established the multidisciplinary Studio Olafur Eliasson, in Berlin, a team comprising more than 100 researchers, engineers, archivists, cooks, programmers, art historians, architects and craftspeople. In 2012, Eliasson and engineer Frederik Ottesen founded the social enterprise, Little Sun. Creating solar power infrastructure for communities throughout the world without access to electricity, the company is funded through the sale of solar-powered lamps and chargers.
In 2003 Eliasson burst onto the international stage with The Weather Project, a work of art of immersive radiance, presented in Tate Modern's Turbine Hall. In that year also, Olafur Eliasson represented Denmark in the 50th Venice Biennale and in 2007 was selected for the 16th Biennale of Sydney. A solo exhibition, Take Your Time: Olafur Eliasson, was held at the Museum of Contemporary Art Australia in Sydney in 2009–10. His vast site-specific work, The New York City Waterfalls – four manmade waterfalls located around that city – commissioned by the Public Art Fund, was installed in 2008. In 2015, Eliasson transported melting icebergs from Greenland to Paris to coincide with the COP21 Climate Conference. His much-celebrated exhibition, In Real Life, at Tate Modern was presented in 2019–20.
Made possible through the generous support of the James & Diana Ramsay Fund, the acquisition of Dark matter collective continues the Gallery's recent and focused expansion of our international contemporary collection, which includes Chiharu Shiota's Absence Embodied, Tracey Emin's Save Me, and Lynette Yiadom-Boakye's The Watchful. Eliasson's mesmerising work is an exquisite reminder of the power of looking, the dynamic act of human perception, and the role of art in experiencing our world differently.
Rhana is Director of AGSA. This article first appeared in AGSA Magazine Issue 39.