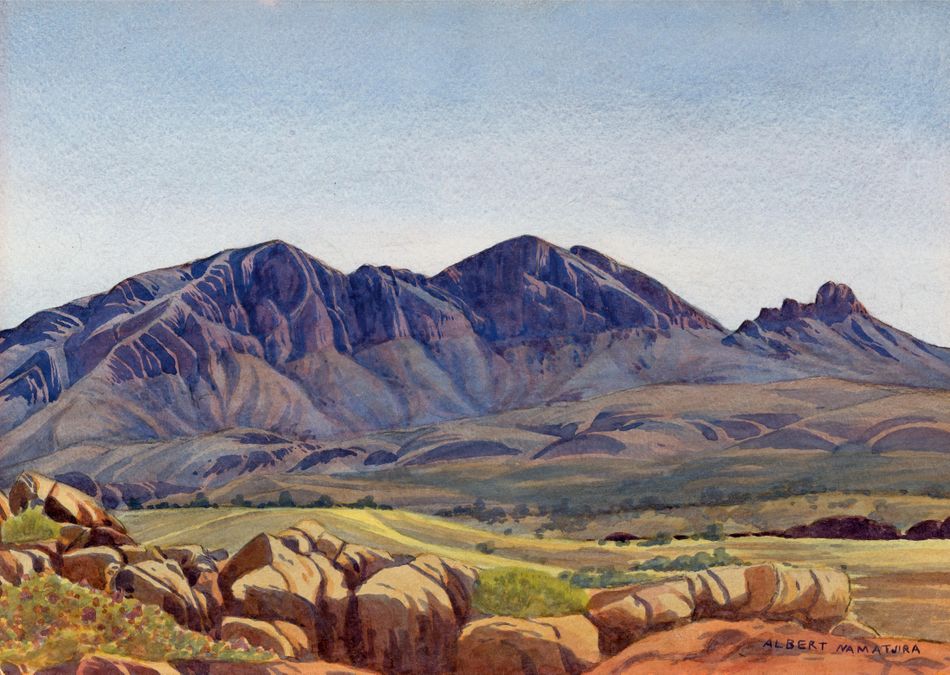 Curator's Insight - Mount Sonder - Rutjipma
---
Albert Namatjira's radiant landscape depicts an ancestral site on his father's Country
Albert Namatjira's name is synonymous with luminous watercolour paintings of undulating mountain ranges and ghost gums, a number of which the Art Gallery of South Australia is fortunate to have in its collection. Joining them is this recently gifted watercolour, Mount Sonder – Rutjipma, dated to around 1954. A fine example of Namatjira's practice towards the end of his working life, this painting testifies to the artist's sustained and prodigious talent.
Namatjira was born in Hermannsburg (Ntaria), 125 km southwest of Alice Springs, in 1902. His first documented works were mulga-wood plaques and boomerangs featuring delicate pokerwork in the shape of birds and other animals. In the 1930s the artist Rex Battarbee visited Ntaria and subsequently introduced Namatjira to the medium of watercolour, and today this is the medium for which he is celebrated. At the same time, Namatjira was painting traditional creation stories and ancestral sites inherited from both his parents, all the while honouring his Country and sharing his connection to it with the wider public.
In Mount Sonder – Rutjipma, Namatjira depicts his father's Country and the nearby Tjoritja (Western MacDonnell Ranges). This sensitive portrayal of Country is distinguished by the artist's deft application of watercolour to represent the rolling hills and boulders of the area. Glowing with vivid colour, Rutjipma and Tjoritja are rendered in crisp purple tones, while the warmer hues of the rocks in the foreground provide a chromatic contrast and serve to highlight the interaction of light on the solid forms. This gentle evocation of Central Australia reveals Namatjira's intimate cultural knowledge of, and spiritual connection to, his home. In the work Namatjira actively reclaims Country rather than merely assimilating it into a Western visual language. This can be seen in another recent acquisition, by Peter Tjutjatja Taylor, a Southern Arrernte (Pertame)/Luritja man who painted alongside Namatjira family members and who depicted the same subject of Rutjipma – half a century later.
As the creator of the first work of art by an Aboriginal artist to be acquired by a public art gallery – the Art Gallery of South Australia, no less – Albert Namatjira has an enduring legacy, and examples of his remarkable contribution to Australian art are currently on display in Gallery 6. Mount Sonder – Rutjipma joins this display alongside other watercolours by Namatjira and his contemporaries working in and around Ntaria from the 1940s onwards.
Gloria Strzelecki is Assistant Curator, Aboriginal and Torres Strait Islander Art at AGSA. Nici Cumpston OAM is Curator of Aboriginal and Torres Strait Islander Art at AGSA. This article first appeared in AGSA Magazine Issue 32.