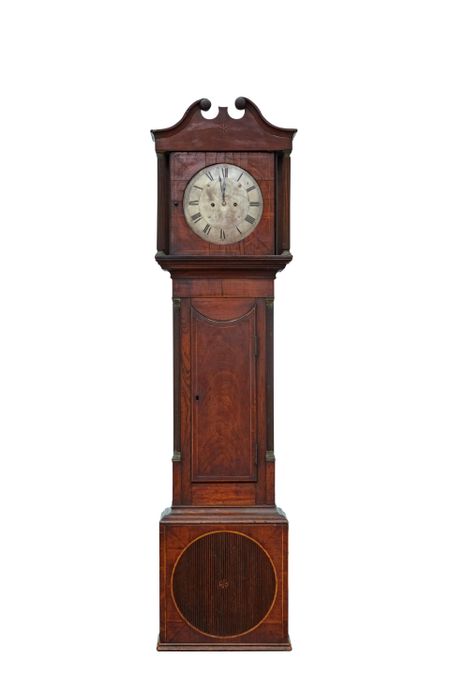 Curator's Insight - Longcase clock
---
Tracey Lock discusses a rare, early example of a domestic longcase clock
This rare, early example of a domestic longcase clock is one of the most significant recent additions to the Gallery's Australian colonial art collection. Made by James Oatley, this Longcase clock has a prestigious Sydney provenance, having remained in the Brush family since 1840. It is one of only seventeen inscribed, numbered and dated, documented clocks by Oatley, Australia's most important early clock and watchmaker and whom the name of the southern suburb of Sydney honours. Oatley was renowned for his longcase clocks, of which this new addition is one of the earliest known.
Almost two hundred years after it was made, this Longcase clock remains in excellent working order; however, its display time has been deliberately stopped at two minutes to midnight. Although referencing the past, this clock poignantly locates us in the present by adopting the current time on the Bulletin of Atomic Scientists' Doomsday Clock. The Doomsday Clock is a metaphor for the likelihood of a man-made world catastrophe – in January 2019 its time was moved closer to midnight in response to climate change, the increased probability of a nuclear threat and the pervasive war on information. The Doomsday Clock was last set at this time in 1953 at the height of the Cold War.
Earlier, Oatley faced his own personal crisis when he was convicted on 7 March 1814 and sentenced to death at the age of forty-four for stealing two feather beds and other sundry items. His term modified to transportation for life to New South Wales, he arrived in Sydney on 27 January 1815 on the Marquis of Wellington. Similar to many other convicts, Oatley's skills were promptly identified by the administration and he was appointed as keeper of the Town Clock by Governor Macquarie, a position he held until 1822. In 1819, Macquarie commissioned Oatley to make a dial train turret clock for the Hyde Park Barracks. The barracks had been designed by architect Francis Greenway and, to this day, Oatley's large clock face on the Georgian pediment remains highly visible from Macquarie Street. Oatley subsequently established a business as a watch and clockmaker in George Street, Sydney, opposite the Town Hall, receiving a conditional pardon in 1821. It is believed that the mechanical components of all of Oatley's longcase clocks were manufactured from recycled naval brass and were assembled locally.
This Longcase clock has a silvered brass dial with Roman numerals and a subsidiary seconds dial and is inscribed 'Oatley/ Sydney No. 7 1820'. Many early Australian decorative arts, including domestic furniture pieces, were directly influenced by British style patterns, and here the cabinetry demonstrates considerable skill and shows a British Sheraton effect, evident through the sophisticated use of inlay and veneer, possibly executed by the Scottish convict artist, Alexander Hart.
At the time of early European colonisation, woodcutters sourced local timber, and red cedar, Toona ciliata, was available in abundance on the east coast of Australia and can be seen here predominantly in the clock trunk. Lighter-coloured Australian casuarina pine is used as a stringing inlay above and around the clock's long door, on the square base and within the circular cedar-veneered clock-face door. The hood of the clock features a swan-neck pediment and is flanked by freestanding reeded columns.
This superb Longcase clock is a distinctive example of the improvisation and rich hybridity of early Australian colonial art. Its use of locally sourced materials and engineered internal movements, combined with an adapted British cabinetry style, testifies to Australia's early heterogeneous European artistic life and the socio-political shifts that have occurred across time.
Tracey Lock is Curator of Australian Art at AGSA. This article fist appeared in AGSA Magazine, Issue 36.