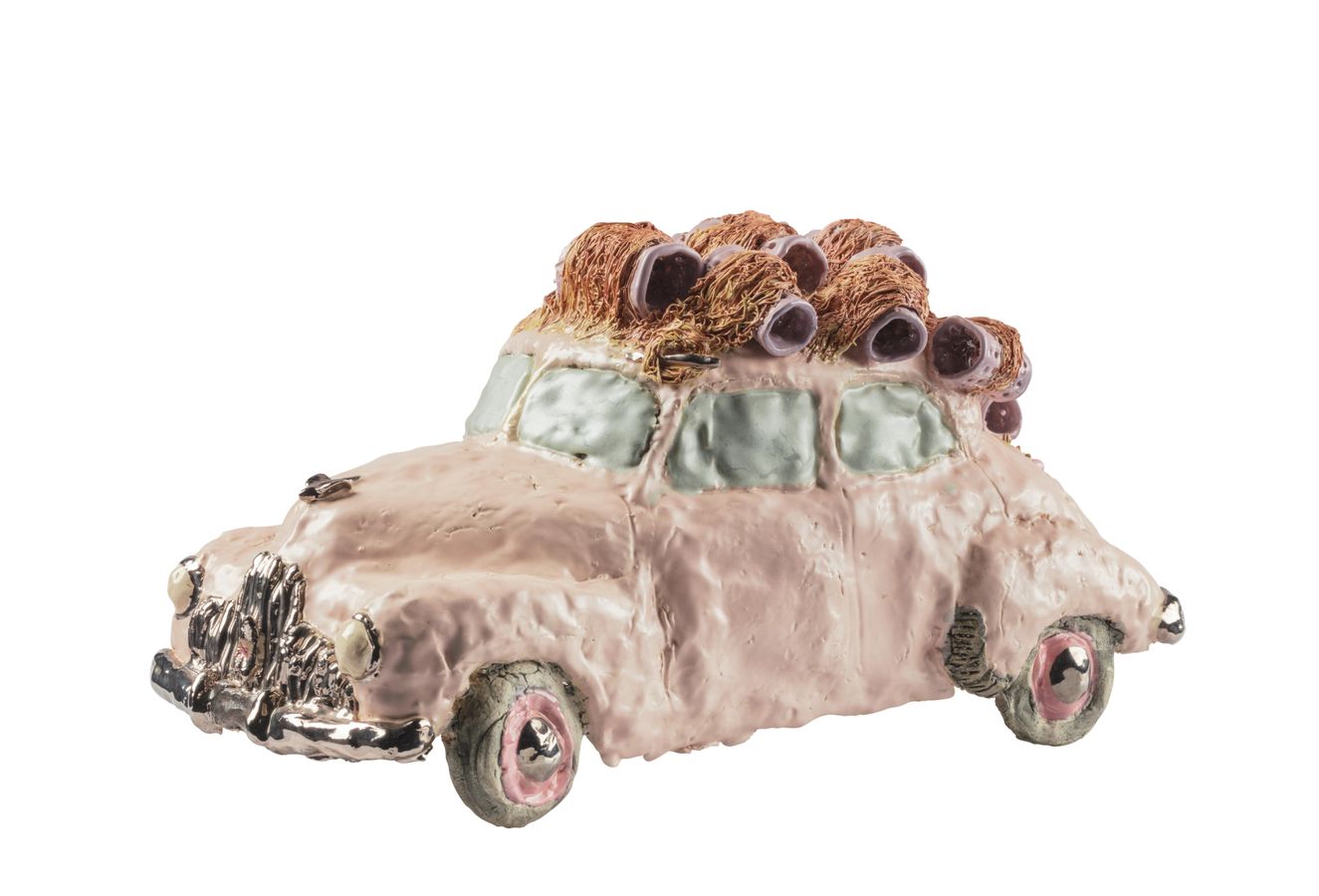 Curator's Insight - Holden with hair curlers
---
Leigh Robb celebrates Margaret Dodd, a South Australian icon
In 1948 the first FX Holden rolled off the assembly line at General Motors in Adelaide and was advertised as 'Australia's own car'. Nearly two decades later, in 1969, South Australian sculptor and filmmaker Margaret Dodd captured this icon of the times – and the state – in her first ceramic Holden sculpture.
This wasn't the first time she had engaged with the automobile in her ceramics practice. Between 1965 and 1968 Margaret had studied at the University of California with Robert Arneson and David Gilhooley, proponents of the Funk Ceramics movement. There, Dodd was encouraged to make and exhibit clay cars, trucks and motorbikes, creating her Fake Funk Truck, 1965, Morris Minor, 1967, and Kawasaki motorbike, 1970. However, as Sue Rowley writes, more than any other model, 'it is in her Holden that the critique of post-war and contemporary Australian culture finds its incisive expression'.
Holden with hair curlers, 1977, was one of the first of the ceramic sculptures created by Dodd for use in her pioneering feminist film This Woman is Not a Car, 1982. After returning to Australia from America, and following a short sojourn in Amsterdam, Dodd found herself marooned in (somewhat ironically) Holden Hill (at that time, the last stop on the bus route). An anthropomorphic automobile with a pastel- pink glaze and a head of plastic curlers, Holden with hair curlers has become a potent symbol of the bleak suburban life of women in the 1970s so acutely felt by Dodd at the time.
Following a visit to Adelaide from American feminist theorist Lucy Lippard in 1977, Dodd, herself a leading figure in the development of the Women's Art Movement in Adelaide, was prompted to make a film and animate it with her ceramic automobiles – a powerful metaphor for the female body. Working at the Jam Factory in St Peters, Dodd made a series of six Holden sculptures, which would become central props for the film. Also taking place in Adelaide in 1977 was The Women's Show, a ground-breaking show in which the work of over 400 Australian women artists was exhibited. Dodd was one of the founder–organisers of this event. The combination of her Holden Hill experience and the groundswell of feminism was the impetus for the film and the creation of Holden with Hair Curlers.
Margaret Dodd was recently the subject of a film commissioned by the Adelaide Film Festival, directed by artist Kate Blackmore and produced by Bridgit Ikin. Titled The Woman and the Car (2018), this new documentary, profiling Dodd and her solo exhibitions in 2017 at ACE Open and Cross Art projects, has united the artist's film, sculptures, posters, prints, photographs and props, bringing to light the importance of this body of work and the enduring impact of Dodd's trailblazing vision.
Leigh Robb is Curator of Contemporary Art at AGSA. This article first appeared in Articulate Issue 33.