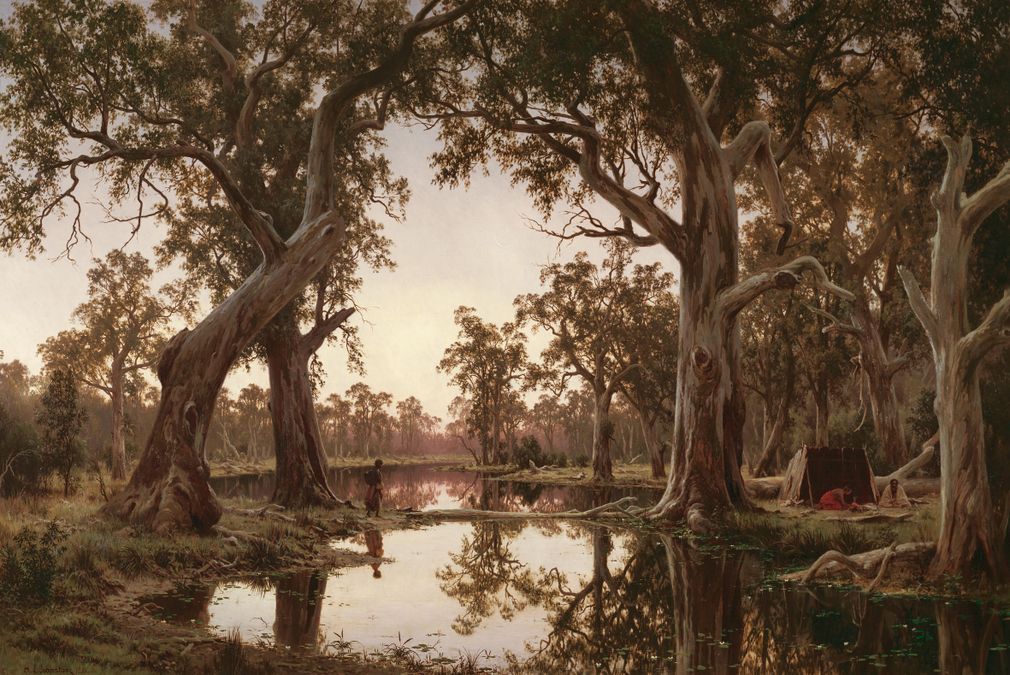 Curator's Insight - Evening Shadows and A Billabong in the Goulburn Valley
---
Tracey Lock celebrates the Evening shadows phenomenon
Few works in the Gallery's collection have evoked more fascination than the Gallery's first acquisition, H.J. Johnstone's Evening shadows, backwater of the Murray, South Australia, 1880. This tranquil twilight scene showing an Aboriginal family camping on a river bend is often viewed as a meditation on the passage of time.
Immediately following its acquisition in 1881, Evening shadows became the institution's most popular work and has remained on public display almost continuously since then. Its large scale and formulaic picturesque composition, of framing trees and a central focus, made the subject an ideal in-situ teaching model for landscape painting students. Reproduction print copies of the painting in wide circulation also meant that it was emulated by art students beyond Adelaide in the late nineteenth and early twentieth centuries. Over time, this has led to Evening shadows becoming the most copied work in Australian art history, prompting the Gallery in 1999 to stage an exhibition titled Reflections to celebrate this notable, localised 'multiples and copying' phenomenon. Today, in excess of 400 documented versions of this painting are known. Its allure has endured and today its potent subject points to the dispossession of our First Peoples and our difficult history, inspiring further artistic responses from several contemporary Australian artists.
What adds to the complexity of this phenomenon is that Evening shadows was not the first, or only, version painted by Henry James Johnstone. Although rarely mentioned, making multiple versions of paintings is a longstanding traditional art practice and was widely explored by Johnstone. In addition to the painted copies created by others, Johnstone produced at least ten known versions of the painting himself. Working simultaneously as a photographer/painter, he was aware of the idea of creating 'multiples' and he often repeated this formulaic composition, slightly adjusting the figurative elements and modifying the geographic locations of his titles to suit his targeted market.
The earliest known prototype of Evening shadows has recently been secured for the Gallery's collection through the generosity of Ron and Marilyn Seidel. Titled A Billabong in the Goulburn Valley, Victoria, Australia, 1878, it conveys the intimate, quiet sentiment of Johnstone's Melbourne teacher, Louis Buvelot, while its stillness reflects Johnstone's 1860s photography practice. All versions by the artist have become of pertinent art-historical interest as intriguing pieces of a larger jigsaw puzzle. The Gallery is delighted to be expanding and celebrating its remarkable Evening shadows phenomenon. A Billabong in the Goulburn Valley adds another missing piece to a beguiling larger Evening shadows story of redux, reversals and borrowings.
Tracey Lock is Curator of Australian Art at AGSA. This article first appeared in AGSA Magazine Issue 36.