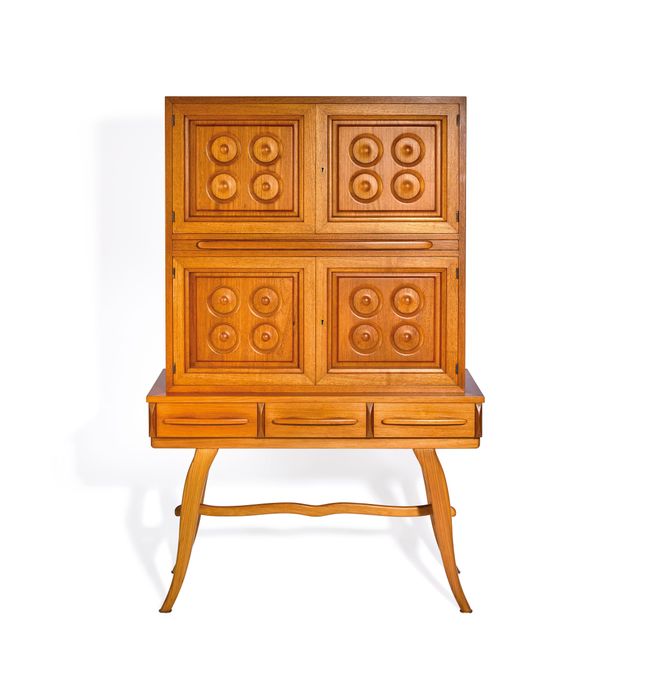 Curator's Insight - Cocktail Cabinet
---
GLORIA STRZELECKI shares a major acquisition by Schulim Krimper
With the rise of fascism in Europe in the 1920s and 1930s and subsequently the outbreak of the Second World War, large numbers of émigrés fled Nazi-occupied Europe, with many settling in Australia. With their arrival, Australian life and culture would be irrevocably transformed. Amongst these new arrivals was a large base of makers and creative craftspeople whose work in their adopted country integrated their cultural and artistic heritages with the influences of this new environment.
One of these talented individuals was the cabinetmaker Schulim Krimper, who along with his wife Elsbeth fled Nazi Germany, arriving in Melbourne on 17 August 1939 and bringing only his tools and skills with him.
Born in 1893 in Sereth, Bukovina, Austria-Hungary (now Romania), Krimper was the youngest of five children. At the age of nine, an orphaned Krimper was living with his eldest sister before being apprenticed to a local furniture-maker at the age of twelve. By the 1920s, Krimper had settled in Berlin, where
 he was exposed to the work of the Deutsche Werkstätten, or German craft workshops. The aim of this group was to revive the crafts in a way that would be appropriate for a twentieth- century lifestyle. Krimper was also interested in the Biedermeier style, and in his work combined traditional cabinetmaking techniques with a modern approach, whereby wood and natural finishes were celebrated.
By the 1950s and 1960s this very unique pairing meant that Schulim Krimper, who had established a practice in St Kilda, had become Melbourne's premier supplier of custom-made furniture. As for the Krimper clientele, they were largely émigré- based, with a discerning taste for furniture in a modern style, but with a European-derived tradition. A chance encounter with Robert Haines, Assistant Director of the National Gallery of Victoria, saw Krimper's work introduced to Daryl Lindsay, Director at the time, with the NGV acquiring two major pieces for its collection in 1948. Exhibitions followed subsequently in Australia and abroad.
In late 2018, through the support of the Collectors Club, the Art Gallery of South Australia was fortunate to acquire a major piece by Krimper. The Cocktail Cabinet, from the mid-1960s, is a piece from the latter part of the maker's career. Made from teak, the cabinet, raised on scroll legs, features a rectangular body with four doors. Inside the cabinet sits a sliding glass 
tray, with shelves above and below, the tray itself no doubt in its day presenting an array of mixed concoctions. Each of the panels on the four doors has four concave circular roundels; with their metal-framed backs, these have been applied from behind. Below the doors sit three drawers with stylised handles. The ornamentation in this piece derives from the construction itself. The cabinet has an impeccable finish, testifying to the craftsman's meticulous planning, hand sanding and, finally, waxing.
A commissioned work, the cabinet was owned by the late Mrs Helen Pearl of Toorak, in Melbourne. Together with her late husband, Mrs Pearl acquired a significant collection of works by artists such as Charles Blackman, Leonard French, Arthur Boyd, John Perceval and Brett Whiteley.
The cocktail cabinet was included in the seminal book on Krimper by Terence Lane, with photographs by Mark Strizic and captions by Krimper's wife and business manager Elsbeth.
Krimper's commitment to materials and his experience and skill as a craftsman made him a master of his trade. His works were modern yet functional and his sculptural approach to his designs made him an artist – his Cocktail Cabinet is a sculpture as much as it is a cabinet.
Cocktail Cabinet was on display in the modernist tableau in gallery 6, where it kept company with other fine examples of mid-century furniture crafted by Grant Featherstone and Marcel Breuer.
Gloria Strzelecki is Assistant Curator, Aboriginal and Torres Strait Islander Art at AGSA. This article first appeared in AGSA Magazine Issue 35.