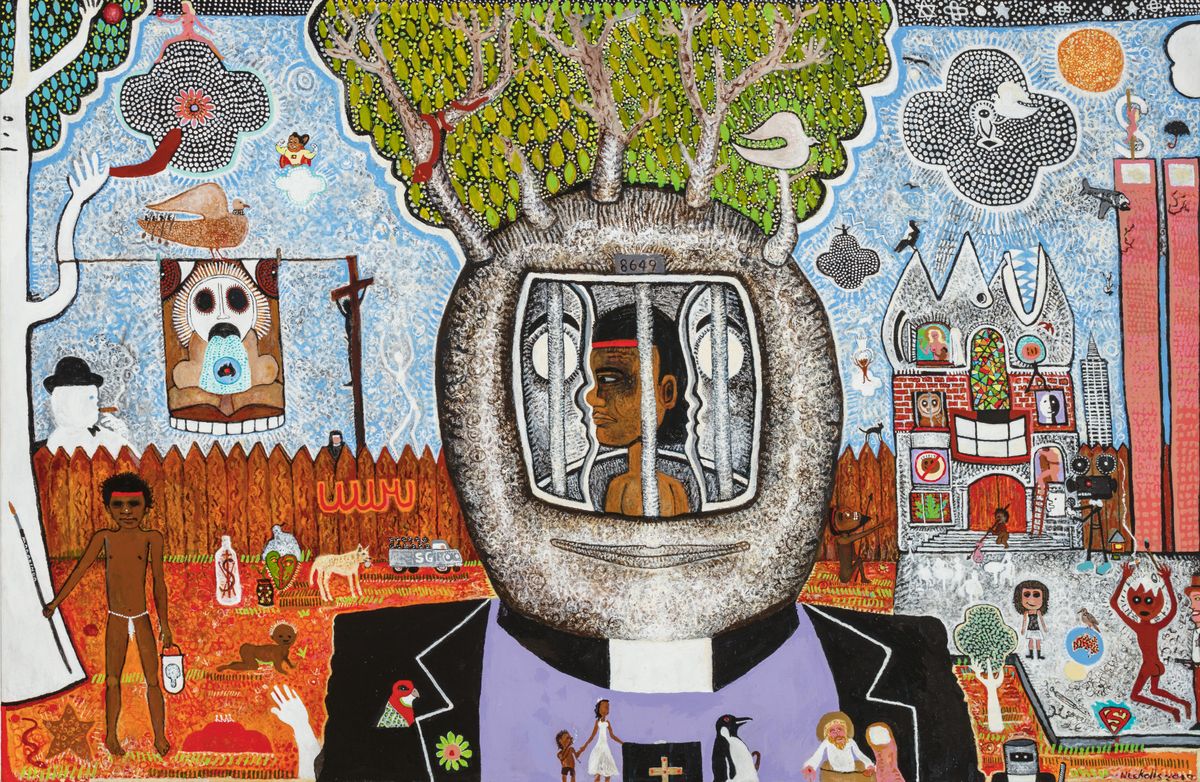 Curator's Insight - Brush with the Lore
---
A look at a new acquisition by Ngarrindjeri artist Trevor Nickolls.
Brush with the Lore is a major work by pioneering Ngarrindjeri artist Trevor Nickolls, whose paintings offer sharp social commentaries on contemporary Aboriginal life.
This recent acquisition exemplifies his frequent focus on the complex relationships between Aboriginal and non-Aboriginal people and the enduring impacts of past tragedies on present- day people and events. His paintings, beginning in the late 1970s, were among the first to portray the harsh realities of contemporary life from an Aboriginal perspective, prompting artist and curator Brenda L Croft to hail him as 'the father of urban Aboriginal art'.
Adelaide-born Nickolls had always wanted to be an artist. He studied at the South Australian School of Art and gained a diploma in art teaching at Western Teachers College in Adelaide, before obtaining a Graduate Diploma in Painting from the Victorian College of the Arts. In a career spanning four decades, his humour and wit were always evident in his paintings, as was his recurring theme of 'dreamtime to machinetime' – the clash of modern-day life with ancestral traditions and a life more harmonious with nature.
In 1990, Nickolls exhibited at the Venice Biennale alongside Kimberley painter Rover Thomas, the first Aboriginal artists to represent Australia. He was a finalist in the Clemenger Contemporary Art Award at the National Gallery of Victoria in 2009, a major survey exhibition of his work toured Australia in 2009–10, and in 2013 he posthumously won the Blake Prize for religious art.
Brush with the Lore – painted in 2010, two years before the artist's death – is composed as if the viewer is seated in a theatre, looking at a stage on which a busy and loaded scene unfolds. At its centre is a clerical figure whose head is a boab tree, inside which Nickolls has depicted himself imprisoned behind bars. Surrounding this are finely executed images that refer to the many different laws that Aboriginal people are required to navigate, the effects of enforced Western religion on the cultural beliefs of Aboriginal people, the Stolen Generations, atomic testing in South Australia and Aboriginal deaths in custody.
Nickolls's paintings are represented in all state galleries in Australia, as well as in numerous prestigious international collections. Brush with the Lore joins four other works in the Gallery's holdings from across his career.
Nici Cumpston is Curator of Aboriginal & Torres Strait Islander Art at AGSA. This article first appeared in AGSA Magazine Issue 34.