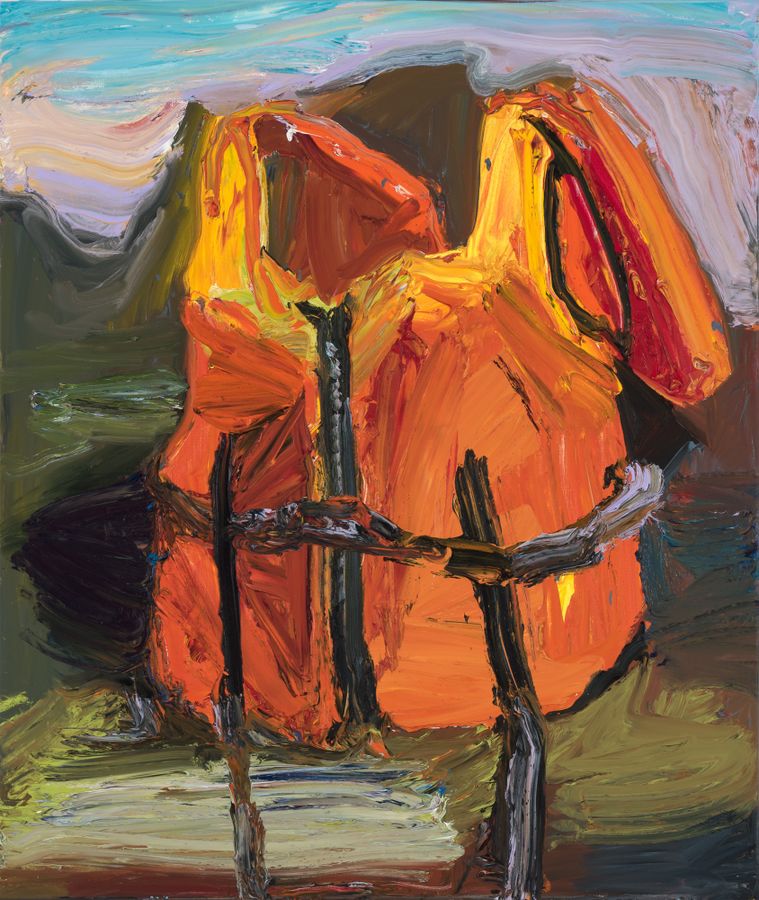 Curator's Insight - Ben Quilty
---
A look at Ben Quilty's series of twelve paintings dedicated to the lost lives of asylum seekers.
Each life vest is in effect a tombstone, a way of remembering the dead. Together the paintings constitute a memorial, as lugubrious and dour an epitaph as Australia's refugee policy
Created during 2016 and 2017, this group of twelve paintings by Ben Quilty is dedicated to the lost lives of asylum seekers who committed suicide while held in detention. Each empty life vest, and the corresponding title, records the name of an individual who sought refuge in Australia and who, in frustration and desperation, took their own life before sanctuary was granted.
This elegy includes Mohammad Nazari, a thirty-five-year-old Hazara man who, overcome by events in his past and the uncertainty of a bridging visa, hanged himself while in Sydney, and Khodayar Amini, who set fire to himself because he believed he would be returned to Afghanistan. Quilty honours each life in paint, extending his interest in portraiture to create this harrowing memorial.
In 2016, at the invitation of World Vision, Quilty travelled with writer Richard Flanagan to Greece, Lebanon and Serbia, where he witnessed at first hand the refugee crisis. Quilty described the sight of countless discarded life vests scattered along the coastline of the Greek island of Lesbos as a 'high tide mark of bright orange'. This indelible image has made its way into several key works by the artist, including works exhibited in the 2016–17 exhibition Sappers & Shrapnel: contemporary art and the art of the trenches and this collection of paintings.
All twelve paintings have been donated to the Gallery by Melbourne-based donors Patricia Mason and Paul Walker, who have dedicated the gift of each painting to the individual whose empty life jacket the artist has painted. Like Quilty, Mason and Walker are frustrated by the treatment of asylum seekers in Australia. Quilty says:
It is hard to empathise with a person if there is no sense of that person's humanity ... I want people in my country to know what is happening.
Mason and Walker echo Quilty's reasoning that 'having a visual language is a powerful way to tell a story other people can't'. This donation has been guided by gallerist Jan Minchin and her belief that the paintings should remain together, to be shared with the Australian public as a memorial in perpetuity to the twelve individuals.
Leigh Robb is Curator of Contemporary Art at AGSA. Dr Lisa Slade is Assistant Director at AGSA. This article first appeared in AGSA Magazine Issue 32.