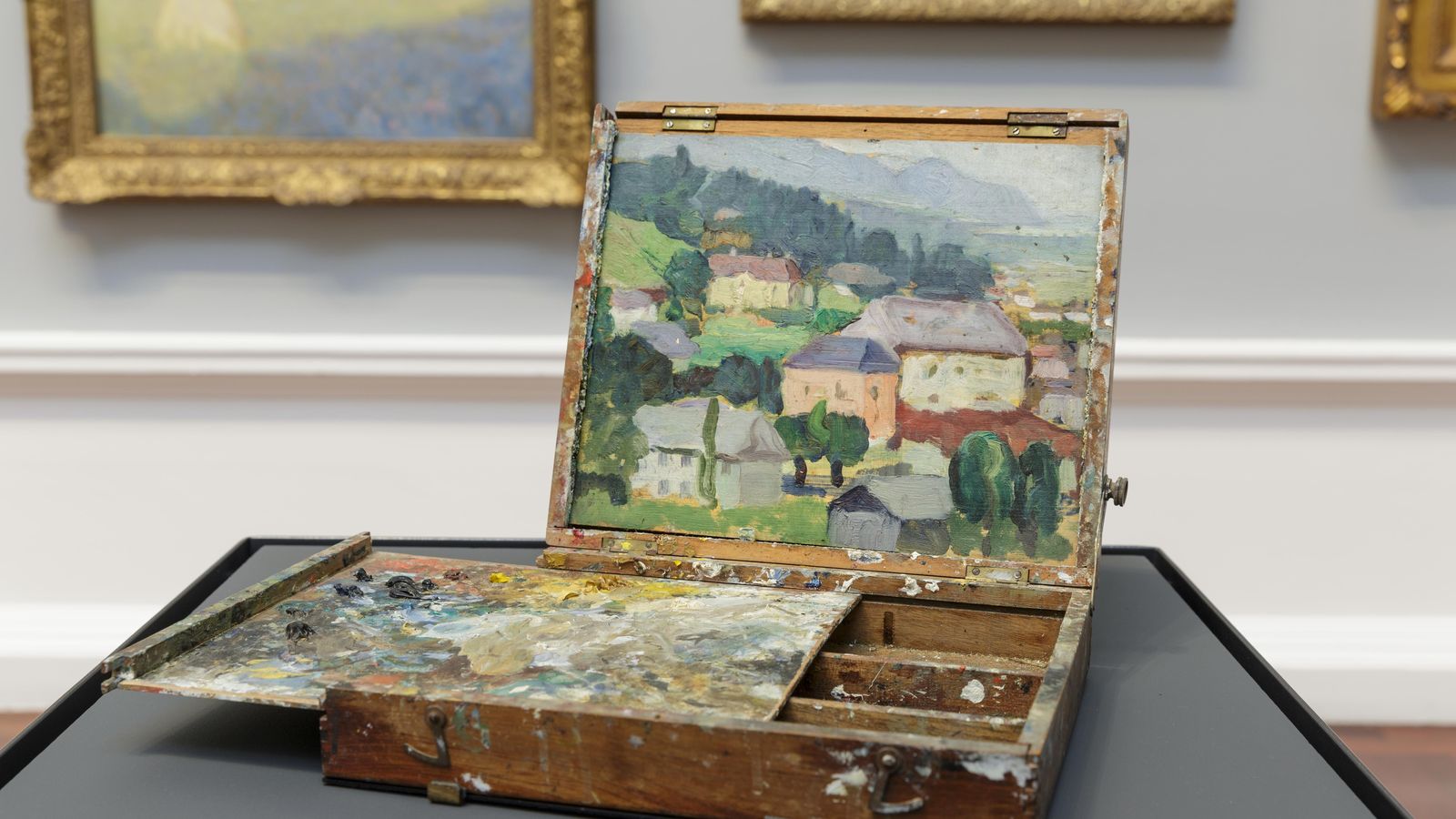 Curator's Insight - Artist's paint box with French coastal landscape
---
The vigorous post-impressionist style of Bessie Davidson is examined by Elle Freak
An invigorating sense of freedom, innovation and determination characterises both the art and life of Bessie Davidson. With the assistance of her small portable paintbox, she developed a vigorous post-impressionist style, freely recording the world around her – Europe, Russia and Morocco – using a palette of high-key colour.
The Adelaide-born, French-based artist was part of a generation of pioneering Australian women whose journeys abroad led to dramatic innovations in colour, composition and form in their work. The artistic ferment of early twentieth-century Paris was particularly alluring for Australian artists and Davidson was one of the many women who went to Paris to study, others including Margaret Preston, Gladys Reynell, Marie Tuck and Hilda Rix Nicholas, all of whom lived in France between 
1905 and 1910. However, unlike many of her contemporaries, who were bound by the obligations of family, motherhood
 and marriage, Davidson, at the age of thirty, declared herself
 an independent artist and decided that Paris would be her permanent home. She claimed in 1914: 'I can't help this life that is in me – and I must paint or I feel ill'.
Living in Montparnasse from 1910 until her death in 1965, and surrounded by the world's leading painters and poets, Davidson achieved a number of firsts: she was the first Australian woman to be elected to the Société Nationale des Beaux-Arts (1922); she was founding Vice-President of the Femmes Artistes Modernes (1930); and the first Australian woman to be awarded the Chevalier de la Légion d'honneur for her contributions to French art and life (1931). She exhibited in Paris, Australia, England, Scotland and the United States, and was regularly singled out in French exhibition reviews for her spontanéité, sensibilité, richesse, harmonie and luminosité.
Although modestly scaled, the French coastal scene captured within Davidson's portable paintbox demonstrates the defining qualities of the artist's most renowned period, the 1930s.
The scene of Guéthary, a small French coastal town near the border of Spain, is animated through a controlled range of neutral tones, laid flat against areas of vibrant colour. The carefully arranged composition, with an underlying geometric structure, suggests the influence of Paul Cézanne, an artist greatly admired by her. However, the bold and dynamic paint application is distinctively the artist's own.
The paintbox was later owned by the artist's friend, the young British art student Mary Burges Watson (later Mary Whinney), who recalled:
she applied the paint with an extraordinary little knife out of a manicure set ... placing patches of colour, thickly, with enormous consideration, warm against cold, building up the image very slowly and carefully.
Indeed, using an improvised palette knife, she worked to both define form and dissolve form, sculpting back into the paint surface and allowing the golden grain of the small plywood board to add to the painting's tonality. The finished work, carefully structured yet freely painted, retains all of the vitality of the artist's celebrated style.
Bessie Davidson's paintbox was generously gifted to the Gallery by the artist's goddaughter Stella Reeves (daughter of Mary Whinney), and is now on display in the Elder Wing.
Elle Freak is Assistant Curator, Australian Art, at AGSA. This article first appeared in AGSA Magazine Issue 36.
1 Mary Whinney, letter to A. Ribadeau Dumas, Guernsey, 27 November 1992, cited in Penelope Little, A Studio in Montparnass: Bessie Davidson: an Australian artist in Paris, 2003, p. 103.