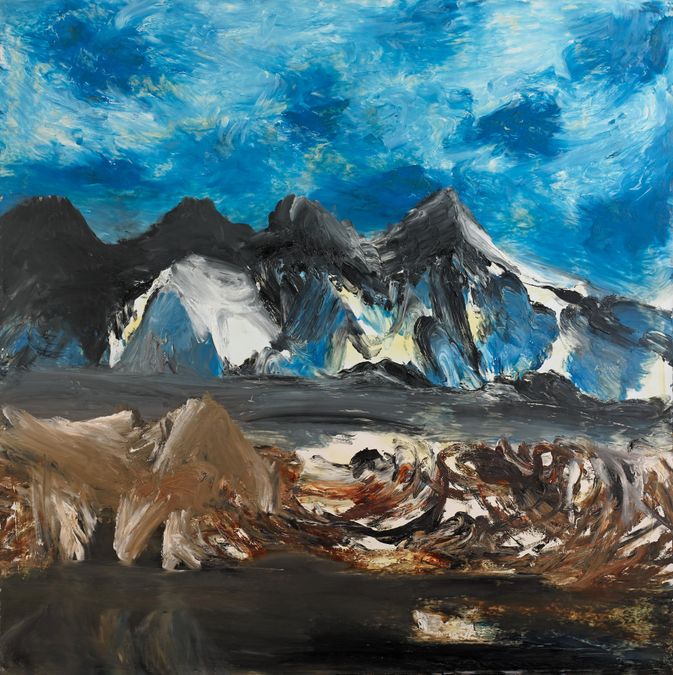 Curator's Insight - Antarctica
---
From childhood, the Australian-born artist, Sidney Nolan, was fascinated by the heroic Antarctic exploring expeditions of Robert Scott, Ernest Shackleton and the Adelaide geologist, Douglas Mawson, of the early twentieth century. Sir Edmund Hillary's successful epic overland crossing (1955–58) of Antarctica further ignited Nolan's ambition to travel to that continent, and in January 1964 an opportunity arose for him to undertake an eight-day visit. The brief experience was profound. Nolan recalled:
I had this cliché idea of Antarctica being flat, an enormous paddock across which dogs would run and explorers would battle … but I found a majestic kind of great continent, very much higher than Switzerland, and glaciers the size of Sydney Harbour coming down at steep angles. One felt this instantaneous fear at the first sight of it, that it would annihilate one; but this was overcome by the sense of wonder in it
Upon his return to his London studio, Nolan expressed his emotional responses during a creatively productive painting period, from April to late September that year. Referring to his voyage sketches and documentary photographs, he completed a sequence of sixty-eight works, which became known as his Antarctica series. This inclination towards sequencing created a sense of kinetic expectation in his work, more aligned with a cinematic process than painting. In this series he exchanges his famous brown-earth desert backdrop for fields of crystalline ice.
His switch of scenery alludes to a subsequent metaphorical drift away from the landscape of the island nation of his birth. Based in London from 1953, Nolan experienced difficulty with identifying with any one place and would later remark in a letter to his daughter in Australia, 'my mind must float I think somewhere between above the Pacific Ocean, halfway between Australia and England'. The uncertainty associated with where to locate his work took him to the edge of disapproval in Australia; however, the critical international success of this Antarctica series secured his reputation.
According to detailed inscriptions, this newly acquired example from the series was completed in London, on 30 August 1964. Although it shows a typical pictorial ambiguity, it is most likely a view looking towards the mainland and the Transantarctic Mountains, which stretch down to the Ross Sea. Antarctica demonstrates the artist working at the height of his virtuosic painterly powers and highlights Nolan's use at the time of a new fast-drying gel medium, which allowed him to paint 'wet on wet' with an unprecedented intensity and speed. Through the use of this gel material, brushes and his own hands, he achieved Turner-like expressive and luminous surface effects.
Working in this manner, he also obtained unusual striped colour combinations, alluding to the crystalline effect of frozen water. The compressed energy of the frenetic marks and the startling surface qualities have an affinity with the anxiety of a world literally 'on thin ice'. Vast, extreme and otherworldly, the fragile Antarctic environment captured in this work resonates with today's heightened awareness of climate change.
Antarctica expands on his well-known nationalist themes and points to a modernist landscape tradition that both speaks of universal concerns and transcends political borders. Australian art's exploration of 'elsewhere' places, beyond our shores and particularly Antarctica, are of increasing relevance to a bigger story of Australian art. The Gallery is continuing to build on its Australian collection of Antarctica works, with other recent additions by the photographer, Frank Hurley, and the Adelaide-based contemporary artist, Ian North.
Antarctica is now on display in gallery 5 and its acquisition was made possible through the generous support of the Gwinnett Family and also Helen Bowden, Ross Adler, AC, the Hon. Justice Mark Livesey, Peggy Barker, Elspeth Doman, OAM, Tom Pearce, Lady Potter, AC, Dick Whitington, QC, and David and Jennifer Hallett, through the Art Gallery of South Australia Foundation Sidney Nolan Appeal 2019.
Tracey Lock is Curator of Australian Art at AGSA. This article first appeared in AGSA Magazine Issue 39.