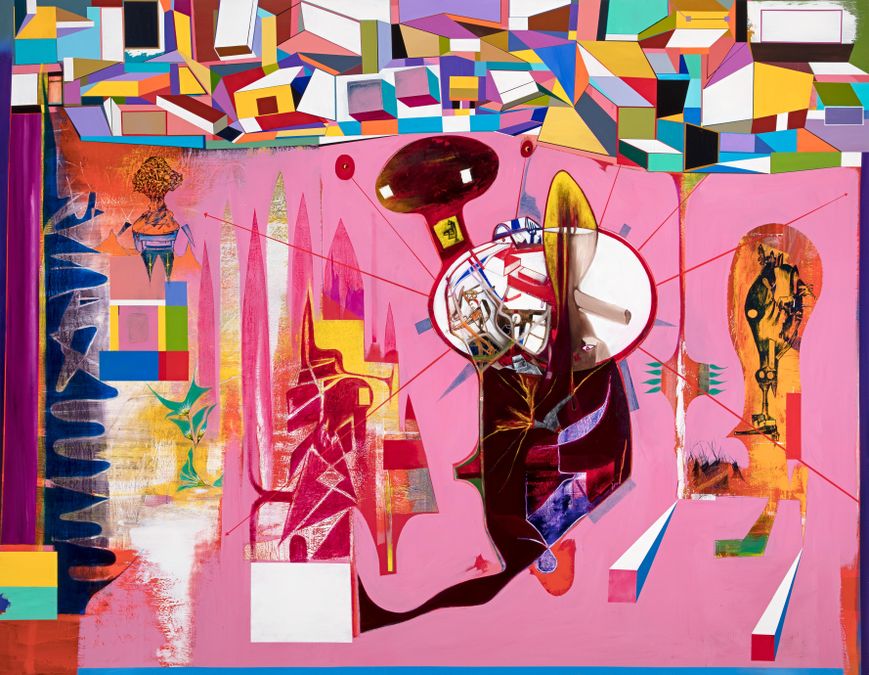 Assistant Director's Insight - Wittgenstein's brush with vorticism
---
Lisa Slade looks at the work of Gareth Sansom
Described as a 'pioneering figure of the Australian avant-garde', Gareth Sansom has few peers in Australian art history. A harbinger of postmodernism, Sansom, through work made in the 1960s, predicted the emergence of overt theatricality and the pastiching of popular culture in future works of art.
Sansom is now represented in the collection by two major paintings and a suite of works on paper, the latter recently gifted by the artist. Banbury Cross, from 1970, the first painting by Sansom to be acquired by the Gallery, in 1985, combines oil paint, enamel and collage. Now, almost fifty years after Banbury Cross was made, comes Wittgenstein's brush with vorticism, painted in 2016.
A large oil and enamel painting on canvas, Wittgenstein's brush with vorticism features abstract and semi-abstract figures and forms set against a field of lurid-pink paint. Sansom's early practice – dominated by collage and disruptive image-making – resurfaces here in oil and enamel paint, with aberrant interruptions of colour and form traversing the painting's surface. The top quarter of the painting is filled with geometric prisms that pertain to vorticism, the machinic modernism of the British Cubo-Futurists, who practised from 1914. The speech bubbles shown in red at the centre of the canvas refer to the investigations into the logic of language pioneered by Ludwig Wittgenstein, the European philosopher who, after studying at Cambridge University, joined the Austrian army in the year the vorticists formed.
Sansom recently described the work and its title:
Edwin Tanner, who opened my second exhibition in 1963, was always talking to me about the philosopher [Wittgenstein], and since then I have tried and tried to comprehend the mysteries. On the other hand the Vorticist movement didn't ever really amount to much, and their best artist [Henri Gaudier-Brzeska] died in WW1 – his last work being carved into his rifle butt...so as my painting was reaching its conclusion in 2017 [for the NGV exhibition] the above strands of thought gave the paintings its meaning – for me. Aside from that I think the title is quite amusing as it purports to suggest a dialogue between a person or persons, and a movement
The Gallery holds two works by Gaudier-Brzeska, including a 1912 sculpture titled Major Smythies and a sardonic painting from 1954 by Tanner, titled White collar worker. Imagine them together – to paraphrase Sansom – in a dialogue between persons and a movement.

Lisa Slade is Assistant Director, Artistic Programs at AGSA. This article first appeared in AGSA Magazine Issue 37.