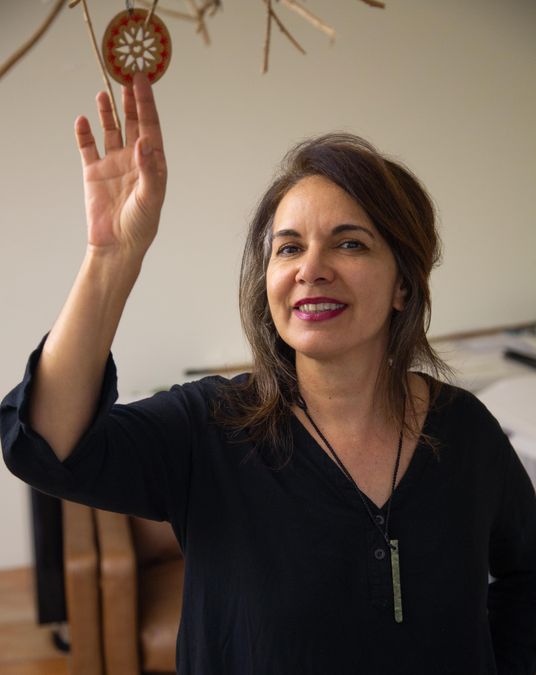 Artist in Focus: Tracey Moffatt
---
AGSA has one of the most representative collections in Australia of the work of photographer and filmmaker Tracey Moffatt, including complete sets of her series: Scarred for Life, 1994, Up in the Sky, 1997, Laudanum, 1998, Invocations, 2000, Fourth, 2001, Under the Sign of Scorpio, 2005, and First Jobs, 2008. The Gallery's collection also contains works from the series Something More, 1989, and seven of her film montages, created with Gary Hillberg.
Since the late 1980s Moffatt has conceived her works as multi-part series, a form that enables her to inventively present non-linear narratives, where the real and the imaginary unfold alongside each other. In each series she adapts a distinct aesthetic, one that draws on a range of visual sources, from nineteenth-century photographs, to film and television history. By crafting a visual vocabulary from Western popular culture, Moffatt produces works that resonate with a broad range of audiences and across different cultural contexts.
Frequently using herself as a model in highly staged photographs, Moffatt presents tableaux that explore the tensions underpinning unequal power dynamics. Moffatt's first major photographic series, Something More, 1989, comprised eight large photographs that drew on the aesthetics of 1950s melodrama to tell the story of a young woman's attempt to leave her small town life for the promise of the city. The series concludes with a violent death.
In Up in the Sky, 1997, Moffatt takes her visual cues from the neo-realist cinema of 1960s Italy. In the twenty-five-part series, Moffatt adapts cinematic conventions such as blurred motion, close-ups and low camera angles to aid her storytelling. She even followed the neo-realist method of shooting on location – doing so near Broken Hill, New South Wales – with non-professional actors. By employing this 'realist' approach, Moffatt evokes the authoritative mode of reportage. The wide range of characters captured in different scenarios suggests a narrative of epic proportions. But there is no beginning, middle and end to lead the viewer through this story. Moffatt's photographs function like film stills, highlighting poignant scenes in a larger drama, but one that is never fully disclosed.
In Laudanum, 1998, a series of nineteen works, Moffatt conjures an atmosphere of sexual hysteria and of a power struggle between a woman and her maid. In the work, which she photographed during a residency in a nineteenth-century colonial mansion in Sydney, Moffatt evokes the colonial past through the home's interiors, the women's costumes, and through her choice of the popular nineteenth-century medium of photogravure. Filtering this re-creation through the genre of horror films, Moffatt expresses the emotional landscape of colonial exchange, one that is defined by claustrophobia, co-dependence and madness.
First Jobs, 2008, explores Moffatt's own experiences of paid employment during her teenage years and early twenties. The autobiographical nature of the series is signalled by the titles of the twelve works, each of which identifies the job and year she was employed. Photoshopping herself into different workplaces, such as a fruit market and hair salon, she creates a nostalgic mood. This is reinforced by the bright colour palette of the inkjet prints, which draw on the conventions of art direction in the advertising campaigns of the1960s and 1970s. The artist notes that the series is a reflection on the kind of labour available to her as a working-class teenager in 1970s Brisbane.
Maria Zagala, Associate Curator of Prints, Drawings and Photographs
Podcast
Alice Clanachan discusses 'Tracey Moffatt: Body Remembers'