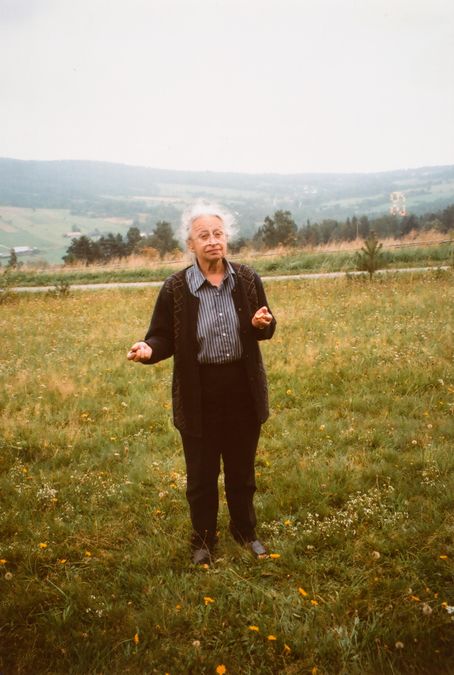 Artist in Focus: Lidia Groblicka
---
Printmaking is often a medium with which artists experiment. Taken up, it is then set aside in favour of painting and drawing, processes that are immediate, direct and undisturbed by image reversal. For Lidia Groblicka printmaking held more enduring appeal. Her recent death makes it difficult to know why she engaged with this process throughout her life. Perhaps, having come to it as a young woman, it was partly habit, or maybe she found the act of carving blocks absorbing. But the medium gave a strength to her prints that was never as apparent in her paintings. Cutting images in wood encouraged her to resolve and simplify forms. With these forms, she composed a striking visual language, one made even more emphatic when rendered in the blacks and whites of inked blocks on paper.
Born in Poland in 1933, Lidia Groblicka (née Duda) spent her early childhood in Krzemieniec. After the outbreak of the Second World War the town became embroiled in a succession of battles between German and Soviet forces, and by 1944 the situation was unbearable. With the help of a sympathetic German soldier the family fled to Nowy Sacz, a village at the foot of the Carpathian Mountains. After finishing school, Groblicka took private lessons with local artist, Eva Harsdorf, before enrolling at the Academy of Fine Arts in Kraków. It was here she first came to printmaking.
Groblicka's earliest works evoke the tenets of socialist-realism, a Soviet-sanctioned style institutionalised in Polish art schools in 1949. In this style the working classes were portrayed as diligent, strong and vital to the creation of the ideal socialist state. But socialist-realism never gained a substantial footing in Poland and its influence petered out after Stalin's death in 1953. This factor, combined with her growing confidence as an artist, saw Groblicka's artistic practice evolve in new ways.
The daughter of a botanist and a lover of nature throughout her life, Groblicka was highly attuned to the connections between humans and the natural environment. Around 1954 she began fitting together their complementary forms like pieces in a puzzle. In works such as Girls resting (c.1954–56) twisting tree limbs and the imagined movements of wind mirror the girls' rounded bodies. Elsewhere, skies hang from human subjects like close-fitting cloaks.
In Landscape (1956) the central female figure is the centrifugal point for the movements of the earth, trees and sky, which pass about her in rhythmic loops and restless swirls. This theme was one to which Groblicka would return throughout her life.
In the early 1970s she made a series of works in which she collapsed the boundaries between humans and nature altogether. In The crying tree (1972), large leaves metamorphose into sad faces, while delicate human hands become small branches and feathered nests.
Between 1957 and 1965, Groblicka's work underwent a succession of stylistic changes. These accorded with larger, life changes involving marriage, childbirth and the difficult experience of being a migrant – first in England, and then Australia. In the early 1960s, the jewel-coloured, pop art prints of artists like Peter Blake and David Hockney began dominating London's art scene. Groblicka's artistic output in England, by comparison, was contained and compact. Of a high emotional timbre, the tiny, monochromatic body of work made in this period reflects the estrangement she experienced as a migrant.
Some years later she used these feelings as the basis for Odd flower out (1992) in which a flower, personified, cries out in pain and distress.
In London, the rhythmic imagery of her early woodblocks began to disappear. Using blocks of linoleum, her prints became simpler, starker and sometimes severe. She also began experimenting with automatic processes, meaning that she abandoned preparatory drawings and cut blocks without first having resolved her composition.
This resulted in the production of a number of naïve looking works, including Walking the dog (1963), in which a woman and her pet stand near a house. In fleeting plays of perspective, the house rests on the horizon, then hangs impossibly in the sky. In this purgatorial space, home remains at large. Between c.1962 and 1970 Groblicka also produced a small group of disquieting drawings. These works combine tremulous, childlike imagery with strange allusions to sadness and death.
In 1965 Groblicka and her husband decided to move to Australia, settling briefly in Sydney before relocating to Adelaide in 1966. After Europe's towering cathedrals, she found the low-lying sprawl of the suburbs intensely alien. This setting inspired her most iconic work: For the individualist only (1969). Here Groblicka weaves together cream brick homes in a repeat pattern reminiscent of Eastern European textiles.
Although the work could be read as an attempt to translate a foreign environment through a familiar language, her message is incongruous – the pattern is alternately entrancing and monotonous. These divergent connotations mark a shift in the conceptual complexity of Groblicka's art, which came to find continued expression in her Bugs series, produced intermittently between 1988 and 1996.
The Bugs series is deceptive. Outwardly, processions of insects are eccentric subject matter, particularly when interpreted in the decorative vernacular of Polish folk art and tapestry. However, these works comment on the realities from which we frequently shy away: the smallness of our bodies, the brevity of our lives and the vanity of our ambitions. In Bugs' tree (1988) humans are recast as tiny ants that ascend a tree of life. At its peak, two angels welcome those who exceed the periphery of the page, as they travel onward to an unseen space.
During her lifetime, the conceptual qualities of Groblicka's art were sometimes overshadowed by her use of ornament and pattern. Nonetheless, Polish folk arts customarily spanned social and ornamental roles, embellishing the ceremonial clothes and furnishings that mark significant moments in a person's life. With this in mind, it is fitting that Groblicka interprets existentialist ideas within a visual language so intimately connected to life.
From the late 1990s, the artist's prints re-assume the rhythmic patterns of her earliest works in more dramatic incarnations – circles wind hypnotically and repeat motifs beat incessantly across reams of paper. But while her student works expressed belief in the profound connection between humans and nature, her final works speak of its destruction. In Plantation in Spring (2001), patterns that first appear as floral ornament emerge as ominous assemblages of skulls budding dollar signs.
As she grew older, Groblicka's aversion to environmental destruction became increasingly impassioned – particularly when this destruction was wrought by indiscriminate corporate enterprise. The agitated patterns of these prints reflect the fervency of her beliefs. The artist's final works are revelations. Blocks are cut with a precision characteristic of younger, nimbler hands. Ideas are rendered in ways that encompass both humour and anger. In Soul of the corporation (2008) an impossibly obese body forms an acerbic but brilliantly kooky commentary of modern materialism.
Having produced much of her adult work in relative isolation, Groblicka had evolved by the end of her life, a distinctive visual language unlike that used by any other Australian artist. Her death leaves a sad space in Adelaide's art community. But her work, held in numerous public and private collections, will continue to speak strongly, espousing its feelings and ideas with those who come across it.
Elspeth Pitt, Acting Associate Curator, Prints, Drawings & Photographs, 2013