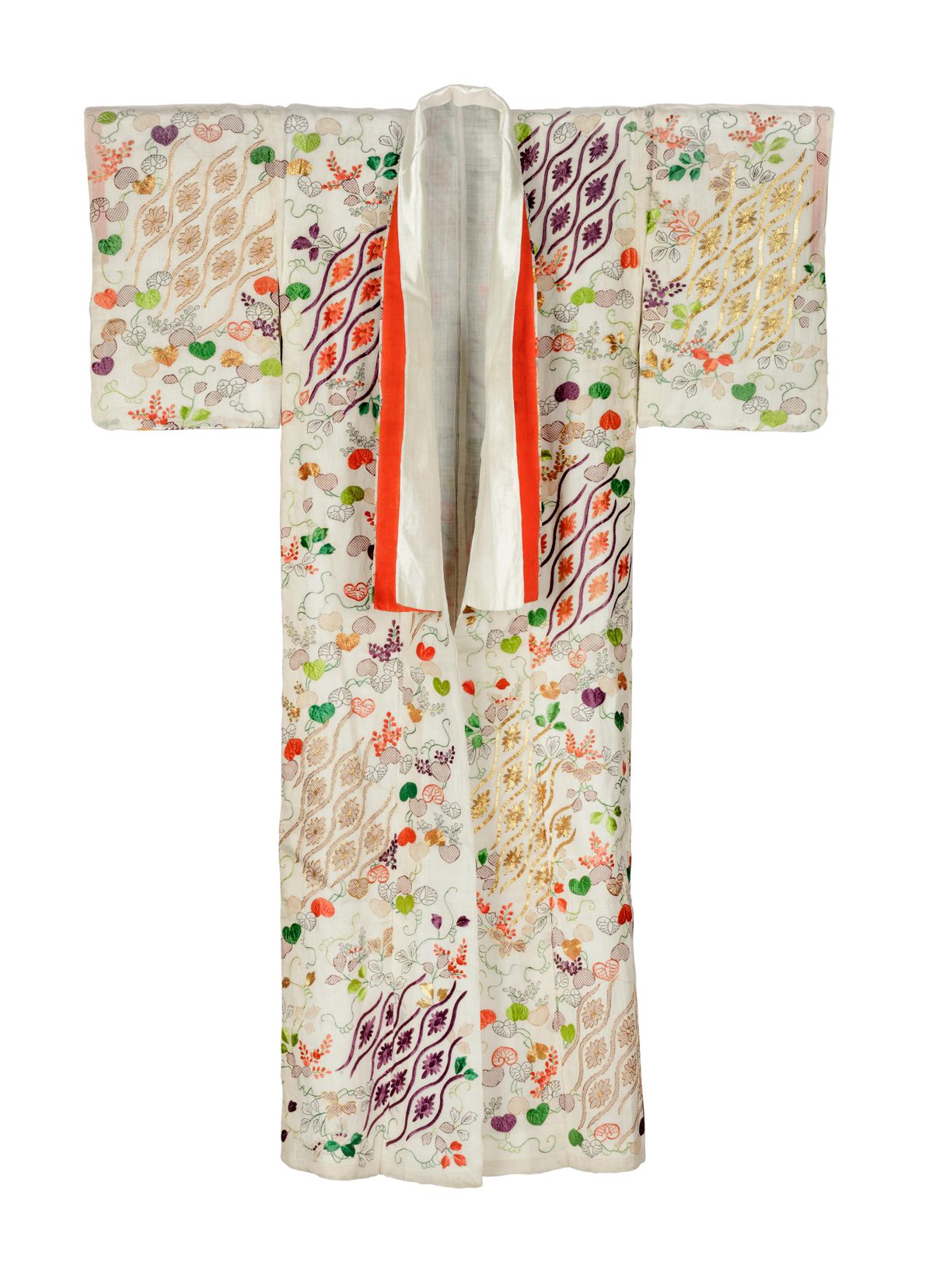 Curator's Insight - Summer robe
---
A prized late eighteeneth century Summer robe enters the AGSA collection
Through the exceptional generosity of Joan Beer, the Gallery has recently acquired a spectacular Summer robe, which will be on display for the first time in Samurai. Summer robe (katabira) was created in the late eighteenth century for a high-ranking woman in a samurai family and evokes the most prized aesthetic ideals of the military aristocracy – a subtle balance between extravagance and restraint.
The term katabira refers to an unlined garment created from light fabric and worn as an outer layer over other robes during the summer months. The sheer white ground of Summer robe was made from the baste fibres of a nettle or hemp plant and allowed the wearer respite from the heat and the humidity of summer.
Summer robe is elegantly decorated with a profusion of floral motifs, created using naturally dyed and gold-wrapped silk, embroidery and paste resist and stencil techniques. The 'rising steam' motif (tatewaku), with chrysanthemums, flows across the garment in vibrant orange, purple and gold and was a pattern used only by nobles, including the imperial family. Motifs inspired by classical literature or court culture were reserved for female attendants in the households of prominent daimyō and the shōgun, and would have been readily recognisable at the time.
The boldness of the rising steam motif is balanced by the elegance of the scrolling hollyhock (aoi), a crest associated with the main and branch families of the Tokugawa shogunate. A closer look at the individual leaves of the hollyhock reveals stitching that emphasises the leaf structure, a characteristic found in other media that display the family crest of the Tokugawa. It is possible that a garment of this refinement was once transported in an equally elegant lacquer box displaying the same emblems of power and prestige (Portable storage chest). In the eighteenth century, when Summer robe was created, a woman's real property was primarily her clothing. Representing a substantial financial investment, it was handed down from mother to daughter or presented as a bridal dowry.
According to the previous owner, this robe belonged to the powerful Maeda family, based in Kanazawa City. A close examination of the purple silk reveals a reddish hue, indicating its creation in the capital of Edo, where the families of prominent regional lords, such as the Maeda, were to reside as virtual hostages. According to accounts of the period, the rivers in Edo ran with purple during dyeing, the mineral content of the water imparting this reddish hue.
Russell Kelty is Associate Curator, Asian Art, at AGSA. This article first appeared in AGSA Magazine Issue 39.