Melrose Wing of International Art:

Self-Guided Audio Tour




Work

9

of 17
---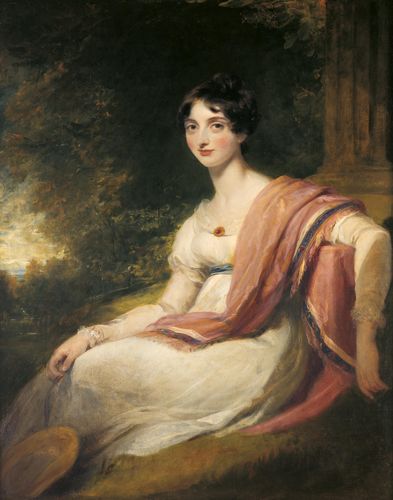 Thomas Lawrence
Caroline Matilda Sotheron
Thomas Lawrence showed a precocious artistic talent from a very early age. He was born in Bristol in 1769 and, from the age of 10, he supported his bankrupt family by painting pastel portraits. He was accepted into the Royal Academy Schools at age 18 and in 1792 became the first British-born artist to be given the title of 'Painter in Ordinary to the King – a highly regarded position in George III's royal court. Two years later, aged 25, he was elected as a full member of the Royal Academy, the youngest person to achieve this status. Lawrence went on to become President of the Royal Academy from 1820 until his death in 1830.
This portrait of Caroline Matilda Sotheron (nee Barker) was painted around the time of her marriage to Admiral Frank Sotheron in 1808. It is possible it was commissioned as a wedding portrait, since a companion portrait by Lawrence of Admiral Sotheron in identical proportions and painted around the same time is now in the George Eastman House Collection in the United States. Sadly, Caroline died just three or four years after this portrait was painted, leaving behind a one-year-old daughter.
This portrait is typical of Lawrence's mature painting style, with precise detailing around the face and much looser atmospheric brushstrokes in the background. Caroline is dressed in the height of Regency fashion, with her neoclassical muslin gown styled on the drapery of Ancient Greek sculpture. Lawrence has undoubtedly flattered his sitter, accentuating her delicate complexion and elongating her neck and limbs to add to her appearance of elegance. The inclusion of a classical column was a popular device in portraiture of the time and this, as well as the landscape to the left of the sitter, allude to the wealth and status of Caroline – she is a woman of means and substance.