Melrose Wing of International Art:

Self-Guided Audio Tour




Work

8

of 17
---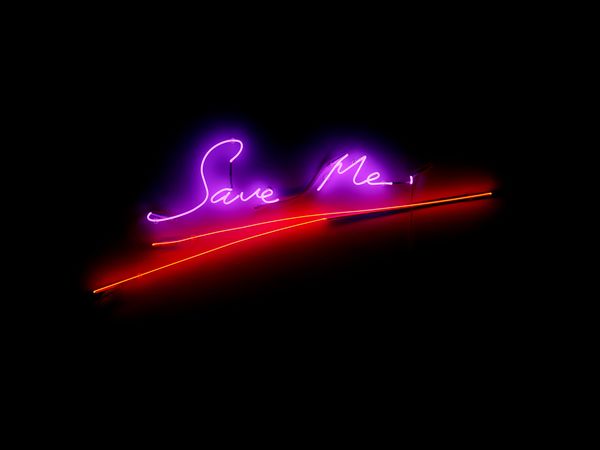 In her early career, Tracey Emin was considered the enfant terrible, a controversial figure, of the British art world. She had emerged on the London art scene in the 1990s as one of the audacious contemporary Young British Artists, or YBAs. 
Emin soon gained public recognition – and notoriety – for works that depicted subjects that were considered shocking or taboo. These included her iconic My Bed, an installation
comprising her messy bed, stained sheets and intimate objects, which was shortlisted for the esteemed Turner Prize. Today she is celebrated for this personal and confessional style of art-making, with much of her practice dealing with her everyday lived experience.
In Save me, Emin employs her signature electric neon in hues of magenta and red, shaped to mimic the artist's own handwriting.  Hand-script neon has been an enduring medium for her since the 1990s and it remains one of her trademark formats in which her intimate form of emotional realism shines through. The use of neon marked a pivotal change in Emin's body of work as she moved away from her earlier modes, such as video and embroidery, to practise almost exclusively in sculpture, painting and drawing. The evolution of Emin's use of this medium over the past twenty-five years also mimics her transformation into a celebrity figure across the same timeline.
As an artistic medium, neon is an interesting and evocative choice since it is so often associated with advertising and street signage.  It also alludes to the city nightlife familiar to Emin during her teenage and early adult years. The meaning of Emin's work is somewhat ambiguous – does the artist need rescuing from some unseen force, or is it more simply a catchy advertising slogan?