Melrose Wing of International Art:

Self-Guided Audio Tour




Work

2

of 17
---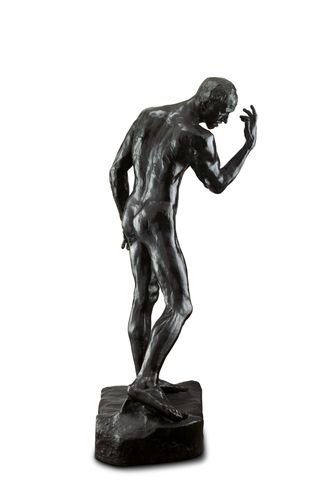 Auguste Rodin
Pierre de Wissant, Monumental Nude
Inner turmoil contorts the face and form of Pierre de Wissant. The physicality of this striking work by Auguste Rodin, the father of modern sculpture, captures a moment of anxiety and anguish – an emotional drama expressed in emotionless bronze.
De Wissant is facing death. He is one of six leading citizens of the French city of Calais who, in 1347, are said to have offered themselves as a sacrifice to spare the people of their city besieged by the army of King Edward III of England. Barefoot and dressed in sackcloth, the rope of a noose slung over his neck, De Wissant anticipates his fate. Ultimately his heroism will be rewarded by a reprieve, but for now – forever in bronze – he is gripped by despair.
The figure of Pierre de Wissant forms part of Rodin's major work The Burghers of Calais, commemorating the six brave citizens and commissioned by the city in the mid-1880s, when the artist was emerging as one of the most important sculptors in Europe.
Auguste Rodin's rise to prominence, however, had been slow. Born in Paris in 1840 into a working-class family, he showed artistic talent from a young age, but was mostly self-taught because he was unable to gain entry to the popular art schools of the era.
Decades passed before he became acknowledged, a financially independent artist, largely because of his rejection of the established modes of sculptural expression. Rather than working in the rigid traditions of Greco-Roman marble sculpting, Rodin developed a technique to rapidly create informal sculptures of great vitality by working directly with clay. In clay, Rodin created sculptural sketches that could be cast in plaster, then scaled up by the highly-skilled sculptors he employed in his studio for his monumental bronze and marble works.
On his death in 1917, Rodin bequeathed to the French state his studio and the right to make casts from his works, and today the Musée Rodin in Paris continues to release small numbers of authentic works by the artist more than 100 years after his death. The Art Gallery of South Australia's Pierre de Wissant was modelled by Rodin around 1886 and cast by the Coubertin Foundry in 1985 from Rodin's original model.
The Art Gallery holds the largest collection of Rodin sculptures in the Southern Hemisphere, many of which are currently on display.