Melrose Wing of International Art:

Plain English Tour




Work

7

of 17
---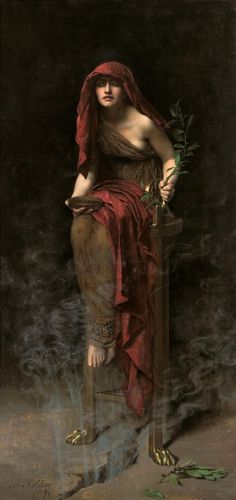 John Collier
Priestess of Delphi
John Collier was a top painter in Britain in the late 1800's and early 1900's.
He often painted people, paintings known as portraits.
John and his family knew many important people.
John went to school that taught the boys of rich families.
His father and brother were both ministers in the British government.
He painted many portraits of royalty and of people in government.
These were serious-looking paintings.
His paintings of younger people and actors showed lots of joy.
When he painted stories from ancient times, these paintings were often dramatic.
Dramatic meaning full of excitement.
Priestess of Delphi is a dramatic painting.
It is rich in colour and light.
But also has a feeling of darkness and danger.
Against a dark background, light falls on the Oracle of Delphi.
An oracle is a person who can tell the future.
Smoke comes from a gap below her bronze seat.
This hints at danger below, just out of sight.
The Oracle is in a dream as the gods tell her what will happen in the future.
In one hand she holds a branch of holy laurel.
A laurel is a tree linked to the Greek gods.
In the other hand is a bowl of water.
This painting shows John's skill as a painter.
It also shows his skill at using paint to create a feeling of drama.