Melrose Wing of International Art:

Plain English Tour




Work

6

of 17
---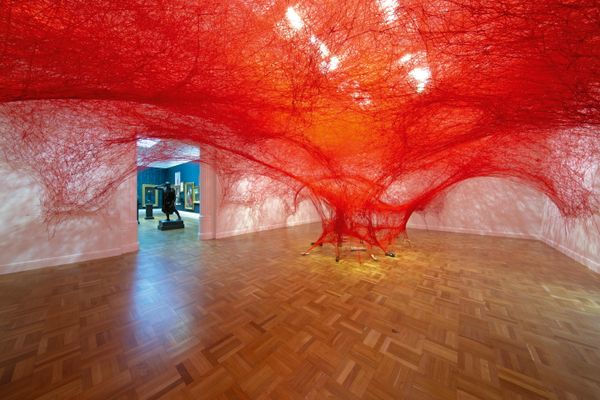 Chiharu Shiota
Absence Embodied
Chiharu Shiota was born in Osaka, Japan, in 1972.
Now she lives in Germany.
She studied art in Japan and Germany, and in Australia.
In Japan, people have a saying: 'akai-ito de musu bareru'
It means 'two people whose lives are bound together with a red string'.
It is about the way people are linked to each other.
In 2018 Chiharu came to Adelaide.
She made this work from red wool.
She has used 1800 balls of wool.
That is more than 180 kilometres of wool.
Chiharu explains why she uses string and wool in her art.
She says it 'is like a mirror of my feelings. In making the work, sometimes the string gets tangled, or loses tension, or is cut, much like human relationships. Relationships can become tangled, lost or severed'.
Chiharu uses only three colours:
- Red
- Black
- White.
For this work she chose red.
She says, 'red string represents the body, blood or relationships between humans'.
The wool is tied to sixteen hands and feet.
These are sculptures of the hands and feet of Chiharu, her husband and daughter.