Melrose Wing of International Art:

Plain English Tour




Work

2

of 17
---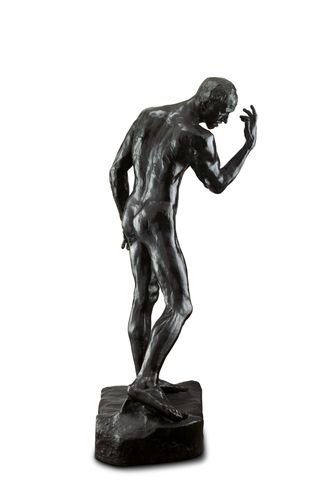 Auguste Rodin
Pierre de Wissant, Monumental Nude
This sculpture tells the story of Pierre de Wissant.
You can see from Pierre's face that he is very worried and upset.
He is facing death.
Pierre lived in Calais, a town in France, more than 600 years ago.
An English army had attacked Calais during a war.
After almost a year, the town surrendered, they stopped fighting.
The people of Calais thought they would be killed.
But England's King Edward said he would let them live, if
six important people handed themselves over to him.
Pierre was one of the six.
They thought they were going to be killed to keep other people safe.
This sculpture was made by Auguste Rodin.
Auguste was a famous sculptor from France, who died about 100 years ago.
His sculpture shows Pierre with a rope around his neck.
He is barefoot.
His face is full of pain and worry.
But Pierre and the others were allowed to live.
The sculpture is part of Auguste's major work called The Burghers of Calais.
It remembers the six people who were ready to die to save the people in their town.
Auguste was born in Paris in 1840.
His family did not have a lot of money.
He showed an artistic gift, but he couldn't get into the best art schools.
Auguste taught himself to sculpt.
He slowly became famous as a sculptor.
He made sculptures in a different way to other artists at that time.
He used clay to make models.
Then he covered them in plaster to make a mould, or a shape, of the model.
He had skilled people to make bigger moulds to create his big statues in bronze,
a type of metal that is a yellowy-brown.
When Auguste died in 1917, he gave the French nation the right to continue to make
his statues.
Today a small number his sculptures are sometimes made from moulds of
Auguste's work.
The Art Gallery's statue of Pierre de Wissant was made in 1985
– about 100 years after Auguste made the first model for it in 1886.
The Art Gallery has many of Auguste's sculptures.
It has one of the biggest collections of Auguste's sculptures in the world.