Melrose Wing of International Art:

Plain English Tour




Work

9

of 17
---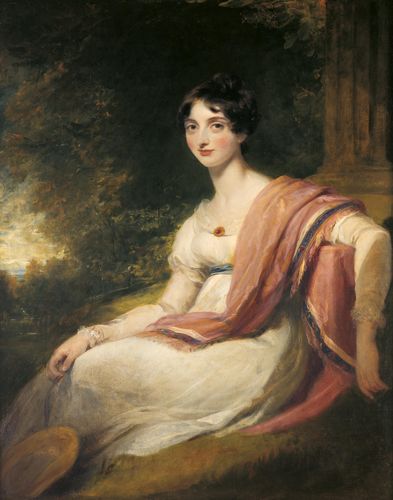 Thomas Lawrence
Caroline Matilda Sotheron
Thomas Lawrence was born in England in 1769.
He showed an artistic skill from an early age.
From the age of 10, he sold the art he made to feed his poor family.
At that time, he made pictures of people, also known as portraits.
He used pastels for his portraits.
Pastels are coloured sticks, like crayon or chalk, used for drawing.
At age 18, Thomas went to the Royal Academy School.
This is an important school for artists in London.
When he was 23, he became the first British-born painter working for King George III.
This was an important job.
At 25 he was the youngest artist to become a full member of the Royal Academy.
The Royal Academy is an important group in London for the best artists.
Thomas was President of the Royal Academy from 1820 until his death in 1830.
Thomas painted this portrait of Caroline Matilda Sotheron in 1808.
It was painted around the time of her marriage to Admiral Frank Sotheron.
At the same time, Thomas also painted her husband's portrait.
Her husband's portrait is now in the collection of George Eastman House
in the United States.
Caroline died just a few years after the portrait was painted.
She had a one-year-old daughter.
Thomas painted Caroline's face with a lot of detail.
He used brushstrokes with little detail for the background.
Caroline is dressed in the fashion of the early 1800's.
Her cotton dress is styled on the clothes worn by women in Ancient Greece.
Thomas shows her soft skin colour.
He has also made her neck, arms and legs look long.
This helps to make her look stylish and beautiful.
The picture tells people that Caroline was rich.