Melrose Wing of International Art:

Audio Described Tour




Work

1

of 17
---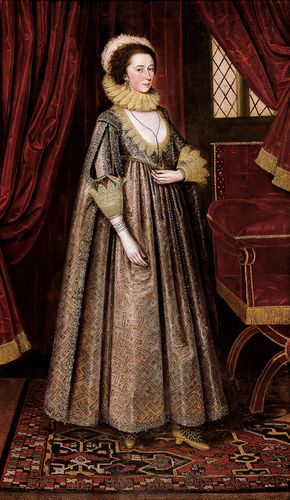 attributed to Marcus Gheeraerts the Younger and studio
Magdalen Poultney, later Lady Aston
About this work of art

Meet Magdalen Poultney. Young, wealthy, fashion-conscious … single.
Four-hundred years ago, that was the message to viewers who caught twenty-year-old Magdalen's steady gaze from this portrait by Marcus Gheeraerts the Younger.
Flemish-born Gheeraerts helped to revolutionise portraiture in England – the country he had fled to as a child with his artist father to escape religious persecution in his native Bruges. Unlike English painters in the Elizabethan period, the younger Gheeraerts rendered his sitters as three-dimensional rather than flat figures and introduced canvas instead of wood to allow larger paintings, such as this one. At about the age of thirty, he painted Queen Elizabeth herself and soon dominated court painting in late-Elizabethan and Jacobean England.
By the time he painted Magdalen in 1620, Gheeraerts' stiff, formal manner was regarded as old-fashioned. Nonetheless, this is a skilfully executed portrait of remarkable detail. The artist expertly renders the splendour of Magdalen's costume – her sumptuous dress of silver with decorative woven fabric; the silver braid along its hem and split sleeves; the matching geometric lace of her cuffs, bodice and ruff; and her accessories of satin shoes, ostrich-feather bonnet and jet beads around her neck, wrists and ears.
At the centre of the painting is Magdalen's ringless left hand, an indication of the wealthy young woman's eligibility to marry. It is likely that the painting served two purposes: as a portrait of an aristocratic woman in the bloom of youth, and also as a sort of Jacobean dating app – an advertisement in her family's palatial home to any eligible suitors.
Six years later Magdalen married Sir Thomas Aston, a nobleman who would later serve as Sheriff of Cheshire and sit in parliament. They had four children, all of whom died young. Magdalen herself died in childbirth at the age of thirty-five.
The cracked windowpane beside Magdalen's face is thought to be a reference to her early death, and to her family's broken hearts. If so, this subtle modification was probably added to the portrait soon after her death by John Souch, a Cheshire artist commissioned to paint a deathbed scene of Magdalen alongside her grieving husband and son. The addition of the broken glass lends a fresh meaning to Magdalen's portrait: no longer a marriage advertisement, the painting has become a bereavement notice.
---
Audio description of the work of art

Magdalen Poultney, later Lady Aston, is an oil painting attributed to Flemish artist Marcus Gheeraerts the Younger and studio. Created in approximately 1620, it is 231.7cm high and 136cm wideand set in a thick, dull gold, wooden frame with boxy corners that add to the overall size of the frame.
Magdalen Poultney stands centre, her right side slightly towards us, positioned in front of a windowed wall in a room richly decorated in red velvet, golden brown, black and bronze material. Ornately attired in the fashion of the time, Magdalen Poultney's slight frame is swallowed up in an excess of fabric. Her heavy dress is rose gold, the fabric interwoven with a raised design of scattered rectangles and small, 3-petal flower designs, embellished with dots in magenta and gold.
At her left shoulder is a wooden, latticed window, half hidden by a velvet drape. There is a crack in in one of its many, small, diamond shaped panes. Fabric from the red drape disappears off right, finishing in gold-tassel fringing, tied up and drawn back to let the light in.
In front of the window is approximately half of a luxuriously upholstered, red velvet, low seat. It has curved, dark, wooden legs that meet the patterned rug, and a large red cushion resting across its arms.
On our left, another slightly longer drape, also drawn back and tied low, forming four thick pleats. The heavy gold fringed finish disappears out of frame.
Miss Poultney is turning to look indirectly back at us. She has brown hair swept off her face and framed by a pale, curved, ostrich feather. Miss Poultney has fine, brown eyebrows beneath a high, pale forehead and brown eyes. Her nose is long and straight, rounded at its end and she has two, small, prominent brown freckles on her lower left cheek.
She wears a wide, gold, lace ruff around her neck. It tightly frames her pale face and pink cheeks. From her right ear dangle four short strings of tiny black beads fixed to a minute, black square earring. The beaded threads splay under her right ear as a result of her high collar.
Her dress has a very low, rounded neckline, popular in the 1610s. Below her ruff, her necklace is one fine, long, strand of beads in the same style as her earrings. This single thread of beads hangs down her naked chest and meets the plunging, scooped neckline at the front of her dress. The beads contrast sharply with her pale, unblemished skin.
Her neckline and cuffs are edged in the same delicate gold lace as her decorative ruff.
Her high waisted, cloak dress has slashed sleeves, revealing a second, snugger sleeve underneath and edged with silver thread and sequins. Strands of fine black beads encircle her wrist. She holds her left arm across her waist, touching the end of her necklace.
Regally attired in a lush setting, Miss Poultney is a delicate woman, with slim wrists and small shoes. Her high-waisted dress covers her from beneath her bodice to ankles in a wide skirt, the hem is edged with silver sequins. She wears gold satin shoes with pointed toes and short square heels. Elaborate pompoms of silver and black sequins sit atop each shoe, peeping out from below her dress.
The rug on which she stands is a woven pattern, predominantly black and red with repeating asymmetrical designs in red, black, yellow, blue and white.