Melrose Wing of International Art:

Self-Guided Audio Tour




Work

13

of 17
---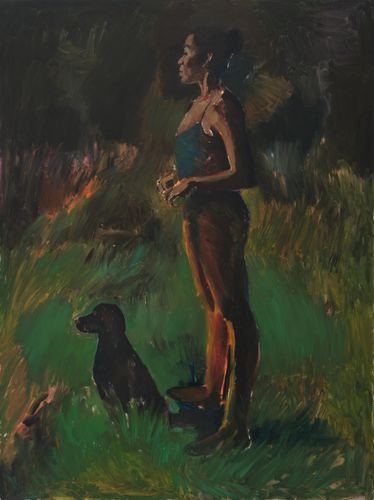 Lynette Yiadom-Boakye
The Black Watchful
The Black Watchful is notably different to the portraits of women surrounding it on this wall.
This is not only because of Lynette Yiadom-Boakye's lush use of muted colours or her loose, gestural style - in contrast to the painterly precision that is typical of realist portraiture. It is also because of her choice of subject.
Unlike the women around her, the female subject of this work is imaginary – she has only ever existed in paint. Yiadom-Boakye derives her subjects from composite sources, such as magazine photographs, scrapbooks and drawings. Her paintings have therefore been described as 'portraits of society' rather than of individuals, and her work has been likened to the literary genre of 'realistic fiction'.
Significantly, her subjects are also people of colour. In the European portraiture tradition, portrait subjects have almost always been white – while the rare inclusions of African, Asian or First Nations people in portraits have often been intended to portray their imagined 'exoticism' or 'otherness'. Yiadom-Boakye – a British artist of Ghanaian heritage – highlights and contests the historical eurocentrism of portraiture by depicting people of colour, engaging in everyday activities. She has said: 'This is a political gesture for me. We're used to looking at portraits of white people in painting.'
Portraits typically suggest the status and authority of their subjects, through such features as their clothing, hairstyle and jewellery, their stance or their setting. Here in The Black Watchful, Yiadom-Boakye embraces the visual language and conventions of portraiture, only to counter and subvert its usual encodings of power.
Her subject wears no fine clothing, no jewellery, dressed in a simple dark green leotard. Her setting is indeterminate – a sort of placelessness that perhaps hints at the dislocation of migrant families in Britain, such as the family of the artist herself. Yet the subject's stance is athletic, strong and confident. And as in portraits from earlier centuries, the presence of her attentive dog suggests she commands dutiful support, imbuing her with a modest level of authority.
Yiadom-Boakye's subject – an Everywoman of colour, an athletic figure of strength and casual self-assurance – confidently stands her ground, both in her painted setting and in the field of portraiture.