Melrose Wing of International Art:

Self-Guided Audio Tour




Work

1

of 17
---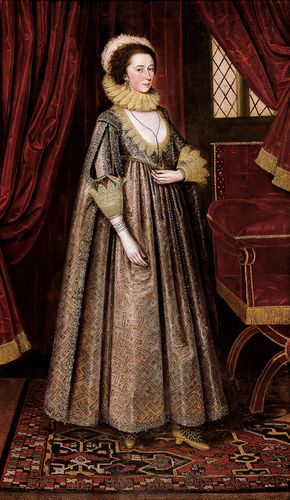 attributed to Marcus Gheeraerts the Younger and studio
Magdalen Poultney, later Lady Aston
Meet Magdalen Poultney. Young, wealthy, fashion-conscious … single.
Four-hundred years ago, that was the message to viewers who caught twenty-year-old Magdalen's steady gaze from this portrait by Marcus Gheeraerts the Younger.
Flemish-born Gheeraerts helped to revolutionise portraiture in England – the country he had fled to as a child with his artist father to escape religious persecution in his native Bruges. Unlike English painters in the Elizabethan period, the younger Gheeraerts rendered his sitters as three-dimensional rather than flat figures and introduced canvas instead of wood to allow larger paintings, such as this one. At about the age of thirty, he painted Queen Elizabeth herself and soon dominated court painting in late-Elizabethan and Jacobean England.
By the time he painted Magdalen in 1620, Gheeraerts' stiff, formal manner was regarded as old-fashioned. Nonetheless, this is a skilfully executed portrait of remarkable detail. The artist expertly renders the splendour of Magdalen's costume – her sumptuous dress of silver with decorative woven fabric; the silver braid along its hem and split sleeves; the matching geometric lace of her cuffs, bodice and ruff; and her accessories of satin shoes, ostrich-feather bonnet and jet beads around her neck, wrists and ears.
At the centre of the painting is Magdalen's ringless left hand, an indication of the wealthy young woman's eligibility to marry. It is likely that the painting served two purposes: as a portrait of an aristocratic woman in the bloom of youth, and also as a sort of Jacobean dating app – an advertisement in her family's palatial home to any eligible suitors.
Six years later Magdalen married Sir Thomas Aston, a nobleman who would later serve as Sheriff of Cheshire and sit in parliament. They had four children, all of whom died young. Magdalen herself died in childbirth at the age of thirty-five.
The cracked windowpane beside Magdalen's face is thought to be a reference to her early death, and to her family's broken hearts. If so, this subtle modification was probably added to the portrait soon after her death by John Souch, a Cheshire artist commissioned to paint a deathbed scene of Magdalen alongside her grieving husband and son. The addition of the broken glass lends a fresh meaning to Magdalen's portrait: no longer a marriage advertisement, the painting has become a bereavement notice.