Melrose Wing of International Art:

Plain English Tour




Work

10

of 17
---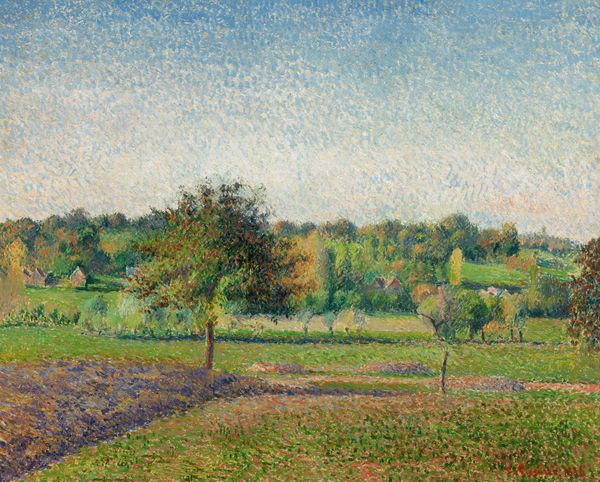 Camille Pissarro
Prairie à Éragny
Camille Pissarro could see this meadow nearly every day for 20 years.
The meadow was outside his home.
His home was in Éragny, north of Paris.
Camille was a great painter.
After Camille moved into his home, he painted hundreds of pictures like this one
in this field or nearby.
He painted them over 20 years.
He painted the meadow in all seasons – summer, autumn, winter, spring.
He painted it in different weather and different light
– in bright sunlight, in fogs, even in floods.
Camille was an impressionist,
an artist who paints the mood or feeling of a scene.
He was an important artist among a group called the French Impressionists that included:
- Claude Monet
- Edouard Manet
- Pierre Auguste Renoir
- Paul Cézanne
- and, Edgar Degas.
Camille painted this picture in spring in 1886.
It looks calm – but Camille himself was not calm inside.
He was unsure about the paintings he was making.
Camille started to paint using pointillism.
This is a way of painting using lots of dots of paint close together.
Artists who used pointillism were called neo-Impressionists.
The Impressionists and neo-Impressionists disagreed on the way to paint.
At the same time, Camille was setting up an exhibition of paintings by the Impressionists.
Camille asked some neo-Impressionists to show paintings with them.
Some Impressionists did not show their paintings
because they did not like the neo-Impressionist's way of painting.
This was the last time the Impressionists ever showed their paintings together.
This painting, Prairie à Éragny, marks when Camille's painting style was changing.
Using pointillism made his paintings different.
In this painting, he really shows the bright colours and warmth of a spring day.