Melrose Wing of International Art:

Audio Described Tour




Work

7

of 17
---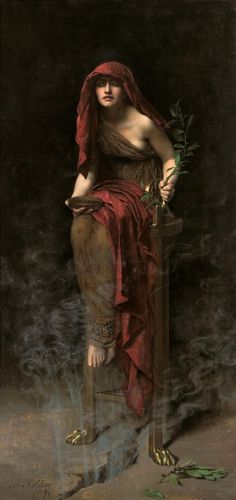 John Collier
Priestess of Delphi
About this work of art

Priestess of Delphi is darkly atmospheric yet rich in colour and light. It powerfully demonstrates the dramatic vision and artistic skills of its painter, John Collier.
Collier was a leading British portraitist and a painter of classical subjects in the late nineteenth century and early twentieth century. From the age of twenty until his death more than sixty years later, he regularly presented paintings for exhibition at the Royal Academy in London and also published several textbooks on painting.
Collier was well connected in British political and social circles. As a boy he had attended Eton, the elite school of Britain's future leaders. His grandfather had been a member of parliament and his father and elder brother both became government ministers. It is little wonder, then, that his portrait subjects included royalty and many high-ranking politicians. These were often solemn works, but a lightness and gaiety emerged in his portraits of younger subjects and stage personalities. And in contrast to his portraits, Collier's classical paintings were often dramatic, even theatrical.
A fine example is this work, Priestess of Delphi. Against a background of profound darkness, light falls on the Oracle of Delphi, the foremost visionary in ancient Greece. Vapours curl from a fissure below her bronze seat, suggesting a menacing underworld just out of sight. The oracle priestess drifts in a trance as she channels divinations from the gods, aided by a bough of sacred laurel grasped in one hand. In the other hand is a bowl of water, her mirror to another realm. Collier's image is as much a work of stagecraft as of paintcraft, presenting a brooding atmosphere of darkness and light, of superstition and revelation.
When Priestess of Delphi was exhibited in Adelaide in 1893 two years after it was painted, South Australia's colonial governor was so taken by the work that he said it should never leave the city, and acquired it for the Gallery. The governor, the Earl of Kintore, had attended Eton in the years that Collier was there, and later sat in parliament at the same time as the artist's father and brother. These establishment connections, who in Britain commissioned Collier for portraits, now admired and commended his work on the other side of the world.
---
Audio description of the work of art

Priestess of Delphi by British artist John Collier is an oil painting on canvas, 1891. The portrait is 160cm high and 80cm wide. Collier is one of the most prominent portrait painters of his generation, perhaps better known for creating portraits of distinguished older men. He is loosely associated with the pre-Raphaelite style, a movement employing a strong sense of colour and brightness, greatly influenced by nature and particularly fascinated by medieval culture.
The outer edge of the work's frame is a 10cm carved, raised, ruffle- like ornate border within it a 10cm wide, smooth, gold painted section right the way round. It is a narrow chain of petal-like, raised carvings joined one-to-the-other in a congested chain, and closest to the painting, is a 5cm wide, smooth, angled section, leading to the surface of the canvas.
Posed on a high wooden stool, a priestess, her eyes closed, is leaning forward over a chasm in the earth. She holds a long sprig of laurel in her left hand and a shallow bowl cupped in the right palm. Light catches on her features, on her luminous, unmarred skin and on the rich materials of her robes. Her legs are crossed at the ankles.
She has a round youthful face, dark eyebrows, a long, straight nose, and a dimpled chin. Her eyes are closed with her red-lipped mouth partially open. The skin of her face, one bare shoulder, her arms and feet are caught in the light, smooth and pale. Her high, ceremonial stool with its round seat boasts two ornate golden paws of a beast where it meets the ground, one paw either side of a chasm in the stony floor. From the yawning seam in the ground, tendrils of gas vapours are rising. Behind her is muddy darkness.
The luminous, vertical form of the priestess and stool are central in the work. Her hair and its colour is completely hidden in a swathe of red silk, embroidered in fine gold thread. A corner of the fabric hangs past the elbow of her right arm, the cloth drapes smoothly over her head and casts a shadow over her closed, wide set eyes. The rich, red cloth falls behind her left shoulder and reappears as bunched folds in her lap, spilling down her left side beyond her bare feet. It ends just above the chasm.
The priestess is simply attired in a toga-style, caramelly-brown, muslin gown. It passes over her right shoulder and is drawn in at the waist. The priestess is bending forward and the swell of her left breast, her exposed left shoulder and collarbone are caught by the light.
Her gown wraps her legs in caramelly-brown muslin, it finishes in a wide patterned border in darker brown, depicting a single path labyrinth, over and over, interspersed with neatly placed dashes, and two, wide-set red lines. The patterned material covers her crossed ankles, ending part-way over her feet. Its hem is raw and unstitched.
All over the muslin gown is a delicate pattern of small red and brown hexagonal stars, stitched onto the muslin. They are highlighted by the rich, red hue in the material that covers her head and spills down her body. She is barefoot and the scene captures a moment in a larger narrative, as though something is about to happen.
In the lower right of the painting, a shorter branch of laurel bearing small, black, oval fruit, and a single laurel leaf, lays on the stone floor. Beside it and rising from the floor chasm, the vapour trails are soft edged and semi-transparent, reaching up to her knees.
The painting is signed and dated in the lower left corner, John Collier 1891.