Melrose Wing of International Art:

Audio Described Tour




Work

9

of 17
---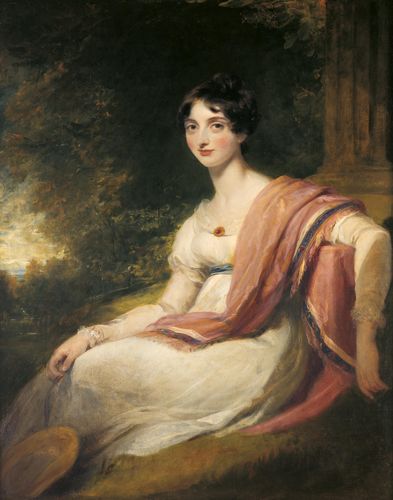 Thomas Lawrence
Caroline Matilda Sotheron
About this work of art

Thomas Lawrence showed a precocious artistic talent from a very early age. He was born in Bristol in 1769 and, from the age of 10, he supported his bankrupt family by painting pastel portraits. He was accepted into the Royal Academy Schools at age 18 and in 1792 became the first British-born artist to be given the title of 'Painter in Ordinary to the King – a highly regarded position in George III's royal court. Two years later, aged 25, he was elected as a full member of the Royal Academy, the youngest person to achieve this status. Lawrence went on to become President of the Royal Academy from 1820 until his death in 1830.
This portrait of Caroline Matilda Sotheron (nee Barker) was painted around the time of her marriage to Admiral Frank Sotheron in 1808. It is possible it was commissioned as a wedding portrait, since a companion portrait by Lawrence of Admiral Sotheron in identical proportions and painted around the same time is now in the George Eastman House Collection in the United States. Sadly, Caroline died just three or four years after this portrait was painted, leaving behind a one-year-old daughter.
This portrait is typical of Lawrence's mature painting style, with precise detailing around the face and much looser atmospheric brushstrokes in the background. Caroline is dressed in the height of Regency fashion, with her neoclassical muslin gown styled on the drapery of Ancient Greek sculpture. Lawrence has undoubtedly flattered his sitter, accentuating her delicate complexion and elongating her neck and limbs to add to her appearance of elegance. The inclusion of a classical column was a popular device in portraiture of the time and this, as well as the landscape to the left of the sitter, allude to the wealth and status of Caroline – she is a woman of means and substance.
---
Audio description of the work of art

Caroline Matilda Sotheron is an oil painting on canvas by British artist Thomas Lawrence. Painted by the artist in 1808, it is 126.7cm high and 101.1cm wide. It is set in a handsome, ornate carved wooden frame of burnished gold. The outermost boarder is raised and smoothly rounded, and three carved wooden boarders sit within it, a thin 2cm rope-like design, a thicker 10cm boarder of leaves and ruffles and a 5cm wide pattern - like arrowheads carved into one another. A finger-width strip of concave wood meets the surface of the painting.
The portrait is of Miss Sotheron, a charming young woman, simply dressed in a creamy white gown, blue sash, and salmon-coloured shawl, seated on a grassy slope. Behind her on our left is rich, dark foliage and vegetation. Over-hanging tree branches and leaves taper in the upper left, revealing golden clouds and the merest hint of sea. To the right is a marble column.
Contrasting with the whiteness of Miss Sotheron's skin, the vegetation around her head is dark green. The leaves and their details are lost in shadows. Caroline's dark brown hair is pinned up on the top of her head, loose curls framing her pale, heart-shaped face. She has large hazel eyes, a long nose and small, glistening, slightly upturned lips. Her cheeks are pink in contrast to the youthful, pale flesh of her face and neck. She gazes openly, directly at the viewer.
Her dress is the height of Regency fashion with a wide, circular neckline and long diaphanous sleeves. Her high-waisted, white muslin gown is belted under her breasts by a blue sash. A small oval-shaped gold brooch with a red ruby at its centre is pinned to the silk chiffon gathered at her bosom. At her wrists, the narrow cuffs are edged with white lace. The fabric of her dress falls loosely over her hips, and knees. It covers her legs.
Caroline is seated upon a grassy mound of yellows, warm browns and green. She reclines gently against the square base of a marble column rising up behind her and out of the frame. Her right-hand rests on her knee, fingers relaxed. Over her left shoulder is an orange and pink silk shawl, edged in blue ribbon with small red flowers and short pink fringing. It drapes across her lap, up, over her shoulder, and covers the base of the column upon which her left arm is resting. From elbow to fingertips, her arm drapes loosely from the column, almost touching the grass.
In the bottom left of the painting, at her feet is a yellow hat, upside-down. From their position at her knee, the fingers of Caroline's right hand loosely clasp its thin, blue, ribbon-ties.