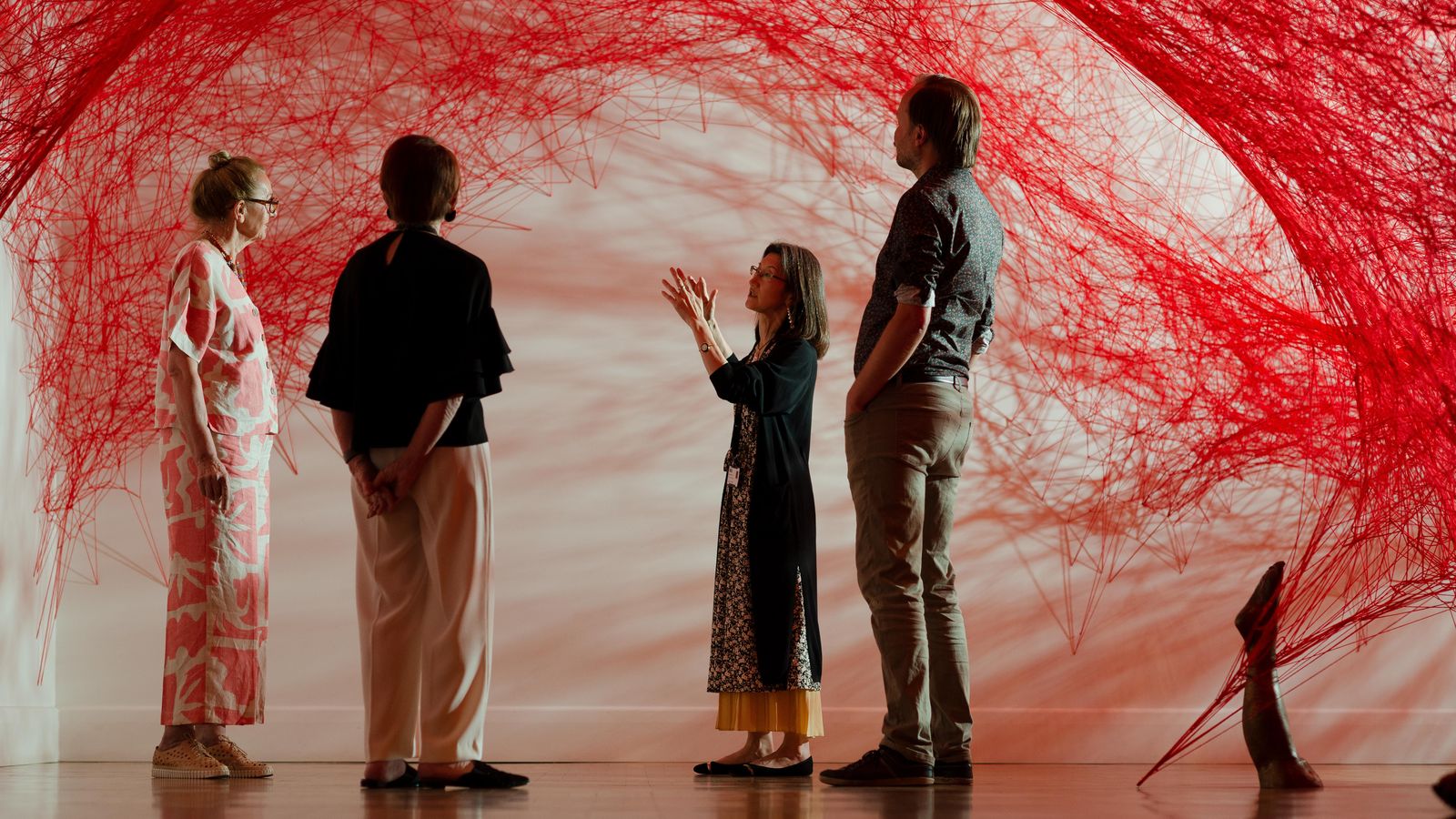 Group Tours
---
We are pleased to engage with family, friend, community, corporate and special interest groups. Groups can book guided tours with our volunteer Gallery Guides to explore current exhibitions, highlights of the permanent collection or on popular themes.
Tours are also available in languages other than English, for visitors with disabilities and access requirements, as well as tailored experiences for visitors with dementia. Virtual tours (via zoom) are also available for groups unable to visit in person.
Available tour topics:
Highlights of the Collection
Exhibition Tours, including the 2022 Adelaide Biennial of Australian Art: Free/State and Archie 100: A Century of the Archibald Prize exhibitions
Aboriginal and Torres Strait Islander Histories and Culture
Contemporary Art
Portraiture
Landscape
Sculpture
Decorative Arts including Morris & Co.
The Natural World
Religious works in the permanent collection
French works in the permanent collection
Italian works in the permanent collection
Language Tours of the permanent collection and selected exhibitions available in Auslan, French, Greek, Indonesian, Italian, Japanese, Polish, Portuguese and Spanish, and for English as a Second Language learners
We also welcome enquiries for tours focusing on particular artists, works of art, art movements or themes
Group visit details:
Groups must not exceed 10 people per tour (additional guides will be scheduled for groups exceeding 10 people)
Guide tour fees apply. $20/guide for Family, Friend and Community Groups, $100/guide for Corporate and Tour Company Groups. Guide fees are waived for volunteer organisations, refugee and new arrival groups, and visitors with dementia, disabilities or access requirements (conditions apply).
We ask visitors of AGSA to practice social distancing and we ask visitors who are unwell, or have experienced cold or flu symptoms in the last 14 days, to postpone visiting the Gallery until they are well again. Please refer to AGSA's response to Covid-19 in advance of the visit.
AGSA is complying with capacity restrictions and with physical distancing as outlined with signage throughout the Gallery
Three weeks' notice of tour date is required when requesting a guided tour
Please provide group details, number of participants, requested tour topic and access requirements in booking email enquiry
Bookings
E guides@artgallery.sa.gov.au
T 08 8207 7000
School Bookings
E education@artgallery.sa.gov.au
T 08 8207 7033
Tour fees apply and are subject to change.
One Gallery Guide will be allocated per 10 people. If group numbers increase, additional Guides may be allocated (additional fees will apply).
Tours are generally 45 minutes. Longer tours may be requested (additional fees will apply).
Three weeks' notice is required when requesting a group tour. Payment is required at least one week before your visit.
Tours are subject to Guide availability; AGSA cannot guarantee that all requests for tours will be granted.
The number of attendees must be confirmed and payment made in one transaction no later than one week prior to your visit.
Bookings are considered firm and no refunds on tour or any ticket fees will be made after payment is made.
View the terms and conditions of public entry and photography in the Gallery here.