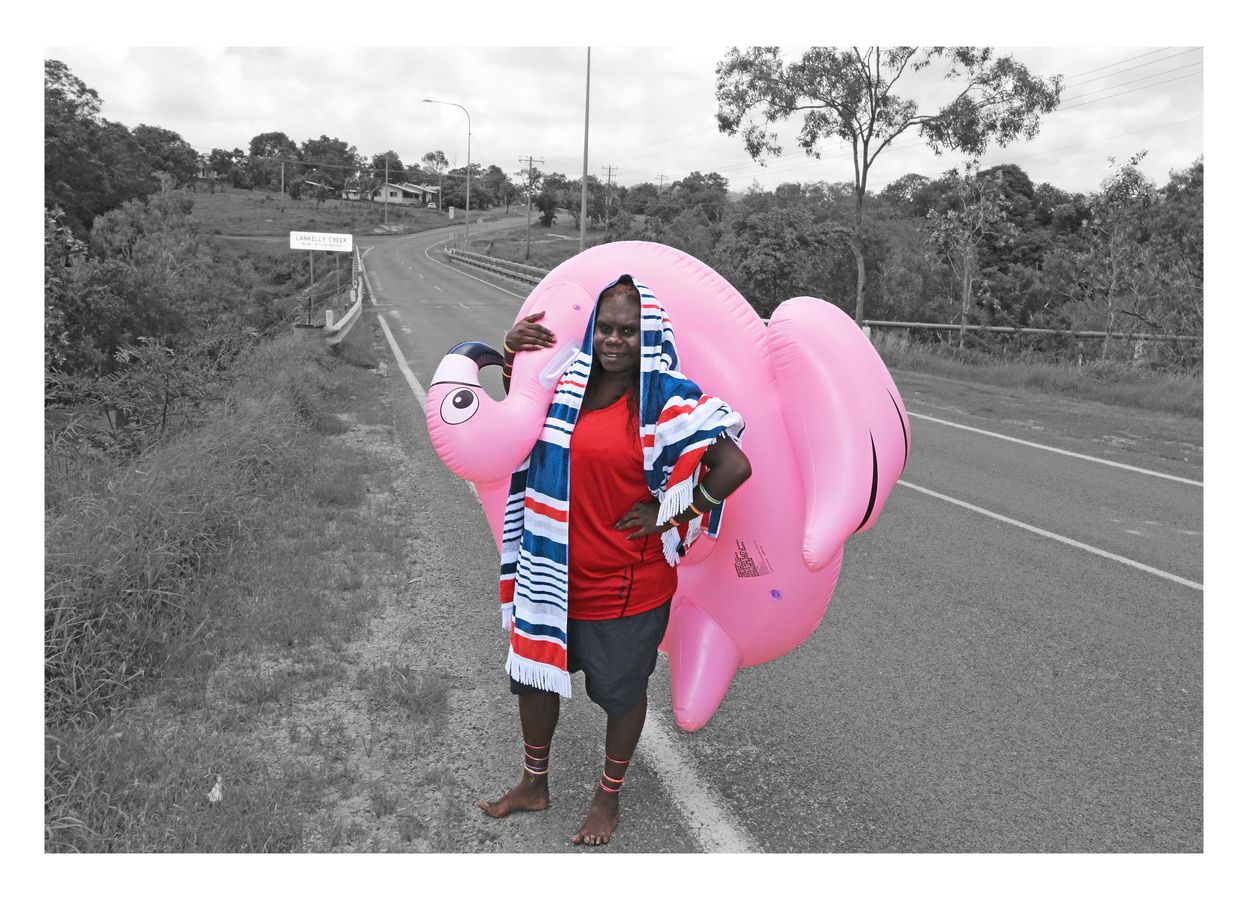 Adolescent Wonderland
---
Adolescent Wonderland is a series of photographs that tell the real-life story of young Aboriginal people in remote Australia. The title of this series was inspired by the classic children's novel Alice's Adventures in Wonderland by Lewis Carroll. Themes of youth, playfulness and childhood memories are evident in Hobson's photographs. The brightly coloured figures and their props lure the viewer into a dream-like reality, much like how Alice follows the white rabbit.
As Shonae Hobson, Naomi Hobson's daughter, describes one work titled Road Play, 'depicts sisters Laine and Katarna on a street outside their home and illustrates the dualities between teenage adolescence and childhood nostalgia. Laine is pictured wearing a white "rabbit" mask – a clever reference to Alice's escape into the rabbit hole that leads to a fantasy world of anthropomorphic creatures and characters. The symbol of the rabbit is used as a metaphor for the playful and adventurous lifestyle of Indigenous kids today'.
Sometimes artists who use photography in their work manipulate their image or their subjects. Does a photographer 'make' or 'take' a photograph? Provide examples for your answer.
Create & Capture
Hobson has said 'Adolescent Wonderland is getting people to appreciate just being themselves'. How would you describe the people in your family? Take a series of photographs of members of your family being themselves. How will you capture the essence of who they are with a single still image?
Themes of youth, playfulness and childhood memories resonate throughout Hobson's photographs. Think about an object that you associate with your childhood – one that is playful and reminds you of a happy time. It might be an old toy, an item of clothing or a delicious treat that you associate with a particular time. Photograph this object in your home. Edit this image so that the emphasis is on the object – you may like to exaggerate or alter the colour. Display your photograph in a class exhibition.
Conversations about colour
Colour is an important element in Hobson's work. Compare the use of high-key colour in Hobson's Adolescent Wonderland series to the First Jobs series by Tracey Moffatt. How have both artists manipulated colour in their work? How are these artists' works similar and different? Discuss the following statement in relation to Hobson's and Moffatt's photographs: 'Colour is a powerful tool in art making, one that is emotive and can evoke nostalgia and humour.'
Tracey Moffatt, First Jobs series