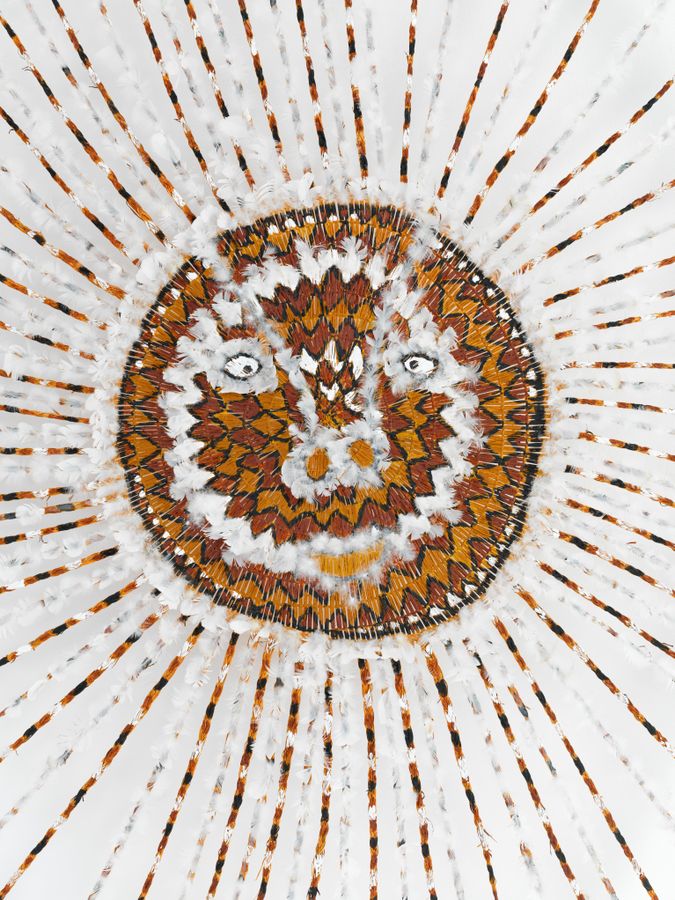 Making and responding
---
Yarinkura has adapted the fundamental skills of weaving learnt from her mother, including coiling, twisting and looping – processes that may be used to make a dilly bag or fish trap or to create an array of fibre sculptures. What skills have you learnt from a female figure in your family?
Ngalbenbe teaches values, practices and history of Kune culture. Look at the installation and read the story of the work. What are the values being taught? Make a list of all the things that are valued or practised in your school and home environment.
What is the role of Ngalbenbe(the sun) in this story? Why is the sun so important – what is its role in the universe and for planet Earth?
Read a well-known creation story as a class. While listening to the narrator, create an illustration to accompany this story.
Look closely at the Woven figure, 1996, made by Lena Yarinkura and compare this to her collaborative installation Ngalbenbe, 2018. How has Yarinkura's practice evolved or changed over time? You may also like to look at other examples of Yarinkura's work held in other collections across the country.
Focus on Figures
Look at different examples of figurative works of art by artists who have used textiles or fibres to create their works and compare these to the techniques, materials and ideas used by Yarinkura and Rostron. While they are very different, what similarities do they share? Create a soft sculpture of an important figure in your life. Write a story or creative biography to accompany your sculpture.
Tip
Look at soft sculptures by Yarrenyty Arltere Artists and fibre figures by Tjanpi Desert Weavers. For more check out the resource below.
Sculpture and Sounds
Recall a funny or happy moment you have experienced with your family. Describe the sensory elements – can you feel the sun on your skin or cold wind on your face or can you recall the aromas from the kitchen or sounds from outside? Recreate this scene using sculpture and include a sound element.
Lena is renowned for her fibre sculptures that include people, spirit beings and animals such as the bandicoots and dogs that can be seen in the installation Namorrorddo, 2017, which was made by Lena and her husband Bob Burruwal. In Ngalbenbe, Lena has collaborated with her daughter Yolanda.In pairs, select a children's book that features animals as the main characters. Select a scene from this book and create at least two sculptures using textiles, fibre and recycled materials to illustrate an important part of the story.
Stars, sun and moon
Investigate other Aboriginal and Torres Strait Islander artists who have used astronomy as inspiration for their work. Explore how these artists explain the cyclic phenomena involving the sun, moon and stars in their works of art. Create a work of art that pays tribute to a cyclic phenomenon of your choosing.
Tip
Other artists to start with - Badger Bates, Tjampawa Katie Kawiny, Brian Robinson and Gulumbu Yunupiŋu.