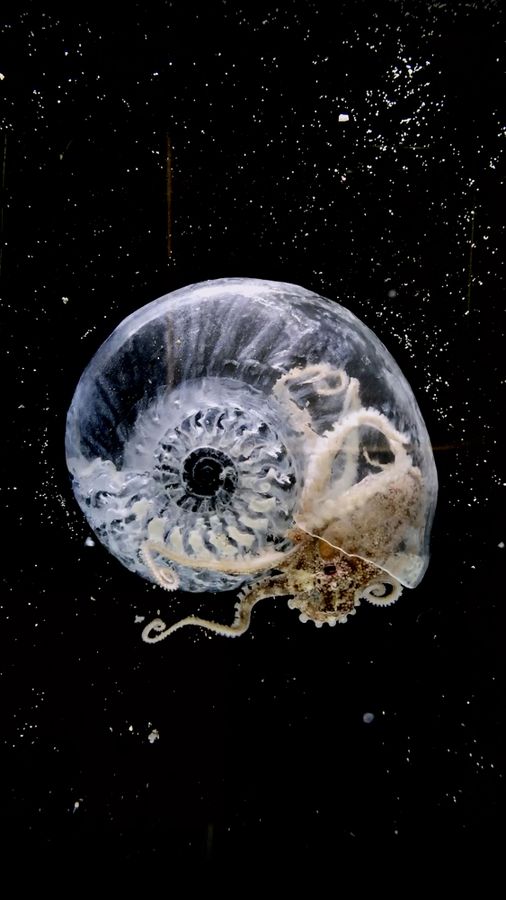 Think Evolution #1: Kiku-ishi (Ammonite)
---
Think Evolution #1: Kiku-ishi (Ammonite) is a moving-image work created by the media-design artist Aki Inomata in 2016–17. Think Evolution #1 encompasses inter-species collaboration – artistic collaborations with living creatures. Through these collaborations Inomata uses humour to question the realities of life on earth. Think Evolution #1 depicts an octopus's encounter with a resin cast of an ammonite shell. Over the process of its evolution the octopus discarded its shell, but the creature still possesses an instinct to inhabit empty vessels, such as coconut shells and bivalves, for protection. According to the fossil record, the ammonite, a distant relative of the octopus and squid, also once inhabited a shell. Inspired by this evolutionary story, Inomata created an experiment during which she placed an octopus in a tank with an ammonite shell cast in resin.
The inspiration for Think Evolution #1: Kiku-ishi (Ammonite) resulted from Inomata's participation in an exhibition at the French Embassy in Tokyo in 2009, titled No man's land. The exhibition was inspired by the revolving fifty-year lease of the land on which the French Embassy stands. In 2009 this parcel of land was returned to the Japanese Government, which will retain it until 2059, at which time it will go back to the French Government for a further fifty years. The absurdity of this agreement inspired the creation of Why Not Hand Over a 'Shelter' to Hermit Crabs?, 2009, which examined the hermit crabs' peaceable exchange of shells as they grow. Inomata believes this phenomenon represents a metaphor for the peaceful exchange of land between countries. For this work Inomata designed new shells or shelters in the shape of iconic architectural sites to provide new homes for her crabs.

This is an extract from AGSA Magazine, Issue 39, Winter 2020. Russell Kelty is the Assistant Curator of Asian Art at AGSA.
What is an ammonite?
Ammonites once inhabited a shell and are a distant and now extinct relative of sea creatures such as the octopus and squid.