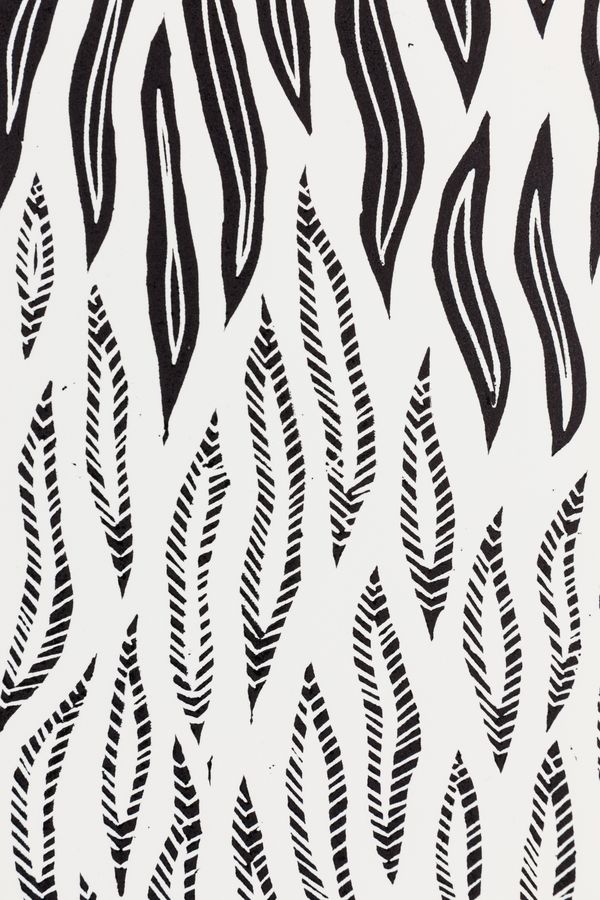 Ayarra (rainy season)
---
Ropeyarn's newest trio of large-scale vinyl-cuts consider the phenomenon of water in Injinoo life and cosmology. Injinoo is defined by water; it constitutes part of the Seven Rivers region, experiences heavy tropical rains during the wet season and boasts an abundant coastline that borders on the Torres Strait. In Ayarra (rainy season) (2021) a red river, an enclosed loop that runs infinitely, is rained upon by a proportionate cloud – a scale that suggests a kind of kinship. Ropeyarn has populated the river with emblems of Injinoo's distinct tropical environment, including beach palms, a mountainous landscape of termite mounds and a line of tropical pitcher plants – a 'lidded' carnivorous plant that grows along the edge of freshwater creeks.
For Ropeyarn, water is not just an environmentally and culturally significant force but also a metaphor for connection. His trio of prints describe the cyclical power of water, its ability to sustain life and carry cultural memory, but also speak to Ropeyarn's own yearning and homesickness. They enact a kind of mnemonic or spiritual travel in recalling the teachings of his Elders and inscribing Country to paper: "Being based here in Gimuy (Cairns), I think about home (Injinoo) a lot and reminisce… That connection always there. I worry for home. I long for family and Country. These new works are like a sorry (sad) connection."[1]
[1] Teho Ropeyarn quoted by Emma Loban in Tarnanthi 2021, exhibition catalogue, Adelaide: Art Gallery of South Australia, 2021, p106.
Ropeyarn learns about his culture from his family. His Aunty Reverend Mary Eseli explained to him that 'the crocodile knows its territory from birth. The crocodile is patient, a guardian of its territory. The crocodile will travel away but always come back to the area where it lives'.
Research crocodiles and compile a list of interesting and obscure facts that people might not know about this large Australian reptile. You could create a class quiz by turning your facts into questions.
Discuss the following statement 'Aboriginal and Torres Strait Islander people are diverse, and so too is their art'. Use works of art to support this statement. Tip: You might begin by first looking at artists from the Torres Strait Island and Cape York Peninsula such as Southern Kaantju and Umpila artist Naomi Hobson or Meriam Mir artist Grace Lillian Lee. How do these artists' works compare to that of Ropeyarn?
Water is an environmentally and culturally significant force for Ropeyarn. Investigate the cycle of water when it rains where you live. Write a story or poem that celebrates a natural water system near you.
Ropeyarn's large lino prints are bold statements that celebrate the power and strength of his culture. Create a work of art that makes a bold statement about who you are.
Ropeyarn's bold designs bring together both his Aboriginal and Torres Strait culture, as a means of preserving culture. Think about the two most important or influential people in your life. Create a work of art that pays tribute to them. Combine symbols that represent these two important people in one cohesive design.
Family and community are the foundation for Ropeyarn's work. The cultural knowledge that is passed down through generations is visually documented in Ropeyarn's work. Think of something important that a parent or grandparent has told you about your family or culture. Create a lino design that captures this story, but disguise elements of it so that only you and your family will identify its true meaning.
Ropeyarn uses designs and symbols which are connected to his culture. Create a design that symbolizes your family or culture. Begin by drawing or photographing patterns around your home on furniture, fabric or tiles. These could be the starting point for your work that make a connection to your home environment. Combine these with other symbols or patterns that are important to you.
Ropeyarn's newest trio of large-scale vinyl-cuts consider the phenomenon of water. Create a work of art inspired by your favourite natural phenomenon or by the weather conditions where you live?
Listen to a range of sounds of water. Create a visual response to these sounds using coloured pencil, paper, pastel etc. Tip: Sounds can be found on YouTube or a sleep ambience application for Android or Apple.
Artist Talk - Teho Ropeyarn - Left

Teho Ropeyarn - Middle

Artist Talk - Teho Ropeyarn - Right
Teho Ropeyarn
Large scale prints that are bold statements celebrating the power and strength of Injinoo culture
Tarnanthi is presented by the Art Gallery of South Australia with Principal Partner BHP and support from the Government of South Australia
The Gallery's Learning programs are supported by the Department for Education.
This education resource has been developed and written in collaboration Dr. Belinda Howden, Kylie Neagle and Dr. Lisa Slade.