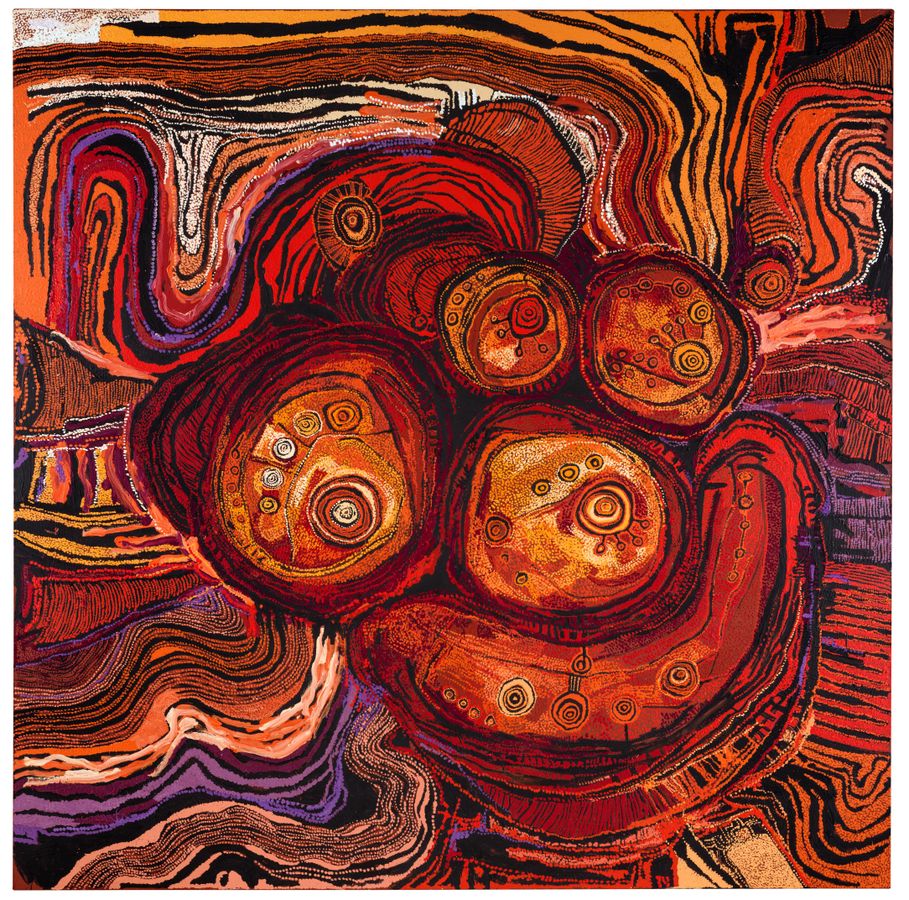 Kungkarangkalpa – Seven Sisters
---
In Kungkarangkalpa – Seven Sisters (2020) Burton paints the ancestral story of the Seven Sisters, a significant Tjukurpathat describes the intergenerational strength of Aṉangu women learning from and protecting one another. Based on two star constellations, the Seven Sisters (Pleiades) are chased by a trickster (Orion) across the land and into the night sky. It is the knowledge and wisdom of the eldest sister that stewards the sisters to safety:
This is the oldest sister, and her leadership guided the other sister away from the dangers of the world. The oldest sister made sure that the seven sisters stayed together and that no one was left behind. The oldest sister protected everyone and made sure all the women were safe. This was the oldest sister's story and it is the story of all Aboriginal women leaders in Australia today. [1]
Burton learnt Kungkarangkalpa from her own mother. She has early recollections of her mother dancing while her father sang,together performing inma – a complex ceremonial practice for teaching ancestral stories and cultural law through language, song, dance and body paint.
For Burton, painting, as well as singing whilst painting, is key to the transmission of Tjukurpa. It maintains the strength of Aṉangu culture and knowledge. With a bold, brilliant palette and overwhelming scale – the canvas spans nearly three by three metres – Kungkarangkalpa – Seven Sisters isnot just a powerful creation story performed and passed down for thousands of generations, but also a morality tale for today. Burton's own role as a senior woman and cultural leader is reflected in her transcription of Kungkarangkalpainto paint:
The Seven Sisters story has always been important for Aṉangu women and it is more important today than ever before. It is a story that celebrates women's leadership. I am proud of my leadership role. This is very serious work.
The spirit of our ancestors watches over us as we celebrate our culture. When I paint my Tjukurpa, when I sing the songs of my Country, I feel the spirit of the ancestors watching me. The women leaders of the Lands who went before us sing alongside the women of today.[2]
[2]Nyunmiti Burton in Tarnanthi 2021,. Adelaide: Art Gallery of South Australia, 2021, p44, and Kuḻaṯa Tjuṯa, Adelaide: Government of South Australia, Art Gallery of South Australia, APY Art Centre Collective, 2020, p70.
Do you think you are looking up at the sky or down at the earth in this painting?
Imagine this large-scale colourful painting was printed onto a postcard that you could send to a friend who hasn't seen the painting before. What would you write about this work of art? How could you describe it so that the reader could get a sense of is scale and fiery palette?
Burton explains that the Seven Sisters story celebrates women's leadership as well as a morality tale. Locate another work of art by a female Aboriginal and Torres Strait Islander artist that celebrates women's leadership.
Compare Kungkarangkalpa by Burton to Seven Sistas Sign by Kaylene Whiskey. Both works of art are about the Seven Sisters. Make a list of all the things that are similar and different about these works.
You and your family are taking a trip to the central desert of Australia, where artists Nyunmiti Burton and Kaylene Whiskey are from. Research what the environment is like here, including climate, flora and fauna. What items will you need to take with you and what do you hope to see?
The Seven Sisters story teaches women about the importance of caring for each other. Think of a female figure in your life who cares for you – they may also look out for you like the eldest sister in the Seven Sisters story. Write a letter to this person expressing your gratitude or respect for this person.
Make a list of some dangerous things you need to be mindful of. For example, you may need to be careful crossing the road or walking while texting. Create a painting that warns people about a dangerous situation.
Kungkarangkalpa is a story of leadership and female wisdom and power. Research a female leader in your community. Create a work of art that celebrates this person and their characteristics as a leader.
Burton's Kungkarangkalpa is made up of red, orange, black and purple. Create a large-scale painting that captures a story about the place where you live using only four colours.
Tarnanthi is presented by the Art Gallery of South Australia with Principal Partner BHP and support from the Government of South Australia
The Gallery's Learning programs are supported by the Department for Education.
This education resource has been developed and written in collaboration Dr. Belinda Howden, Kylie Neagle and Dr. Lisa Slade.