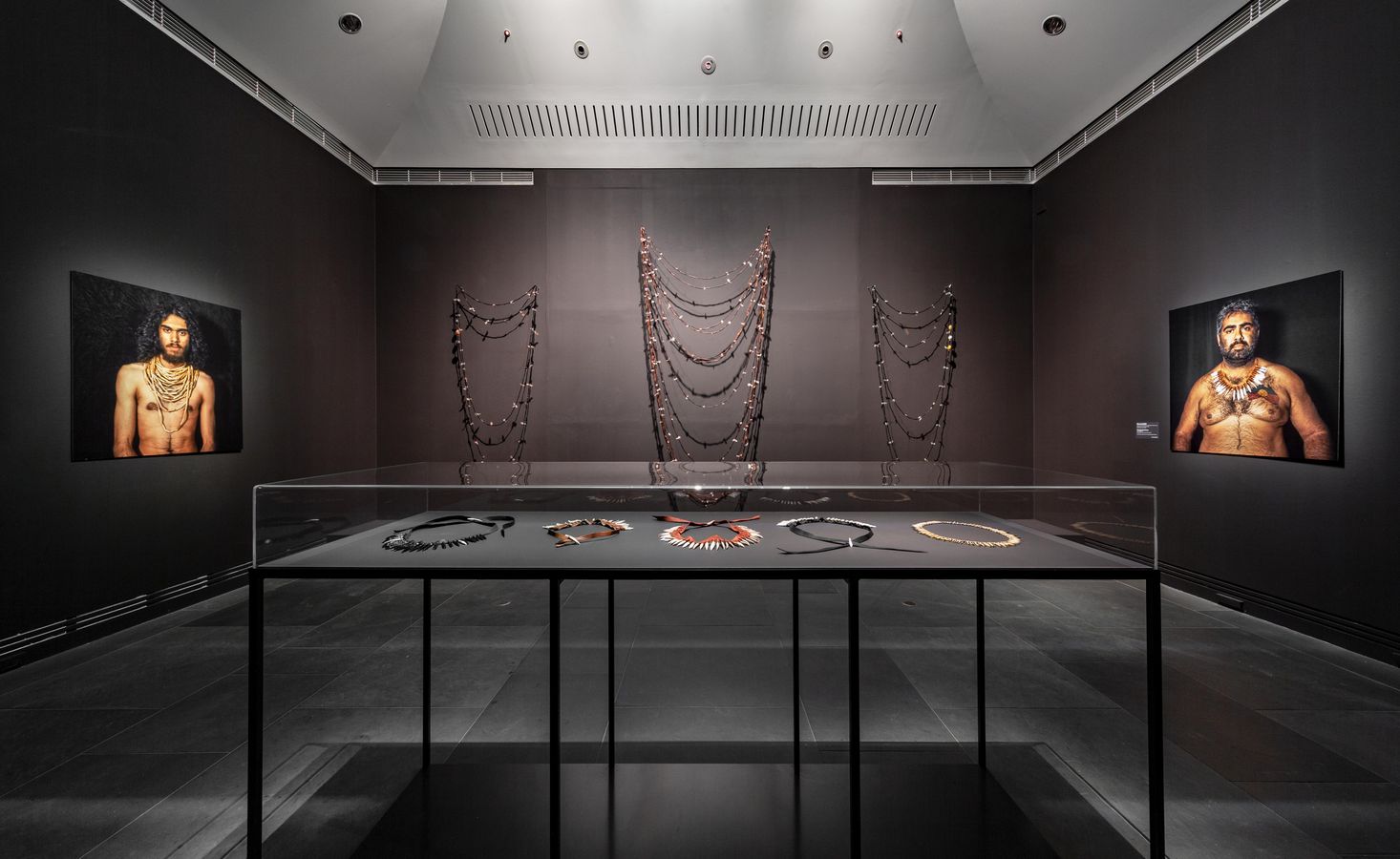 Remember me
---
Clarke often invites family members into the process of producing her work, from sourcing materials to preparing and finishing. Kangaroo teeth necklace (2020), for example, involves gathering roadkill from trips on Country, removing the sinew and teeth, preparing the leather, mixing ochre and wattle resin, and binding the kangaroo teeth with sinew string – a time-intensive and laborious process.[1] Every stage of making is an occasion to share these traditional techniques; "…at its core, my practice is about building community and passing cultural knowledge to the next generation."[2]
Clarke however, is also interested in the translation of traditional practices into contemporary mediums. For Black glass necklace with red and green feathers and seed pods (2021), Clarke worked with Canberra Glass Works to fabricate black glass river reeds and seed pods filled with ochre, gathered on Country, to produce a trio of large-scale necklaces. Based on a talisman given to people passing through Country as an emblem of safe passage and friendship, Clarke says '…the glass river reed necklaces are just as valid as the traditional ones."[3] Between thirty to forty metres in length, each necklace speaks to the scale of loss due to colonisation – loss of land, language and cultural knowledge – but is equally a powerful assertion of presence. Clarke's nearby photographic portraits of her nephews Jacob and Aaron galvanise this idea. As sitters, they enact her jewellery; they transform the sculptural objects into body adornment once more, revived with purpose and primacy for the twenty-first century.
[1]"Maree Clarke." Museum of Contemporary Art Australia. The New National: New Australian Art, 26 March – 22 August, 2021.
[2]Maree Clarke, "Linear Artist: Maree Clarke", Powerhouse Museum, 15 November, 2019,
[3]"Maree Clarke." Museum of Contemporary Art Australia.
The river reed neckpiece that is featured in Remember me is an enlarged version of one that was traditionally worn on the body. Why do you think Clarke decided to create an oversized version of this neckpiece?

Compare Clarke's oversized neckpiece to Malahide by Trawlwoolway artist Julie Gough. Why do you think both artists chose to increase the scale of their neckpieces? Write a response to the following statement: Clarke and Gough communicate similar ideas about the ways in which the past continues to shape the present.

Clarke's River reed necklace revives a past practice but also embraces a new way of working with materials. Talk to older members in your family and ask them to recall some old skills or traditions which have been lost over time. Research this skill or technique. In small groups discuss why this skill or technique should be reinstated. Or could this old skill be enhanced with a contemporary practice? Present your argument to the class.

Clarke often invites family members into the process of producing her work. She also says that she likes to think of new ways to tell a story through art. Talk to family members about a well-known story in your family or culture. It could be something funny that happened on a holiday or a cultural tradition that your family has known for generations. Create a work of art that tells this story in a new way.

River-reed necklaces were given to people as a sign of safe passage and friendship. Make a talisman for a friend or loved one that will bring them good luck.

Create a mind map about a place that is special to you. Using these words, write a poem which captures the essence of this place. Create a sculpture or necklace using natural materials that tell the story of where you live.

Create a repeated pattern neckpiece that communicates something about who you are, your family or traditions you may have. Use materials that connect to your identity in some way. It could be recycled materials from around the home or shapes cut out from cardboard.

Clarke has used moulted feathers from native Australian birds. Investigate plants and wildlife that are local or endemic to your environment. Research the impact introduced plants have had on Australian flora and fauna and examine the effects on Aboriginal and Torres Strait Islander communities. Select an example of an extinct Australian flora or fauna and create a work of art as a tribute to this extinct plant, flower or species.
Celia Dottore introduces the work of Maree Clarke as part of Tarnanthi
Maree Clarke
A practice about building community and passing cultural knowledge to the next generation
Tarnanthi is presented by the Art Gallery of South Australia with Principal Partner BHP and support from the Government of South Australia
The Gallery's Learning programs are supported by the Department for Education.
This education resource has been developed and written in collaboration Dr. Belinda Howden, Kylie Neagle and Dr. Lisa Slade.