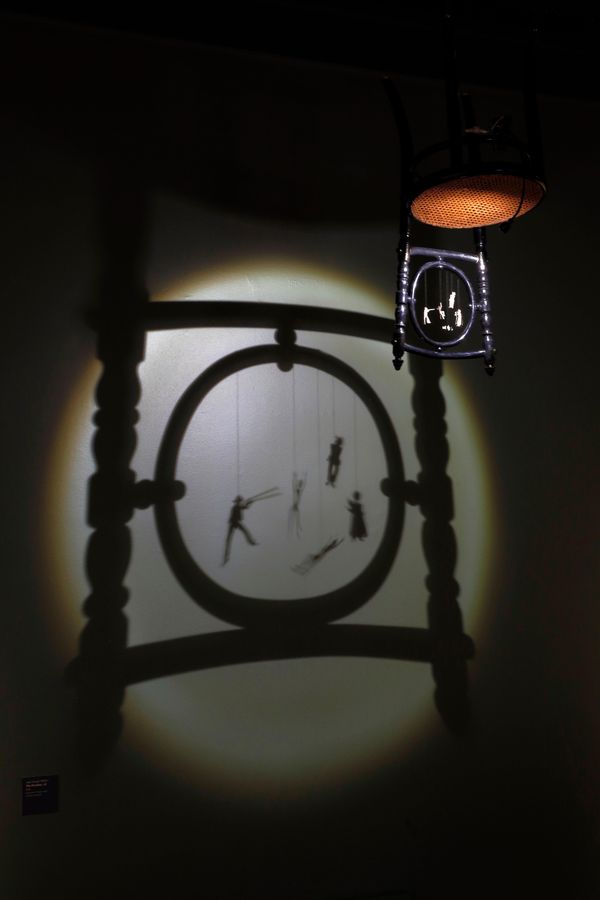 Psychoscape and Promise II
---
For Psychoscape (2021), Gough has delved into the Art Gallery of South Australia's collection of Tasmanian colonial paintings and furniture. In reconfiguring a selection of objects – a chair, sewing table, couch, wooden box, console, sideboard and card table, as well as watercolours, oil paintings, sketches and prints – Gough is working with the residue of history; "we are what we use, it defines us."[1]
Psychoscape recasts these historic representations of Tasmania, no longer inert relics of a previous time but as testimonial evidence:
Visiting places depicted in colonial art, our lands accrued by outsiders, is like walking through a crime scene. Country is a victim, pummeled, bled dry, infested with cattle and sheep, crops and weeds from another hemisphere. These are psychoscapes, shadows of Country.[2]
Central to Psychoscape is the standalone installation Promise II (2019-2021). A haunting shadow play, its silhouette figures – cut in kangaroo skin and cast onto the wall through the frame of an inverted chair – reference the nearby imagery of Governor Davey's 1816 'Proclamation to the Aborigines' (c. 1878). This sketch was modelled on the proclamation boards commissioned by Governor George Arthur between 1828 and 1830, when frontier violence between Tasmanian Aboriginal people and colonists was at a peak and British martial law and the Black Line was introduced. At the time, the boards were considered conciliatory. They attempted to describe the concept of equal justice for Tasmania's First Peoples under British law. However, as its first sequence of pictograms portrays, "Aboriginal people were offered protection through the rule of law but only in exchange for a radical transformation to European ways."[3]
In The Promise II, Gough has turned the domestic dangerous, the familiar uncanny. As the chair and kangaroo skin cast their spectres onto the wall, they are transformed into objects of truth-telling:
I'm painfully aware of… the politics of now. It is more dangerous to work with the topic of now than it is, in a sense, working with then. But the then that I'm working with has been left behind too soon.[4]
[1]Julie Gough, "In the Making: Julie Gough", Tasmanian Museum and Art Gallery, 13 July, 2021, 9:38mins,
[2]Julie Gough, Tarnanthi 2021, Adelaide: Art Gallery of South Australia, 2021, p60.
[4]Julie Gough, "In the Making: Julie Gough."
Gough works with archives – investigating, gathering, trawling through and analysing historical records. Visit Trove online, where you can explore collections from galleries, libraries and museums across Australia. Enter specific word searches like place names and date to find a historical and perhaps lesser known story connected to the place, people or traditional custodians where you live. Research everything you can about this story. Create a work of art about this story.

The shadow play installation Promise II consists of silhouette figures – cut in kangaroo skin and cast onto the wall through the frame of an inverted chair. Create an installation that references an aspect of Australian history. Include shadow, silhouettes and light as your medium.

Create a collaborative installation using works of art made by each student in the class that represent something about who they are, their family, values or cultural background.
Tarnanthi is presented by the Art Gallery of South Australia with Principal Partner BHP and support from the Government of South Australia
The Gallery's Learning programs are supported by the Department for Education.
This education resource has been developed and written in collaboration Dr. Belinda Howden, Kylie Neagle, Dr. Lisa Slade and Gloria Strzelecki.