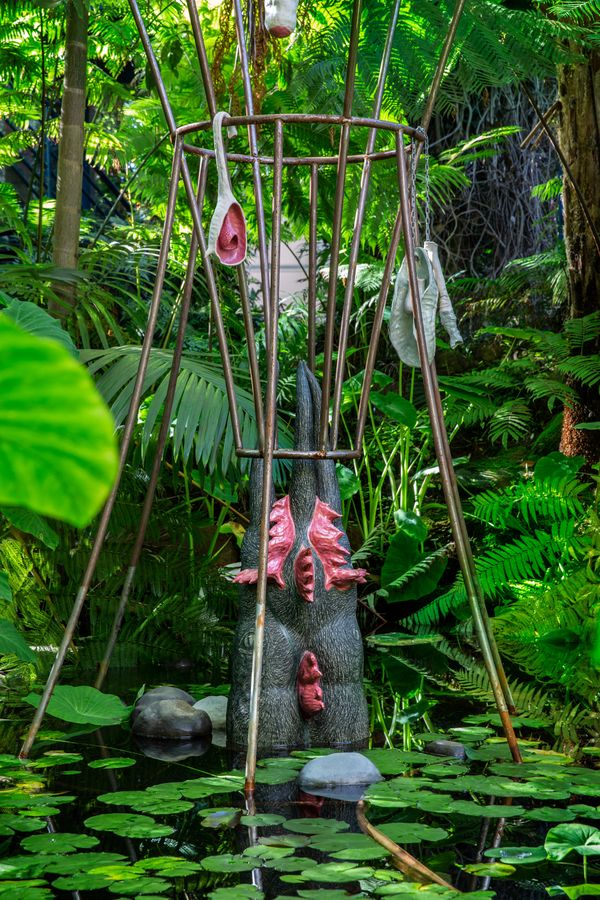 Once Bitten, Twice Shy
---
Once bitten, twice shy (2020), was an installation by Mark Valenzuela that spanned both the Art Gallery of South Australia and the Adelaide Botanic Gardens.
Beneath the sunken rooftops of Once bitten, twice shy a bakunawa snakes, a serpent-like dragon of pre-colonial Filipino mythology. The bakunawa has many different imaginings according to the diverse Indigenous populations and regions of the Philippines. However, in the Central Islands – the Visayas, where Valenzuela lived as a young man – bakunawa was considered responsible for the natural phenomenon of lunar eclipses as well as natural disasters, such as typhoons or earthquakes.
In Once Bitten, Twice Shy (2020), Valenzuela installed a steel armature in the Palm House at the Adelaide Botanic Gardens. The triangular structure was populated with ceramic hybrids and a rooster-like figure, posed as the tail of the bakunawa. For Valenzuela, the bakunawa is "a symbol of invasion… ever since, my country is a space subject to colonisation. There are always forces around it trying to invade or trying to take it from us."[1]
Valenzuela's installation practice also includes processes of reconfiguration. "I reconfigure [works of art] all the time… It is part of my daily ritual. Like, 'Oh, that's nice there. But what if I put it beside this [work]?' It has a totally different meaning."[2] Rearranging works into new formations and spatial relationships is yet another expression of traversing borders and boundaries. In transplanting objects, taking them from one context to another, Valenzuela watches their new meanings and stories unfold.
[1] "Mark Valenzuela," Art Gallery of South Australia, filmed as part of the Monster Theatres Virtual Tour, 2020, 1:20. [2] Valenzuela, unpublished interview, 12:39.
The snaking Bakunawain Valenzuela's work is a warning, rearing its head to evoke the sheer scale of climate change. Research the behavioursthat native wildlife demonstrate when there is danger or if they are in trouble. For example, if you see a koala on the ground for a prolonged period of time it usually means they are sick or injured. Share your findings with your class. Which of these did you find the most interesting and why?
Investigate weather patterns where you live. What significant changes do you notice that have occurred in the last 50 years? Have summers become hotter, is there more or less rain during winter? Based on these changes create a drawing or painting that suggests what the weather may be like in another 50 years.
Valenzuela's installations reflects the increasingly erratic weather patterns and human displacement as the result of natural disasters and climate change. Investigate the 2019/2020 bushfires which occurred throughout Australia. What are some of the long-term impacts of these events? As a class create an installation that responds to this event. Individually, create a work of art that responds to one aspects of the bushfires. You may like to focus on the cause, loss of life, wildlife, habitat, and property or the recovery process. Consider how you might create a work so that it is powerful without being literal.
The Gallery's Learning programs are supported by the Department for Education.
This education resource has been developed in collaboration with ACE Open and the Art Gallery of South Australia. Written by Belinda Howden with contributions from Louise Dunn, Kylie Neagle and Dr. Lisa Slade.