Melrose Wing of International Art:

Self-Guided Audio Tour




Work

10

of 17
---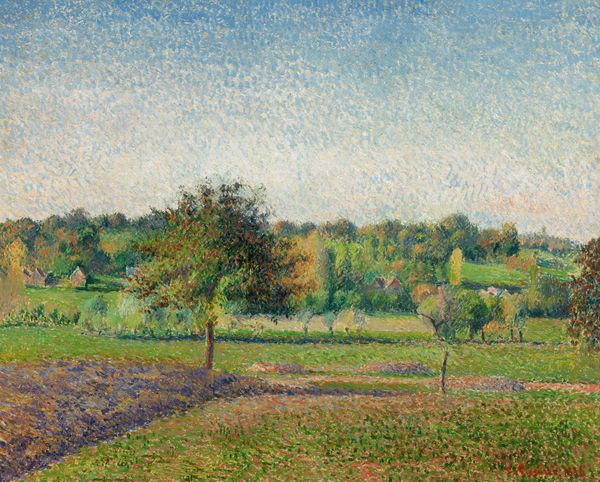 Camille Pissarro
Meadow at Éragny (Prairie à Éragny)
This view of a meadow is one that greeted Impressionist master Camille Pissarro almost daily for twenty years. The meadow lay just metres from his farmhouse home at Éragny, north of Paris, and formed part of his modest rural acreage. From the time he bought the farmhouse in 1884 until his death in 1903, Pissarro produced hundreds of oil paintings and dozens of watercolours of this field and the farmland within a kilometre of his home. He explored its moods of light and character of colour. From the brightest summer, to fog and floods of autumn. For Pissarro, the meadow offered both tranquil constancy and ceaseless variety.
In the spring of 1886, at the time he painted this scene of serenity, Pissarro's career was in upheaval. Pissarro had been a crucial figure in the establishment of Impressionism as a movement and in the formation of his fellow painters – notably Claude Monet, Edouard Manet, Pierre Auguste Renoir, Paul Cézanne and Edgar Degas – into a cohesive group, called the Impressionists. Now he was taking a new direction from them. He was exploring pointillism, a painting technique that sought to achieve greater luminosity by separating colours into individual dots of paint applied close together. The hallmark of the emerging neo-Impressionist painters, this slower and more precise technique ran contrary to the spontaneity at the heart of Impressionism.
Pissarro's letters from that spring reveal the tensions and rivalries emerging between the two groups, Impressionists and neo-Impressionists, as he arranged the Impressionists' eighth exhibition for May 1886. That exhibition turned out to be the Impressionists' last. Pissarro insisted on including his neo-Impressionist colleagues Georges Seurat and Paul Signac, as well as Paul Gauguin, while Impressionist stalwarts Renoir and Monet chose not to exhibit.
Amid this turmoil, Prairie à Éragny embodies Pissarro's change in direction – from Impressionism to neo-Impressionism – both in the moment and in the method of its creation. With his shift towards pointillism, he creates bands of shimmering colour that exquisitely capture the warmth of a glowing spring day, from the cloudless blue sky above to the luxurious greens of the meadow grasses.
Prairie à Éragny shows the pioneer of Impressionism again pursuing new discoveries, new ways of painting, even when aged in his mid-fifties. In this familiar landscape, Pissarro is looking to a new horizon.