Melrose Wing of International Art:

Self-Guided Audio Tour




Work

6

of 17
---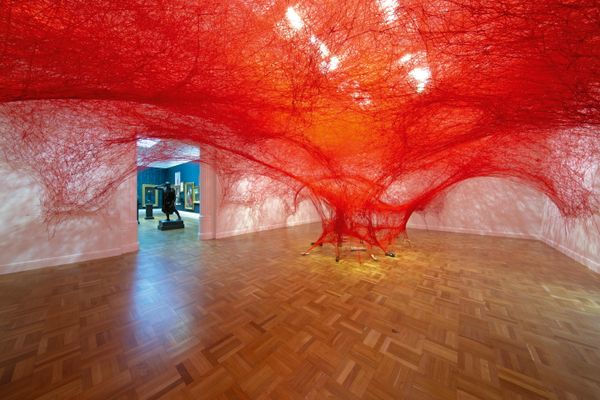 Chiharu Shiota
Absence Embodied
In Japanese, the expression 'akai-ito de musu bareru' means 'two people whose lives are bound together with a red string'. It offers a description of human connection.
Japanese artist Chiharu Shiota has created an entire room of red string, or to be precise, red wool – more than 200 kilometers of it – for her installation Absence Embodied. In August 2018 the artist travelled from her studio in Berlin, Germany, to Adelaide, and spent nearly a month here in the Art Gallery of South Australia constructing this unique, site-specific installation.
Shiota is a leading international artist who has studied in Kyoto and Berlin and who also has a long-standing relationship with Australia, dating back to a seminal experience she had as an exchange student at the Australian National University's Canberra School of Art in 1993 and 1994. It was in Australia that she had a breakthrough moment whereby she rejected painting to develop her signature 'thread installations', for which she is now recognised globally.
To form her dense web for Absence Embodied, Shiota unravelled and threaded 1800 balls of red wool to create a drawing in space, or as the artist describes it, to 'draw in the air' and 'weave in the whole room'. In this work, the labyrinth of red wool is anchored by a cluster of sculptures – nine bronze casts of the artist's own hands and feet, seven plaster casts of her daughter's hands and a bronze cast of three interlocked, clasped hands of the artist, her husband and their daughter.
Shiota explains the enduring importance of string in her practice as a way to locate herself in the world, to tether and ground herself. String, she says, 'is like a mirror of my feelings. In making the work, sometimes the string gets tangled, or loses tension, or is cut, much like human relationships. Relationships can become tangled, lost or severed'. Shiota often uses only one of three colours – red, black or white – to create her installations. For Absence Embodied, the artist chose red for its symbolism, as 'red string represents the body, blood or relationships between humans'.