Melrose Wing of International Art:

Audio Described Tour




Work

15

of 17
---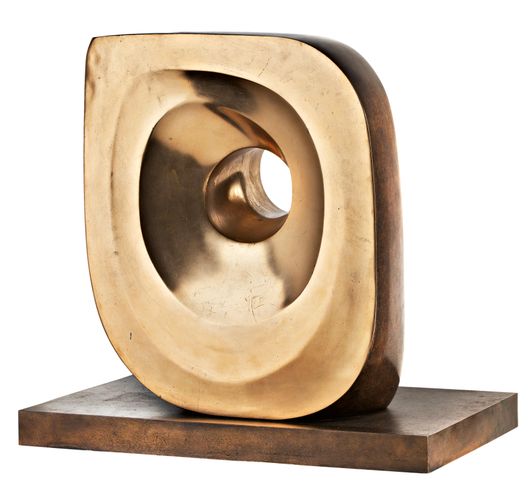 Barbara Hepworth
Head (Ra)
About this work of art

Dame Barbara Hepworth was a leading sculptor of the twentieth century. Her talent was recognised from a young age while growing up in Yorkshire, England, and she won a scholarship to the Leeds School of Art. There she met fellow sculptor Henry Moore, with whom she formed a lifelong friendship and professional rivalry.  She later won another scholarship to attend the Royal College of Art, London, and began to forge a career and reputation in an arts world heavily dominated by men.
At the outbreak of the Second World War, Hepworth, her partner and painter Ben Nicholson and their children relocated to St Ives in Cornwall, a seaside town known from the nineteenth century as a haven for artists. The move to Cornwall was intended to be temporary, but Hepworth found her studio in St Ives to be the ideal location for her continued output and she lived and worked there for the remainder of her life. Her home and studio, Trewyn, is now a public museum managed by the Tate Gallery.
Whenever it is exhibited, the enticing and mesmerising surface of Hepworth's Head (Ra) immediately captures the viewer's gaze. This bronze sculpture, with its lustrous, highly polished surface is based on an earlier white marble prototype. Hepworth began producing these smaller-scale bronze works in the last decades of her career, moving away from the monumental carved stone works of her earlier practice. Much of Hepworth's work was influenced by ancient Egyptian sculpture and iconography: in Egyptian mythology, Ra is the god of the sun and is considered one of the most important of all the gods, represented with a large gold disc or orb in hieroglyphs and sculptures. Like the Egyptian representations of Ra, Hepworth's radiant sculpture appears to be illuminated from within.
---
Audio description of the work of art

Head (Ra) is a bronze sculpture created in 1971 by modern British artist Barbara Hepworth. English historian Herbert Read is quoted as saying she 'transcends the difficulties and ugliness of modern life and evokes a vision of radiant calm perfection'.
It stands 53cm high and 40cm wide. The bulk of the sculpture is set on an unpolished bronze, low profile, rectangular base, 38cms by 24cms and 5cm high. Three corners of the sculpture's outer edges are rounded, its sharpest angle is in the top left, though even this corner is rounded, at its point.
An abstracted shape, at once rectangular and oval, Head (Ra) contains a rounded, concave sink-hole, crisp lines and contrasting finishes. Its front view is a wide, winding path of highly reflective, rich, rose-gold, polished bronze spiralling inwards, distorting light and reflection from the viewer's perspective. At its centre is a wide hole, also highly polished.
Its outer curvature and base is unpolished bronze; burnished and blackened irregularly.
Hepworth's mature style was characterised by sensuous, organic abstraction. Head (Ra)draws the viewer's attention to a juxtaposition of open, light-bending, interior space and the raw surrounding mass.
The sculpture is signed, dated and editioned. Barbara Hepworth, 1971, 7/7 at the back of the flat base.