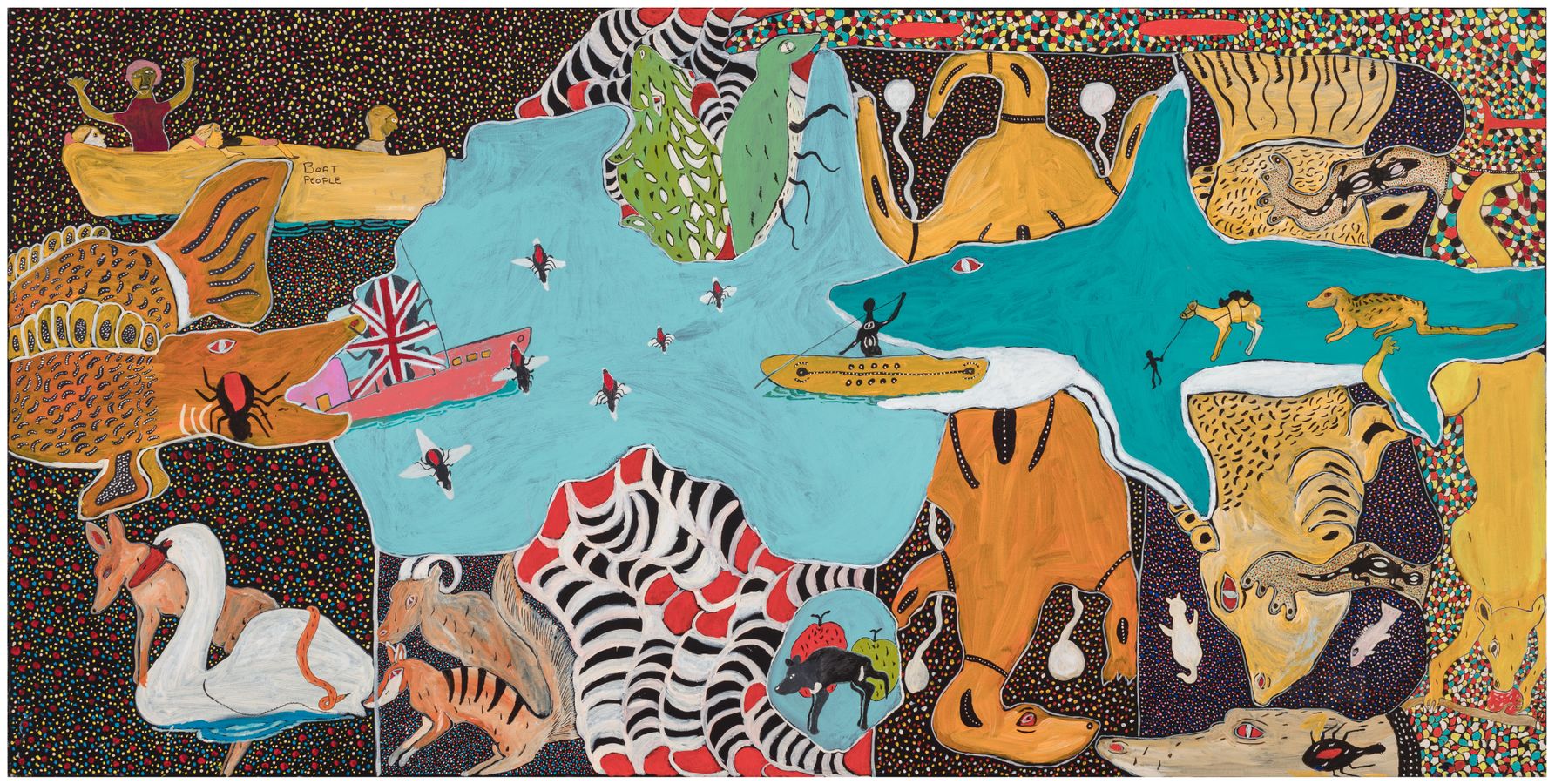 Tarnanthi 2021 Media Portal
---
Tarnanthi, the Art Gallery of South Australia's annual celebration of contemporary Aboriginal and Torres Strait Islander art returns for its sixth iteration in October 2021. Internationally acclaimed as the largest festival of its kind, Tarnanthi this year comprises a major exhibition at AGSA, a state-wide festival across close to 30 partner venues and the Tarnanthi Art Fair presented over the opening weekend.
The word 'tarnanthi' (pronounced TAR-nan-dee) comes from the language of the Kaurna people, the traditional owners of the Adelaide Plains. It means to spring forth or appear – like the sun and the first emergence of light. Tarnanthi presents the cutting edge of contemporary Aboriginal and Torres Strait Islander art from across the country and provides an energised platform for artists to share important stories.
Tarnanthi 2021 will feature artists from across the continent; as far north as Cape York to the heart of the Anangu Pitjantjatjara Yankunytjatjara (APY) Lands and beyond, with works across a range of mediums - from painting, photography, printmaking, carving, sculpture, moving image, works on paper and textiles.
Key Dates
Tarnanthi Art Fair | 15 - 17 October 2021
Tarnanthi 2021 | 15 October 2021 – 30 January 2022
Media Preview | AGSA | 14 October, 11am
Official Launch | AGSA | 14 October, 6pm
Tarnanthi 2015 - 2020 at a glance
1.4 million people have attended Tarnanthi exhibitions and events
4,500 Aboriginal and Torres Strait Islander artists have been included in exhibitions, art fairs and events
More than $4 million of art has been sold at the Tarnanthi Art Fair, with all money going directly to artists and communities
$96.8 million in economic expenditure has been generated in South Australia since 2015 because of Tarnanthi
International recognition for APY artists has soared through Tarnanthi, exemplified by the acquisition of the 1500-spear installation work Kuḻaṯa Tjuṯa: Kupi Kupi by Swiss gallery Fondation Opale and by the 2020-21 exhibition Kuḻaṯa Tjuṯa shown in Rennes, Brittany, and Le Havre, Normandy
Over 27,000 students and teachers have attended Tarnanthi exhibitions, and tens of thousands more have benefited from AGSA's pioneering education program and book, Aboriginal and Torres Strait Islander Art in the Classroom, which equips teachers to integrate First Nations art, culture and histories into daily classroom learning.
Social Media
@agsa.adelaide @tarnanthi #tarnanthi
Media Contacts
Lindsay Ferris, Head of Communications, Art Gallery of South Australia
Ferris.Lindsay@artgallery.sa.gov.au | +61 8 8207 7156 | +61 405 046 116
Elisabeth Alexander, Communications Officer, Art Gallery of South Australia
Alexander.Elisabeth@artgallery.sa.gov.au | +61 8 8207 7402 | +61 404 934 779
Tarnanthi is presented in partnership with BHP and with the support of the Government of South Australia.